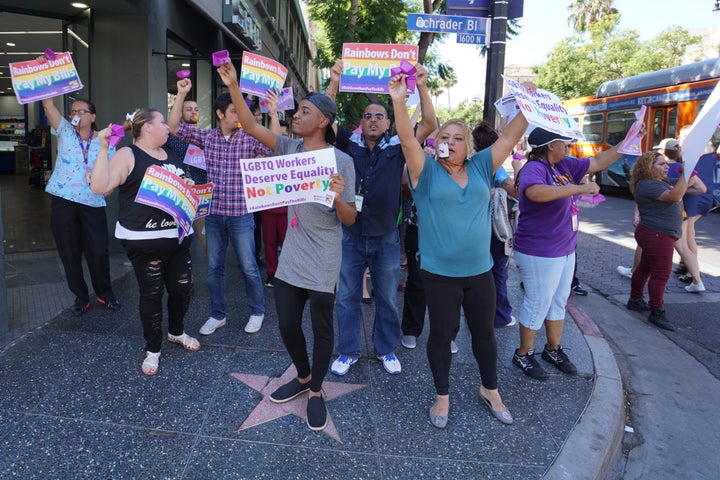 As one of the largest LGBTQI organizations in the country, Los Angeles' LGBT Center should counter the systems of inequality that have left so many in our communities without financial security and a safe home. Instead, the Center is perpetuating those systems of inequality within its very organizational structure.
The LGBT Center employs hundreds of LGBTQI workers; yet, it pays many of those workers poverty wages. Over half of the Center's hourly workers are paid less than $15 an hour—salaries so low that these workers qualify for CalFresh food stamps, housing voucher programs, and other forms of public assistance. While staff struggle to make ends meet, the Center's CEO, Lorri L. Jean pays herself an annual salary of $440,000, and another $60,000 in bonuses—making her one of the highest paid LGBTQ organizational directors in the country.
‬How can the Center be entrusted to care for our community and advocate for a more fair society when those in charge display a blatant disregard for their own workforce, most of whom are LGBTQI themselves?
‬What weight does the Center's equality discourse have when queer folks—especially those who are marginalized by race, class, disability, and immigration status—continue to be kept down by dangerously low wages?
The case of Candace* exemplifies just how out of touch top management at the Center is with the needs of LGBTQI workers. Fired from her last job when her boss learned she was transitioning, Candace was hopeful when she starting working at the Center in April. A full-time, paid position in a "safe space," where she had both volunteered and received services, seemed like the solution she'd been waiting for.
‬Yet the Center paid Candace well below what constitutes a living wage. Candace's salary added up to $460 a week; her medical expenses alone, which include hormone replacement therapy and treatment for epilepsy, cost nearly $500 a month out-of-pocket for prescriptions and co-pays. Candace was soon struggling to make rent, let alone pay for food, transportation, and medications.
‬Last month, she lost the shared room she'd been renting near the Center. With nowhere to go, she went to the Center with her belongings, hoping they would offer her the same short and long term housing options extended to clients.
‬"They told me they were my family," Candace said over the phone, from a motel in Hollywood. "But when it came down to it, I was told to leave because I wasn't clocked in for work. I was followed by an HR representative until I exited the building."  
Simply looking to put her possessions under the desk in her workspace and have a place to rest while she figured out where to stay the night, Candace was instead threatened by her managers and humiliated in front of her co-workers. Further, they refused to let her return for work, forcing her to exhaust all of her vacation time and sick days. She received none of her October salary, and is now homeless. ‬
Michelle*, who has spent years working as a case manager for LGBTQI people, is an expert at guiding the Center's clients through often difficult to navigate public assistance programs. But the Center pays her poverty wages—Michelle's salary is so low that she qualifies for many of the programs she helps her clients gain access too.
"I'm not even the lowest paid worker there, but I still qualify for public housing," Michelle said, "How are we supposed to survive? We do this work because we care. Workers here go above and beyond, trying to figure out creative ways to help our clients to survive, while we're struggling to get by."
The Center provides medical care and patient and client services at a rate of 500,000 visits a year. Yet supervisors demonstrate a profound lack of compassion for the health of their staff.
"When I went on medical leave," Michelle said "my director called to interrogate me and accuse me of lying."
With a budget topping $84 million a year, the LGBT Center is the most well funded LGBTQI community center in the US. But it pays as much as 60% less than what workers would earn for doing similar jobs elsewhere.
The Center has shown a disturbing lack of support for trans workers, workers of color, disabled workers, and those living at the intersection of those identities, all of whom are routinely placed in lower paying, less secure positions.
"When it comes to who's in charge, and who gets paid the most, it's hard not to see patterns," said Michelle. "In general, the least well-paid positions go to people of color, and the highest-paid positions are white people. A lot of the Black folks here have the lowest salaries, but have been here the longest."  
‬Since September, the LA LGBT Center's workers have been using their breaks and lunch periods to come together and organize against unjust working conditions. As a result, workers have reported threats, interference, illegal surveillance, and retaliation from top LGBT Center management, prompting an official federal investigation. Despite management's opposition, workers have marched through the streets of Hollywood shouting, "Rainbows don't pay the bills!" sharing what's going on at the Center through flyers, social media, and face-to-face conversations.
‬Last week, LGBT Center workers on multiple campuses voted by a six to one margin to escalate their fight up to and potentially including a strike—a clear indicator of their determination to do whatever is required to stop management policies, practices, and procedures that are harming the LGBTQI community.
LGBT Center workers are demanding an LGBTQI movement that centers those who have been marginalized in the fight for equality. It's time to support the members of our community who have continually supported us. Add your name here: EqualityNotPoverty.org
*Sources asked that their names be changed.
Calling all HuffPost superfans!
Sign up for membership to become a founding member and help shape HuffPost's next chapter