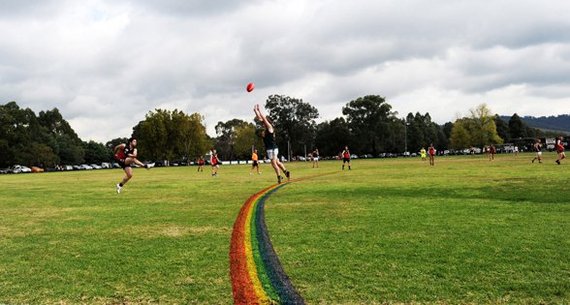 Photo credit: Mal Fairclough
Homophobia remains a real concern in sports, but attitudes on the field toward LGBT athletes are slowly changing. David Saunders reports that leadership on this issue is coming from unexpected places -- including outer suburban football in Australia.
Each weekend, the rolling green hills of the Yarra Valley, some 30 miles northeast of Melbourne, are abuzz with tourists on the wine tasting trail. Arriving in buses and SUVs from the city and beyond, they're chasing high-end pinot noir and chardonnay, punctuating their oenological odysseys with lunch at cellar door restaurants serving wood-fired pizzas and other local fare.
As the out-of-towners focus on the finer things in life, the locals in towns like Yarra Glen and Coldstream deal with the more mundane challenges common to small communities lying on the edge of big cities. Melbourne's outer suburban sprawl edges ever closer to the tranquil but bushfire-prone valley, bringing with it a raft of issues such as higher-than-average youth unemployment, drugs and a sense that greater economic opportunities may lie elsewhere.
It's hardly hillbilly territory, and there are still remnants of 1960s counterculture scattered among the wineries, B&Bs and day spas. But as in most country towns, community life is tight-knit and centers around pubs and sporting clubs, where a quiet conservatism prevails. It is perhaps not the first place one would expect to encounter the launch of a campaign for tolerance and diversity of sexual orientation, particularly when its focal point is a football game.
Yet on May 16, two local teams, Yarra Glen and Warburton Millgrove, faced off for the second annual Pride Cup, an event organized to promote inclusiveness and acceptance of gays and lesbians on the sporting field. The two teams wore special uniforms featuring prominent rainbow designs to mark the occasion.
Homophobia a Real Concern
Homophobia in sport is a very real concern, not only in Australia but also across the world. A joint study released in the week leading up to the Pride Cup by universities in the U.S., Canada, the UK, Australia and New Zealand revealed 80 percent of participants had experienced or witnessed homophobia in sports.
The report, titled "Out on the Fields," involved almost 9,500 interviews with gay, lesbian, bisexual and heterosexual men and women. It also found that while there was a high participation rate in sports among gay men and lesbians, the vast majority feared being open about their sexuality with teammates. Almost three quarters of the survey's gay male respondents said they believe homophobia is more common in team sports than in other part of society.
It's hardly surprising, then, that openly gay elite professional athletes -- particularly male ones in team sports -- remain a rarity. The NFL celebrated in 2014 when the St. Louis Rams drafted Michael Sam, the first openly gay man to play pro football. His career was short-lived, though: He was cut from the Rams and then the Dallas Cowboys, having not started a regular season game. Sam will spend the coming season in the Canadian Football League after last week signing a two-year deal with the Montreal Alouettes.
Jason Collins remains the only man in the NBA to declare his homosexuality while an active player. Both Collins and Sam received positive support from their chosen sports. However, if the findings in "Out on the Fields" are to be believed, we shouldn't hold our breath waiting for a tidal wave of pro athletes coming out anytime soon.
The tide appears to be slowly turning, though.
Ball's coming out was a bold move, and in the testosterone-fueled world of Australian football, he has become an unlikely but influential poster boy for changing attitudes throughout the sport. In the lead-up to last Saturday's game, local television networks couldn't get enough of him, as he lobbed from one interview to another on breakfast programs and football shows to promote the game.
Ball had agonized over telling his teammates, fearing they would shun him. In fact, quite the opposite happened, as evidenced by his club organizing the Pride Cup. And while it would be premature to declare homophobia extinct in football, Ball says he has noticed positive changes in three years.
"After I came out I really noticed, especially around my football club, that the homophobic language did fade," Ball told Seven Network's Sunrise program. "I don't think it happened overnight, but using words like 'gay' to mean 'bad' or 'weak' or 'soft,' that had a big impact on me when I was growing up, especially in that football environment."
Joining Ball in Yarra Glen colors for the Pride Cup was Brock McLean, a rugged former midfielder in the Australian Football League with the Carlton Blues. McLean, whose sister Ellie is gay, has been a vocal supporter of gay rights and promoting tolerance on the sporting field.
One of the most significant aspects of the Pride Cup was the support it received from the Australian Football League, the peak professional body for the country's most popular spectator sport.
It was no token gesture, either.
The league followed up its support for the Pride Cup with a promotional video celebrating the 2015 International Day Against Homophobia, Transphobia and Biphobia (IDAHOT). The video, which was aired on May 16 during live football telecasts, featured AFL Chief Executive Gillon McLachlan, as well as star players Matthew Pavlich, Sam Mitchell and Chris Judd.
Like Ball, the AFL has been bold and willing to show leadership on this issue.
It hasn't always been so. Like other major sporting bodies around the world, the league has at times struggled when inconvenient truths like racism, sexual assault allegations and drugs have rubbed up against football. It has stumbled from one PR disaster to another. Its recent handling of an investigation into the alleged use of performance-enhancing drugs by the Essendon Bombers attracted widespread criticism. The league and its 18 clubs have also given mixed messages about how seriously it takes sexual assault accusations against players.
Nonetheless, in recent times the AFL has moved away from the default position of professional sporting bodies to such problems, an approach that usually fails to get past outright denial, or at best focuses on downplaying the gravity of the issue. As the NFL found during its annus horribilus in 2014, that approach almost always ends badly.
Whether it's driven by a risk management strategy instigated by expensive lawyers or insurers to protect the brand or by some genuine desire within its hierarchy to embrace progressive views, the AFL's attempt to eradicate the more egregious aspects of macho locker room culture should be acknowledged.
When racial vilification of indigenous players reared its ugly head in the 1990s, following a couple of high-profile incidents, the AFL campaigned vigorously to stamp it out of the game. It is by no means a dead issue, but the number of complaints is a dribble now rather than a torrent, and those cases are highly publicized, and perpetrators face sanctions from the league and club, as well as public shaming in the media. More positively, the contribution of indigenous Australians to this most Australian of games is now celebrated rather than ignored. An annual clash between the Richmond Tigers and Essendon Bombers -- the so-called "Dreamtime Game" -- is now a major event in the AFL's calendar, and one in which tolerance of all ethnic groups is the underlying message.
The AFL has done some creditable heavy lifting on homophobia, but it isn't a lone voice. Slowly, momentum is building worldwide, although it is still mostly a club-by-club initiative rather than one by professional sporting bodies overseeing them.
Nonetheless, in the U.S., Major League Baseball's San Francisco Giants, Oakland Athletics, Chicago Cubs and Detroit Tigers have announced plans to host "Pride Nights" during the current season.
Outsports.com, a website that tracks and promotes participation of gay athletes, also reported last week that U.S. sporting apparel maker '47 Sports had expanded its range of MLB and NHL licensed hats with rainbow logos celebrating gay pride. The range includes the New York Yankees, the Boston Redsox, the L.A. Dodgers and the reigning world champions, the San Francisco Giants.
Spanish soccer's FC Barcelona also produced a video in support of IDAHOT 2015, featuring star players Andrés Iniesta and Dani Alves. The video, which also includes other Spanish sports stars and celebrities, contains the message "We play as a team. We celebrate respect."
The NFL was in 2013 forced to investigate allegations of bullying, including homophobic slurs against a player at the Miami Dolphins by his own teammates. As a result, the league instigated measures to underline what appropriate workplace conduct is and to ensure that players at each of the 32 franchises are educated from early on about unacceptable conduct such as sexual harassment, racism or homophobia.
But when it comes to high-profile campaigns promoting diversity, the NFL says it's up to the teams. A spokesman told the Good Men Project that game-day themes are at the discretion of the NFL's 32 teams. But if any team wanted to organize a regular season game specifically relating to inclusiveness of gay and lesbian athletes, the spokesman said he believed the league "would be very supportive."
However, he went on to say that with each team having no more than eight home games each season, opportunities for doing something are limited, as compared with the MLB, where teams have about 80 home games a year. As for emulating the rainbow-themed uniforms worn by the two semi-professional teams in Melbourne, that would be complicated.
"Any time you want to change the jerseys for any reason, that's a process," the spokesman said. "Jerseys have never been used to make a statement" other than to honor the death of a prominent person within a team organization. What was more likely to happen in the future, he said, was teams choosing to wear themed pre-game warm-up gear in support of a cause.
Pride Game for Premiership Points?
The AFL may again beat them to it. Football Operations Manager Mark Evans said in March that the league would support any move by an AFL club to host a "pride game" for premiership points. Currently the St Kilda Saints are leading the race to host the game, which may be staged as early as next season.
Already this year, pro teams the Fremantle Dockers and Sydney Swans organized a pride game in Sydney in the pre-season. The game was not for premiership points but was nevertheless sold out and was heavily promoted by one of the AFL's major sponsors, National Australia Bank, Australia's fourth-largest lender.
For the record, reigning premiers Yarra Glen won the Pride Cup by 12 points, only their second victory of the year. The two teams had a break last weekend as intra-league representative games were held throughout Victoria. The Thunder, as Yarra Glen is known, will doubtless have spent their time off feeling they've breathed a bit of life into their season. Bottom-of-the-ladder Warburton Millgrove, on the other hand, will be trying to put the loss behind them and focusing on this Saturday's game against fellow strugglers Mount Evelyn.
For the rest of the Australian football community -- and sports followers in general -- last Saturday's game was a whole lot more than another game of bush footy; it was a small but significant step forward in the fight against prejudice and intolerance.
REAL LIFE. REAL NEWS. REAL VOICES.
Help us tell more of the stories that matter from voices that too often remain unheard.