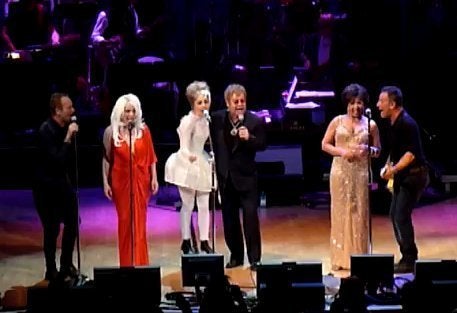 It sounds more like a bizarre dream than reality, but concert-goers at Carnegie Hall can attest to the fact that it really happened.
On Thursday, Bruce Springsteen, Lady GaGa, Elton John, Sting, Blondie's Deborah Harry, and Shirley Bassey of James Bond fame, sang Journey's "Don't Stop Believin'." The performance, a finale to the annual benefit for the Rainforest Fund drew wild applause.
The New York Times and The New York Daily News both reviewed the concert.
Sting said that Mr. Springsteen also chose the concert's all-star finale -- a song, Sting said, that he didn't know. "Everyone in the country knows it but you," he was told. It was Journey's "Don't Stop Believin' "
John... stole the show. Taking a deep, and well-advised, breath, he dove into Madonna's "Material Girl" and "Like A Virgin" while a kick line of go-go boys in Speedos flitted around him with moves worthy of Cirque Du Soleil.

Genius.
The Rainforest Fund was formed by organizations started by Trudie Styler and Sting and aims to spread awareness about the need for rainforest conservation.
Popular in the Community