On Thursday March 6 the Rainier Beach Boys High School Basketball team moved one step closer to a trip to play in the High School National Basketball Tournament Championship in New York on April 3-5, 2014. They handily beat Shadle Park High School 73-46, slowing down from a whirlwind first half pace that had them leading 43-16 at halftime.
Still, Rainier Beach moved one step closer to following in the Seahawks footsteps and bringing an unprecedented second national title to Seattle in 2014. A 3A State Championship would be the third in a row for Rainier Beach, a Washington State record. It would also guarantee them being invited to play for the National Championship in New York.
Rainier Beach is a team filled with talent in both players and coaches. The players seem to fly and float as they play head and shoulders above other teams. What most people don't notice is the man who looks a lot like Clark Kent sitting on the Rainier Beach bench between two of the players. He is never introduced, and he's not a coach, yet he's been playing a vital role in a great many athletic successes on all levels including the NFL and NBA.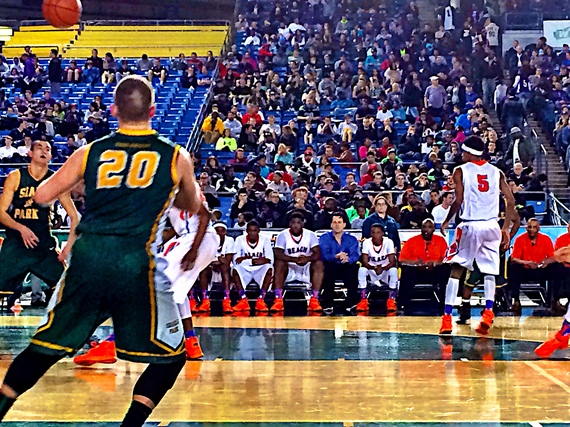 Although he's not a doctor, most people call this man behind the scenes "Dr. Bob" because of all the healing he has produced over the years. In reality, he's an Acupuncturist and Oriental Medicine Practitioner who, among other things, has been volunteering with Rainier Beach since 1998.
This year, Dr. Bob has been working on players from four teams in the Washington High School Tournament -- Rainier Beach, Bellevue, Lake Washington & King's, but he only sits on the bench focusing on the whole team with Rainier Beach. Which leads to an interesting conundrum -- which team comes out on top when Rainier Beach faces Bellevue in the State 3A Semi-Finals on March 7?
Dr. Bob will be working with the Rainier Beach boys as he has for the past two State Tournaments. He was enough of a factor in those wins, that the team awarded him a State Championship ring. The real question that fans need to ask is, "can this team with all its talent and Doctor Bob go all the way to win the National Championship?"
REAL LIFE. REAL NEWS. REAL VOICES.
Help us tell more of the stories that matter from voices that too often remain unheard.