In the world of cosmetics, you have your NARS, your Kevyn Aucoin, and of course your MAC. It is very rare though, to see an extremely seasoned and wildly talented artist like Rai Guerre-Nelson take a company like Ranier Beauty and bring it to the mainstream. With his sharp eye and vision for beauty, Rai is building a clientele far beyond this Asbury Park residents dreams. Rai took a break from the palette to chat with us about today's makeup trends, how Ranier Beauty got off the ground and why women need to stop looking "like a Dorito".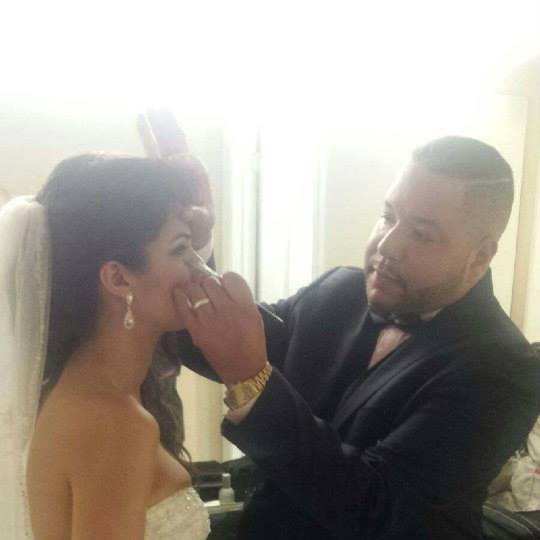 First off, tell me where and how Ranier Beauty was born?
Rainier Beauty has always been a dream of mine. I've been a makeup artist for over 20 years and have worked for companies such as MAC, Laura Mercier, Nars and Estee Lauder, I always knew that I wanted to create a makeup line of my very own. About 10 years ago, I tried to launch the brand and even had a storefront for it, but because of the real estate crash, the bank couldn't approve a small business loan. I shelved the idea knowing that it just wasn't the right time. I believe that everything happens for a reason and I know that it just wasn't meant to be then. I then went on to managing a multi million dollar business for Estee Lauder at Lord & Taylor in New York City, then got promoted to Education executive for the New York Metro area where I trained, developed and was responsible for a 30 million dollar territory. In retrospect, all of my experiences have led me to this point. I now have all the tools and experience I need to launch my own brand.
What do you want to offer with Ranier Beauty that you think clients may not be able to get anywhere else?
I want to give my clients a makeup brand that has literally been hand selected for them by a long-term industry professional. Consumer friendly pigments that the average woman can use along with the personalized makeup lesson to recreate what I do at the studio.

What do you think are some of the biggest and hottest trends in beauty right now?
As I've said before; I've been doing this for a very long time; so I've seen many trends come and go. A few years ago, girls would come to the MAC counter and show me a picture of Jennifer Lopez or Kim Kardashian and want to look like them. I'm super glad to see that trend go away. The girls these days want beautifully natural, glowing skin and either a bold lip or a neutral smokey eye; not both. "Strobing" is another trend thats huge, it's just adding a beautiful luminosity to the high points of the face.
Conversely, what are some trends that you definitely are ready to see go?
Highlight and contouring needs to stop. Anybody that claims to be a makeup artist can put up a Youtube tutorial and makes it look like paint by number. STOP! You have girls looking like a Dorito when the fact is she probably doesn't even need it.
What do you think the biggest mistake ladies make when they are applying makeup?
I think that ladies that have any kind of blemish make the mistake of immediately going to a full coverage foundation. I educate my clients to use a sheer to medium foundation (I prefer a tinted moisturizer) then go in with a pigmented concealer and cover what you need to, that way you still look flawless. You want people to say "Wow! you look beautiful!" not "Oh I love your makeup!"
Asbury Park seems to be where Ranier Beauty was born. What do you think brings beauty to our wonderful city?
Rainier Beauty was definitely born in Asbury Park. I feel that the community as a whole is what makes this city beautiful. It is what drew me to Asbury Park 15 years ago from Brooklyn, NY, and also why I probably won't ever leave.

What's next for Rainier Beauty?
Rainier Beauty is launching the brand category by category beginning with lip liners, lipsticks and glosses, then building on that, this way every category gets its time in the spotlight. Eventually, Rainer Beauty will cater to professional makeup artists in the industry, providing pro products that can only be accessible to them in New York, such as mixing palettes and pure pigments.
So many things are happening for you right now; give me one word that describes your life right now?
Blessed...