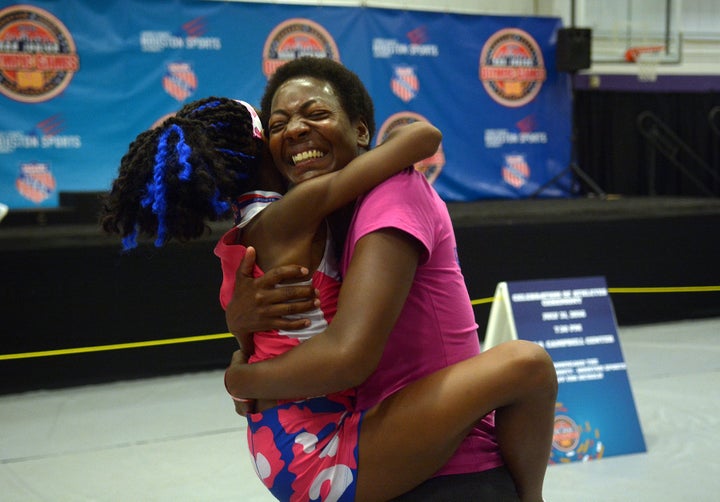 They got something greater than gold.
Sisters Tai Sheppard, 11, Rainn Sheppard, 10, and Brooke Sheppard, 8 — who began training in track and field in January of 2015 —  all made it into the Junior Olympics to compete in various races. Brooke also qualified to compete in the high jump, an event which involves equipment that her training team, Jeuness Track Club in Brooklyn, New York, doesn't even have, the AP reported in July. That meant all of her jumps were practiced done during competitions.
The girls, who live in a homeless shelter with their mother, Tonia Handy, 46, were able to attend the games in Humble, Texas thanks to support from the girls' training team and a successful GoFundMe campaign. Handy, however, could not get time off of work or afford a plane ticket of her own to watch them compete in person.
"It just feels nice to help someone."
That was until Ken Smaltz Jr., a complete stranger who owns a rare coin business and also runs an Alzheimer's foundation, read about the family, reached out to Handy and offered to buy her a ticket.
On August 1, Handy surprised Rainn by showing up to the track right before she was about to run the 3000m race.
"I couldn't believe she was here. I still can't believe it."
Shortly after their sweet reunion, Rainn won the gold medal in the race.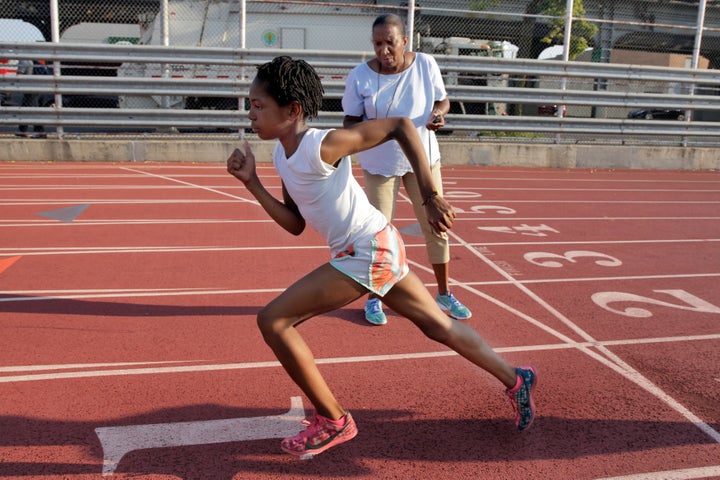 Handy and her daughters – who share their father's last name — have had a rough few years. They have been living in a homeless shelter in Bedford-Stuyvesant in Brooklyn, since September 2015, after they were evicted from their apartment. They share one room in a two-room unit in the shelter, because one of the rooms is badly infested with cockroaches.
"The first time we got there, there was just roaches everywhere," Tai told the AP in July. "Every time I looked on the floor, a roach. And every time I looked on the ceiling there was a roach. It was horrible."
All four family members sleep together on two mattresses that are pushed together, that they lovingly call "The Hub" according to the Chronicle.
Three years ago, the girls' 17-year-old half brother, who was helping Handy raise them, was fatally shot on the street.
Fortunately, Jean Bell, the founder of the Brooklyn-based Jeuness Track Club, just happened to be in the stands that day and gave all three girls business cards after the meet.
It wasn't until the sisters showed up to practice together that Bell realized they were siblings.
And although the family's athletic accomplishments are grand, their needs are simple.
"She knows I don't have money," Handy later explained to the outlet. "For me to be out here is a feat on its own."
Calling all HuffPost superfans!
Sign up for membership to become a founding member and help shape HuffPost's next chapter
BEFORE YOU GO