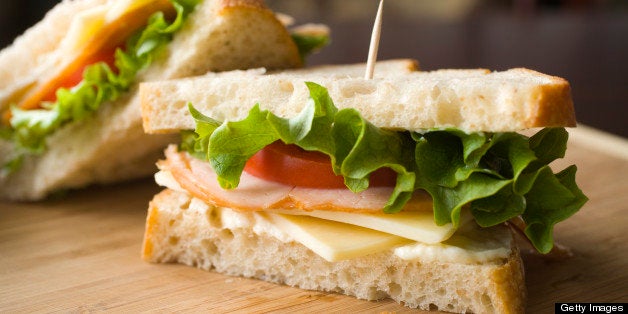 I lived a pretty glamorous life. Past tense.
I spent my 20s jet-setting from Tokyo to London to NY and LA. The St. Regis in NY and Peninsula Beverly Hills were my homes away from home. Pop stars and dinners at Nobu and Spago were a regular part of my life.
In my 30s, I lived in DC and ran an advocacy group that lobbied Congress to assist orphans in developing countries (sometimes with help from movie stars). When not in DC, I was attending conferences in Nairobi and Geneva, visiting far-flung impoverished villages from Malawi to India, or scuba diving in Zanzibar or Palau. You get the picture.
Now in my 40s, I live in the Boston suburbs with my husband and my 80-year-old, recently widowed dad with Parkinson's. (No kids yet, but that's another blog post.)
Almost every morning, I make my husband's lunch. I try to make his sandwiches special, so that he will smile with delight when he unwraps them. Homemade chicken curry with cashews and dried cranberries; Tuscan ham with raw milk, sharp English cheddar and Coleman's mustard. He deserves it.
My husband and I live on a fraction of the income and a tenth of the glamor (and travel) of our lives in DC, but we still enjoy a large quotient of satisfaction. It is OK not to be at "the best" restaurant when you love the company around your kitchen island.
Every morning while making coffee, I read a beloved Ralph Waldo Emerson quote to remind myself that while not outwardly recognizable, this is success too:
To laugh often and much; to win the respect of intelligent people and the affection of children; to earn the appreciation of honest critics and endure the betrayal of false friends; to appreciate beauty; to find the best in others; to leave the world a bit better, whether by a healthy child, a garden patch or a redeemed social condition; to know even one life has breathed easier because you have lived. This is the meaning of success.
It reminds me that the rush of a multi-million dollar deal, Puligny Montrachet and sushi lunches, and even the intense draw to help the most vulnerable children on the planet loses it's grip when someone you love gets sick or passes away. The deals and lunches lose their shine because beyond the glitz they are just deals and lunches. The work does not get sidelined because you don't care, but because there is no completion or neat wrap up; it will be there when you get back. We do our best, but can never do enough to ensure all children have what they need and deserve -- healthy, loving, capable parents with a steady income.
And sometimes, aging parents need the help of healthy, loving, capable children.
I am not making lots of money or "saving the world," but I make fresh homemade sandwiches (Italian Turkey on rye with provolone, fresh basil, oregano, sweet pepperoncini, tomatoes and aged balsamic ) for my husband, and take great care of my dad.
I will return to work. Some days, I desperately miss the buzz of the office, setting a vision and accomplishing goals in a professional capacity. But, today, taking my dad to a doctor's appointment, or making my husband's sandwich matters, and I am enjoying the moment.
It is how I say, "Thank you for moving away from your life in DC, into the middle of my family, and for caring for my dad with me."
Big, showy gestures are fleeting. Consistent, day-to-day "doing" means more than a fabulous surprise party at the coolest place in town or Bulgari cufflinks ever could.
A message on a Jumbotron in Times Square might speak louder, but sandwiches hand crafted to delight and surprise at lunchtime whisper, "Thank you, I appreciate you," almost every day of the week.
That, and high quality of life for my dad, is how I define success in this moment of my life.
Popular in the Community