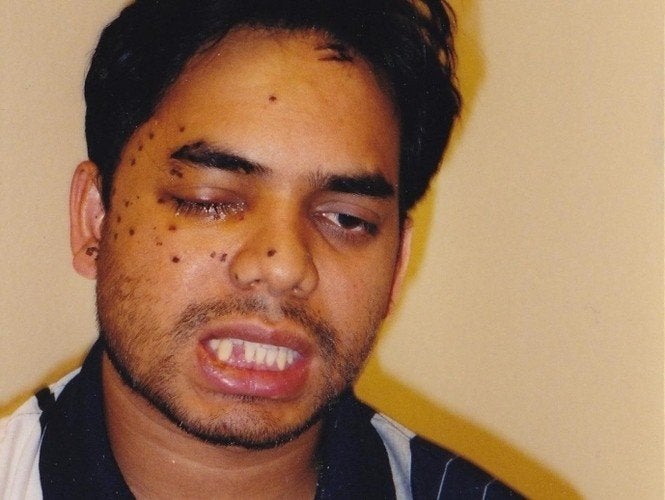 Just weeks after the terrorist attacks of Sept. 11, a masked man stormed into the Dallas convenience store where Rais Bhuiyan, a Muslim immigrant from Bangladesh, worked as a cashier. He asked where Bhuiyan was from -- then shot him in the face at point-blank range before he could reply.
His attacker was Mark Stroman, an avowed white supremacist and methamphetamine addict, who was caught and confessed to the shooting as well as two other attacks on South Asian convenience store workers. Those men died, while Bhuiyan survived, although he was blinded in one eye and still carries 35 shotgun pellets embedded in his face.
In less than 48 hours, Stroman is scheduled to die by lethal injection at the Texas death chamber at Huntsville for the crimes. A last-ditch appeal to the Supreme Court for a stay of execution was rejected without comment in June.
But even as the clock runs down on Stroman's time on death row, an unlikely advocate is trying to spare his life: Bhuiyan, the man he casually shot and left for dead nearly a decade ago.
Over the past several months, Bhuiyan, a devout Muslim, has mounted an aggressive campaign to convince Texas authorities to commute Stroman's sentence to life in prison without the possibility of parole. He has asked the state board of pardons and paroles to make a positive recommendation for clemency to Gov. Rick Perry, and has asked Texas prison administrators for permission to meet face-to-face with Stroman for a victim-offender reconciliation process.
After those efforts were met with no response from Texas officials, Bhuiyan filed a lawsuit against the state, arguing that his rights as a crime victim to meet with his attacker had been unjustly denied. That lawsuit was moved from state to federal court on Monday and remains unresolved.
In an interview with HuffPost, Bhuiyan said his efforts on behalf of Stroman were motivated by his Muslim faith. The Koran teaches that those who forsake retribution and forgive those who have wronged them become closer to God, he said.
"My faith teaches me that saving a life is like saving the entire human race," he said.
Bhuiyan is not alone in his efforts to save Stroman's life. He has support from family members of the other victims, including the widows of the two murdered men, Waqar Husan and Vasudev Patel, he said.
"We decided to forgive him and want to give him a chance to be a better person," Nadeem Akhtar, Husan's brother-in-law, said in an interview.
Akhtar said that his sister, Husan's widow, had written a letter requesting that the Dallas district attorney's office support the effort to obtain clemency for Stroman. The district attorney's office declined to support the petition, however.
According to those close to Stroman, the efforts by Bhuiyan on his behalf have contributed to a change of heart in a man who called his crimes "patriotic" before his trial and who prosecutors once described as a cold-blooded killer.
In an interview last week, Stroman told Ilan Ziv, a documentary filmmaker, that he was remorseful for the crimes and was deeply moved by Bhuiyan's attempts to save his life.
"I received a message that Rais loved me and that is powerful," said Stroman, who suffered extreme abuse and neglect as a child at the hands of his alcoholic parents, according to court records.
"I want to thank him in person for his inspiring act of compassion. He has forgiven the unforgiveable and I want to tell him that I have a lot of love and respect him," he added.
Ziv, who met with Stroman for several hours on Monday, said the condemned man had little hope that Bhuiyan's efforts would succeed in sparing his life.
"He's very realistic," Ziv said. "He knows he's got no chance."
Stroman's last bid for a reprieve will come in less than 48 hours, as the Texas Board of Pardons and Paroles weighs his petition for clemency or a stay of execution. The board has voted for clemency just once in the last 10 years, a period when the state carried out a record 231 executions. A spokeswoman for Perry's office said the governor has not expressed an opinion on the petition to the board.
Bhuiyan's request to meet face-to-face with Stroman before the execution -- a meeting that Stroman has enthusiastically agreed to -- is also unlikely to occur. Michelle Lyons, a spokeswoman for the Texas Department of Criminal Justice, said that both victims and offenders must go through months of counseling and complete other preparatory work before such a meeting can take place.
"There just is not enough time to prepare the victim and the inmate for a meeting," Lyons said.
Bhuiyan said he would have begun the mediation process long ago, but was not informed of his rights to such a meeting by the Dallas district attorney. That complaint was the basis for his lawsuit attempting to force the state to postpone Stroman's execution until the mediation meeting could take place; a state judge in Austin ruled Monday that the suit belonged in federal court.
If the suit is dismissed and Stroman's bid for clemency is denied, the execution will almost certainly go ahead as scheduled at 6 p.m. Wednesday evening.
For Bhuiyan, such an outcome would be a tragedy. "If he's given a chance, it's very likely that he can contribute to society," he said. "If he can educate one person who is full of hate, that is an achievement."
Yet at least one mind has been changed by Bhuiyan's outreach -- his attacker's.
"It is due to Rais' message of forgiveness that I am more content now than I have ever been," Stroman said in the interview with the documentary filmmaker. "If I don't make it I want Rais to carry on his work teaching people not to be prejudiced."
"We need to make sure there is not another Mark Stroman," he concluded.
Popular in the Community