Marcos dreamed of having parents that would show up and cheer him on for his football games and wrestling matches. In this RaiseAChild "Let Love Define Family®" series installment for Huffington Post Queer Voices, contributing writer Eric Criswell shares the story of Marcos and his adoptive father Steven who is happy to fill that role.
On any given afternoon, you may find Marcos Nottingham, 14, arriving home from a day of school and an afternoon of football or wrestling practice. After throwing his book bag down and cleaning up before setting the table for dinner, he'll eat a home cooked meal with his dad and spend a few hours on homework, some TV and video games. It's a typical day for a typical boy in a typical family.
Marcos' journey has not been typical. He wasn't born into this home he now shares with his adopted father, Steven Nottingham, nor did he spend his youth lost in the foster care system. Growing up with his sisters, he entered the system two years ago after his birth family fell apart. Well-adjusted and always hopeful, Marcos decided to make the best of it and then was moved into two separate foster homes. Both homes were nurturing and encouraging; creating strong bonds with Marcos that continue to this day.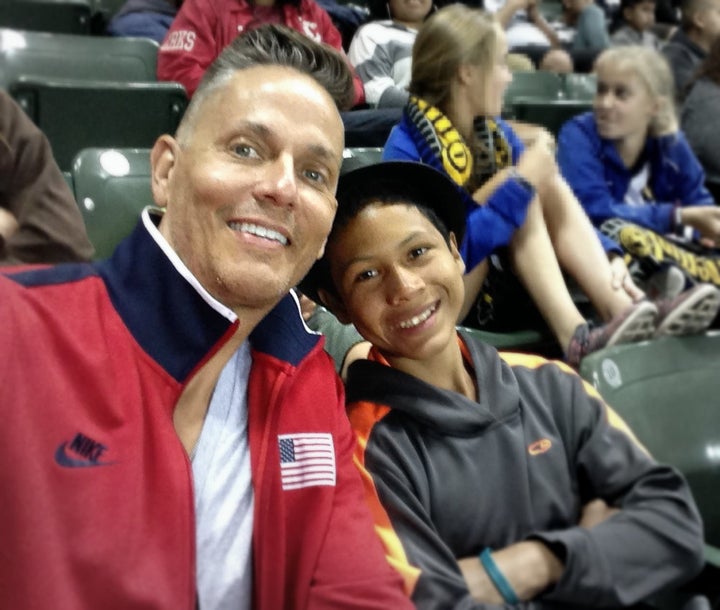 According to Steven, "Marcos was fortunate to have loving foster parents that protected and mentored him once his biological family life had ended, and we still keep in touch and visit them when we can."
During this time, Steven, who had always wanted a family, decided to get involved with a mentoring program for foster kids in southern California with a RaiseAChild partner agency, Kidsave. It was through Kidsave that he and Marcos met, and immediately bonded over their love of sports. They met at various events and spent more time getting to know each other.
"I initially started off thinking of a younger child to adopt. But as I was going through the process of being approved, they told me about older children needing homes," said Steven. "When I learned this, something clicked for me and it was a no brainer. Being a single dad and having someone that is a little bit older, just worked out for my lifestyle, and for Marcos as well."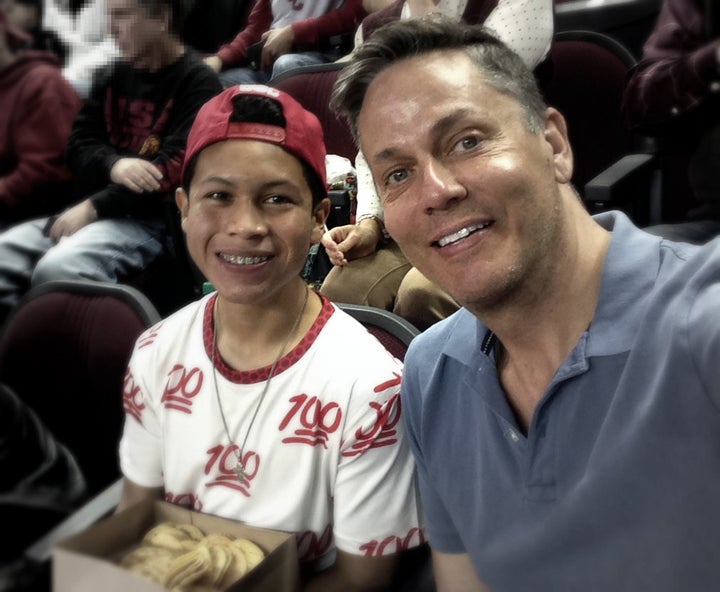 Because of Marcos' age, he was consulted about the adoption and was able to approve or disapprove of the placement. And after months of spending quality time together, both were excited about the prospect of creating a family. Steven is enthusiastic to say, "because we both had a choice, it's made it very special. I truly found my son. I don't think I could've had a biological child that was more mine."
Being a single parent isn't easy, but Steven was ready for the challenges. He gets support from other single parents in his community as they share rides to school events and football games. "So many families now are single parent, and you do what you need to do and make it a good life as much as possible."
Steven and Marcos are both aware of how fortunate they are and give back to the community as much as they can by volunteering at events for foster care children and speaking to organizations to help raise awareness about the opportunities for anyone to get involved. The advice they have is to give it a try and see what feels right for you and your situation. Steven says, "So many people do nothing because they get overwhelmed and feel there is nothing they can do, or adoption may not be right for them. But there are opportunities to mentor, or even just to drive kids to events, and these simple acts can have the power to make a difference and change the lives of a child. Just start doing something, and if it feels right, the doors will continue to open and you'll move forward, one step at a time."
Neither of them take their new family for granted and believe in celebrating life and not dwelling on the past -- no matter how hard it was.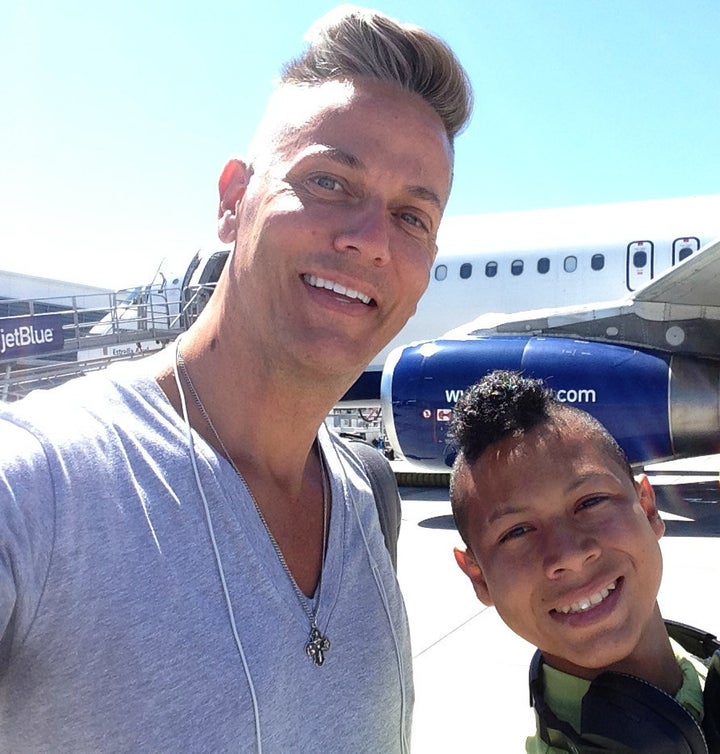 Both Steven and Marcos live by the rule that if you do the right thing and are a good person, good things will happen. And for these two, they have created a typical family filled with the routines of work, school and sports. One of Marcos' dreams was to have someone on the sidelines to support and cheer for him. His Dad couldn't be more proud, nor could he be a better cheerleader.
Have you ever thought of building a family through fostering, adopting, or weekend hosting? RaiseAChild.US is the nationwide leader in the recruitment and support of LGBT and all prospective parents interested in building families through fostering and adoption to meet the needs of the 415,000 children in the foster care system of the United States. RaiseAChild.US recruits, educates and nurtures supportive relationships equally with all prospective foster and adoptive parents while partnering with agencies to improve the process of advancing foster children to safe, loving and permanent homes. Take the Next Step to Parenthood at www.RaiseAChild.US or call us at (323) 417-1440.
Join RaiseAChild for a very special National Foster Care Awareness Month Celebration in Los Angeles on Sunday, May 1, 2016 to benefit RaiseAChild and our partner agencies including Penny Lane Centers, Adoptions at Vista Del Mar, The Village Family Services, and Walden Family Services. More information is available at http://honors.preclickbid.com or by calling (323) 417-1440.
REAL LIFE. REAL NEWS. REAL VOICES.
Help us tell more of the stories that matter from voices that too often remain unheard.