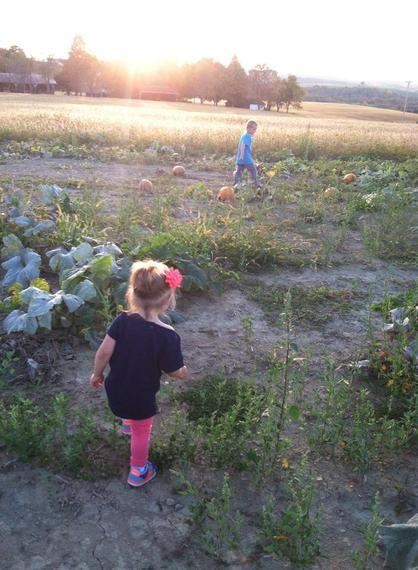 I hope to raise my children to be followers. Our world has plenty of leaders but not nearly enough followers.
Leadership is overrated. All too often accompanied by inflated ego and entitlement, it tears us apart, offers a temporary façade of confidence, and severs our relationship with the only true leader.
You see, I want my children to be faithful followers. The Lord has provided plenty of principles to lead them and to guide their decisions in life. They don't need to reinvent the wheel; they simply need to trust in the sturdy one provided to them.
I pray that they always work hard to see beyond the illusion of man-made success and, instead, take on the more challenging commitment of spiritual success.
I realize this means that I'm asking them to rationalize resisting the modern monster of self-indulgence for the pursuit of true fulfillment and the betterment of others. To resist the temptation to succumb to the unceasing pressures of our culture. That will require them to push pause. To move the race to a standstill. To practice the characteristics of a faithful follower instead of a blind leader.
To abandon the "accommodate me" attitude for "How can I accommodate Him?"
Sadly, we live in a time when we are more skilled at talking than we are at listening. When we are more eager to raise our grievances with others than to raise our arms out to them. When expectations abound yet generosity is scarce. Differences are easier to detect than similarities, affixing labels that both identify and divide. When the allure of material wealth trumps the satisfaction of spiritual wealth. When we overestimate our strength and underestimate His. We cast celebrities as idols and cast Him out, just as the stakes in the game of life are at their highest.
When an abundance of green stands for success and our leaders rashly resort to insulting, demeaning, vilifying, exposing, threatening, and wielding their power in a desperate attempt to control. When respect is dwindling and disrespect has become a new liberty. Computers have a multitude of search engines yet too often serve as engines of cruelty. When achievement means more than one's journey to it. We race to award effort but resist accountability. When we expect forgiveness from others but struggle to accept another's flaws.
When appearance serves as the gold standard for beauty. A time when we are content to view the world through artificial lenses instead of our own. Too quick to turn our cameras on ourselves instead of the beauty that surrounds us. When anger too easily substitutes for tolerance. And knowledge is defined as man-made, data the most trustworthy source.
When we are more than prepared to defend ourselves before a judgment has even been formed. When passion is for the strong and compassion for the soft. When we forget that humankind is the precious combination of two very vital words.
When we ignore Him in times of serenity yet cling to Him in times of chaos. When our voices must be heard; yet their very existence is thanks to Him.
Yes, I hope my children are followers. Faithful followers. The leader role has long been filled. When our children realize that they have the right leader to follow, they are free from the tangles of artificial leadership and the unnecessary pressures placed upon them.
It's then that we can teach them to live a life of meaning, rooted in faith.
As we guide them to resist those powerful forces at play and accept the life of a faithful follower, everything aligns as it should. Though none of it is easy, for them or us. Every bit of it is worth it. We know that. We are not path-of-least-resistance parents. We are multi-taskers, teachers, sacrificers, huggers, jugglers, boo-boo kissers, protectors, cheerleaders, peace-makers, confidence-boosters, and followers. We understand the mighty superhuman task of raising a good human being.
Each and every beautifully arduous moment, we guide and encourage another human being to discover all that the Lord created them to be as they live their life in all His glory.
Related