Only 36% of the 64% of children who are bullied actually report being bullied
This percentage indicates that more children are bullied all around the world than actually report the bullying. Maybe so many children don't report being bullied because there still isn't a clear support system in place for victims of bullying. What do you do if your child comes home and tells you that he has been bullied? As a parent, you do tend to feel a little helpless, which is why Licensed Marriage and Family Therapist Danielle Matthew and Founder of The Empowered Space considers it her mission to empower children and teens with concrete actionable mindset building strategies to heal from bullying.
"If your children hear you coming from a space of 'I am listening to you,' the kids will open up."
She recommends using empathy, empowerment, and engagement to ask our children how they are feeling and to deeply tune into how they are actually feeling, as opposed to telling them how they are feeling. Let's emphasize positive self-talk with children and highlight the simple fact that the children always have an internal locus of control to guide the direction of their lives. The feeling of a complete and total lack of control is normal, but kids should realize that they have more power over their mindsets than they realize.

"We must empower girls to be positive people."
Social or relational bullying in the sense of kids leaving other kids out, specifically girls leaving other girls out, and girls ostracizing other girls is unfortunately all too common. The root cause of social bullying of this kind is rooted in a deep lack of self-esteem and security and acceptance. Parents should use empathy, empowerment, and engagement to empower our girls and communities have to learn to be accepting of all people.
"How will your child feel like if you solve the entire problem?"
The entire focus for Danielle is on empowering children to learn coping mechanisms to defend themselves from bullying, so to explain to parents in her practice better, she illustrates some situations and asks them how they would feel if someone else solved the problem for them. Obviously, they would not feel so empowered, so Danielle gives a play-by-play script to help parents talk to their children in a way that the children feel like they are solving their problems and driving their lives forward with their locus of control.
As a final question, I asked Danielle for her top 3 strategies to empower children, and here is what she said:
Ask children how they feel
Ask children what they would like to do about it and how they want to be heard
Ask children what they would like for their parents to do to make them feel like their voice is heard
My go-getter parents, please give your children a voice in empowering them to face bullying on their own terms.
"We really have to hear our children."
My go-getters, let's raise empowered children!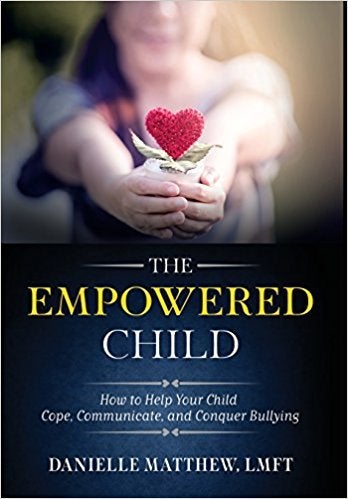 Popular in the Community