WARNING: Do not read ahead if you haven't watched the Season 3 finale of "How to Get Away with Murder."
So that's how you get away with murder. 
The person who killed Wes is ― drumroll, please ― Dominic. Let's pause here to collectively freak out because, um, WHO?!
On Thursday night, the final moments of the Season 3 finale of "How to Get Away with Murder" revealed that Dominic (Nicholas Gonzalez), a hitman with ties to the district attorney's office, broke into the home of Annalise Keating (Viola Davis) on the night of the explosion and suffocated our beloved puppy. The real doozy, however, was the fact he was acting under the orders of none other than Jorge Castillo (Esai Morales), father of Laurel (Karla Souza).
All season long, the hit ABC drama concocted an impressive whodunit story surrounding Wes' demise that pointed fingers at pretty much everybody with a pulse and a law degree. But in the end, Jorge, the ruthless head of a Mexican telecommunications company, orchestrated the death of his daughter's boyfriend and the father of her unborn child.
The finale didn't reveal exactly why he's intent on destroying Laurel's life, but the two haven't seen eye-to-eye ever since she was kidnapped as a teenager. In an earlier episode this season, Jorge forcibly deceived Laurel to sign an affidavit stating she lied about her kidnapping, which conveniently invalidated her testimony in court and strengthened the case against Annalise. (Thanksgiving is about to be so awkward this year.)
It's safe to say the Castillo family and friends will play a crucial role next season, as Laurel is still piecing together how they might be connected to Wes' death. According to series creator Pete Nowalk, the decision to bring Laurel and her father's story to the forefront of the series was a long time in the making, after seasons of hints and guest appearances.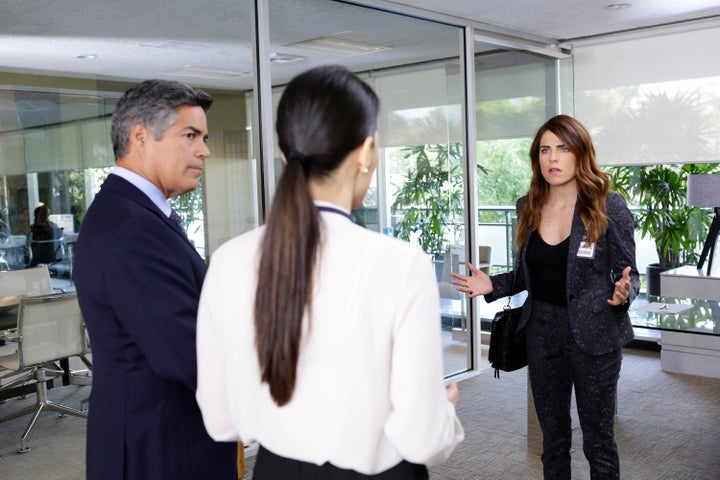 "Very early on in the series, whenever we mention Laurel's father, I knew I eventually wanted to investigate her family and who her father was and how bad of a man he is, so it was definitely a possibility in my head that he was behind it, but there were a lot of possibilities in my head," Nowalk told Variety. "I always have options and it was just really about what felt the most exciting to explore for next year — I like surprising, but I like knowing where it's going more. I really like what this says about Laurel."
Even Souza, who's played Laurel for the past three seasons, was shocked that the "HTGAWM" powers that be chose to take the series in this direction. In a "post-mortem" interview with TVLine, the actress reacted to the devastating twist and hinted at what's to come. 
"I definitely never thought my dad would have involvement with killing the love of my life," she explained. "And in the episode where I decided to sign my soul away to him, we now find out that I was actually signing a piece of paper that said I was never kidnapped, even though I was. The fact that he just keeps ruining my life is definitely something that will grow in Season 4. It was a shock to know my dad was involved in that, and I don't even know how I'm going to deal, Laurel-wise, with that. It took us all by surprise."
How long do we have to wait until next season?
Calling all HuffPost superfans!
Sign up for membership to become a founding member and help shape HuffPost's next chapter
BEFORE YOU GO
PHOTO GALLERY
Celebrity News & Photos: 2017