We are often inundated with images of youth who are engaging in serious criminal acts or participating in what we call anti-social behavior. We read articles, watch the news and may tend to feel a sense of despair wondering what can we possibly do to help these young people develop a sense of hope, a sense of belonging, a desire to be more and do more. While I will never ignore the emergency of our youth who are desperately in need of help, I have to say there are many young people who are doing what they are supposed to do.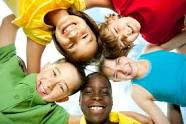 They go to school and are excelling, they have hopes and dreams and believe they can do anything they set their mind to doing. Often times these youth go unnoticed and do not get the notoriety they deserve. Their great achievements may not be considered breaking news nor do they make front page nevertheless they are here and making their mark. They are by no means perfect but they make mistakes and learn from them. These young people come from single parent homes, homes with both parents, and foster homes and yet they dream and dream big.
So what do these soaring youth have in common? They have standards that were taught to them by some significant person in their life.
They have learned standards that incorporate respect for themselves and others. They have learned standards that promote positive self-esteem and the value of human life.
Raising children with a set of standards will not only shape who they are as individuals but also how they will engage in society. In her upcoming book author Dena Billups pens a poem titled "A Call to Adam." She is calling out for the human race to take their rightful position and be who they were purposed to be. Just like her poem, we must call our children out and cultivate them to being their absolute best.
Teaching standards to children starts very early in age and requires consistency and patience. As adults, we have to speak and breathe life into our children by highlighting their accomplishments through effective praise i.e. Great job, I'm so proud of you, etc... We can never assume they know we love them. We have to show them love through our actions.
Children have to learn critical thinking skills as well as social skills that will help them to interact in diverse environments. But most importantly, we have to teach them that they are priceless.
Parents, educators and the like all play a significant role in how children see the world. We must remember they are very impressionable. They must be taught that they are royalty and model the very behavior we want to see in them. After all, we are responsible for "Raising Adam."