Last week, I was explaining to my 4-year-old that mom had to miss two "sleeps" at home in order to help make a celebration for our country's greatest inventors and innovators. I was privileged to be part of the Invent Now, Inc. team that hosted the 43rd annual National Inventors Hall of Fame (NIHF) Induction ceremony held at the Smithsonian American Art Museum and National Portrait Gallery. In addition, it was our inaugural kick-off of Innovation Echo, a national conversation and movement around innovation.
I told my son that one of my jobs was to ride on the shuttle with the inventors. He said to me, "Oh, you are going to outer space?" While I was not referring to that type of shuttle, several of the NIHF Inductees occupying the shuttle seats, like George Alcorn (inventor of the x-ray imaging spectrometer) and Frank Cepollina (inventor of satellite servicing techniques), have helped make modern space exploration possible.
As I had the unique opportunity to sit and chat with these creative problem solving geniuses of our time, I excavated 10 tips on preparing your child and mine to innovate in the 21st century:
NIHF Inductee Gary Sharp (polarization-control technology; making movies like Avatar possible) encourages building STEM (Science, Technology, Engineering, and Mathematics) skills in response to meeting or filling a need. As NIHF Inductee Garrett Brown (Steadicam camera stabilizer) always says, "Look for what's missing!"
Chemist and NIHF Inductee Edith Flanigen's eyes widen as she describes a 2-year-old that points and marvels at the moving blades of the ceiling fan every single time he enters the recreation room where she exercises. While Flanigen (molecular sieves) has earned grand awards, like the National Medal of Technology and Innovation, many of her smaller, yet still inspiring, rewards come from watching children have the time and space to wonder.
NIHF Inductee Don Keck (optical fiber) recounts watching his father and grandfather in the workshop and then being trusted to use the materials and devices. Oftentimes, they made the tools they needed, rather than buying them. When he was on the brink of inventing optical fiber, Keck needed a small portable lathe to deposit the fiber materials. Calling on his childhood experiences, he made one from a large ball-bearing with screws through a pipe for the lathe chuck. Ultimately, this enabled the Internet.
4. Encourage Idea Recording
While at Induction, NIHF Inductee Jim West (electret microphone) received a hand-written note from an inner-city seventh grader who had attended Invent Now's Invention Project program, where he designed an innovative sneaker with a recordable device. In the student's note to West, he wrote, "I like to write my ideas down in a notebook when I have nothing to do." West encourages youth to sketch their ideas, as these types of recordings play an important role in the patent process.
Kumar Patel, inducted into NIHF for the carbon dioxide laser, encourages parents to prompt their children to think about how they might invent solutions to small challenges around the home. Shuji Nakamura (blue LED), a fellow NIHF Inductee, describes his father as one of his best teachers. Nakamura shares that his father made many of his toys, and that watching him craft those items profoundly influenced and inspired him to want to make things as well.
6. Let Them Put Things Together
NIHF Inductee Don Bateman (aircraft safety systems) recounts boyhood memories of eagerly anticipating the small building projects featured in the newspaper during the 1940s. I wonder if it ever crossed his mother's mind, as he was sitting at the kitchen table with his balsa wood and glue, that one day he would save millions of lives by helping planes land safely around the world.
7. Let Them Take Things Apart
As NIHF Inductee Jaap Haartsen (Bluetooth wireless technology) sat and took apart a VCR with Collegiate Inventors Competition Finalist Elizabeth Beattie and Landri Drude, a Camp Invention participant and winner of our "Mighty Minds Wanted" Contest, Haartsen recounted taking apart devices when he was a child. Taking apart machines and devices is the number one activity our Inductees attribute to their early STEM interests.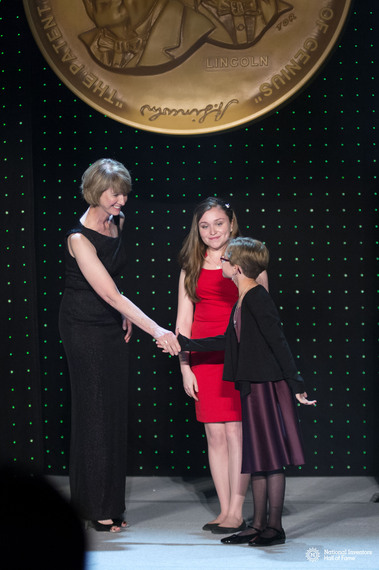 Kristina Johnson, Elizabeth Beattie, and Landri Drude at the 43rd Annual National Inventors Hall of Fame Induction Ceremony
During the Innovation Echo panel, NIHF Inductee Kristina Johnson (polarization-control technology) stated, "Whenever you hear the word never, you know that it absolutely is going to happen." We must help children think about making the impossible possible, putting the out-of-reach into their hands, and daring to think about the next big thing.
9. Actively Listen to Their Stories
NIHF Inductee Steve Sasson (digital camera) states, "Go to Camp Invention... and listen to the [c]hildren describe their inventions. They take all of this stuff that they brought in from home -- their old devices and electronic parts -- they don't know what they were, they just look at what they can be."
10. Talk About Innovation
Innovators often draw their inspiration from exchanging ideas with others. As the inaugural Innovation Echo challenge kicks off, we are asking everyone to step forward and think of innovative ideas on how to conserve energy. Tell us about the conversations that your family is having around the dinner table and on the back porch about innovation and/or energy conservation by using the #ThinkMakeCreate and #InnoEcho15 hashtags. You can also upload energy-based invention prototypes on Facebook and Twitter @CampInvention.

We invite you and your family to Be Part of Tomorrow's Brightest Days.