"Between 60 and 70 percent of those age 65 and over are diabetic or prediabetic. Of these, half are unaware they have the condition because they are symptom free." This is the important message conveyed by Academy Award winner Olympia Dukakis and her husband, actor Louis Zorich.
You can't spend time around Olympia and Louis without immediately sensing the strength of their 48-year marriage. Olympia begins a sentence; Louis finishes it. When Louis introduces an idea, Olympia seamlessly concludes it. The two speak as one. And the subject of diabetes screening brings out the passion in both of them.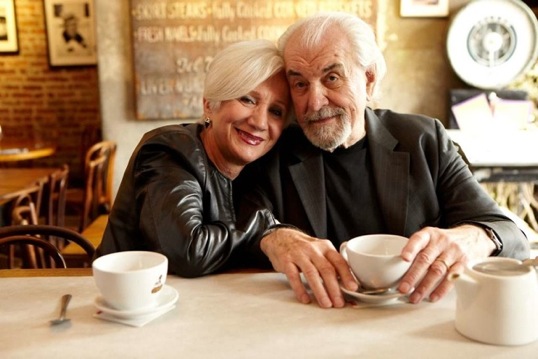 Louis describes his shock at being diagnosed with type 2 diabetes seven months ago during a routine exam. Like many others diagnosed with the condition, Louis had no symptoms. His mother and three sisters had been diagnosed with diabetes, and he had concluded that only the women in the family were affected. Fortunately, Louis found out he was wrong before the condition damaged his body.
Louis was also surprised by the high incidence of diabetes in seniors. Once he began talking about his diagnosis with friends and colleagues, he confirmed the insidious presence of diabetes in an unexpected number of lives.
Olympia and Louis educated themselves about the different kinds of diabetes. Gestational diabetes mellitus occurs during pregnancy. Type 1 diabetes is an autoimmune disease and accounts for 5 to 10 percent of all cases. Individuals with type 1 diabetes must inject themselves with insulin, eat carefully and exercise regularly.
Type 2 diabetes is the more common form and accounts for 90 to 95 percent of the cases. It occurs when the body's processing of insulin, a hormone produced by the pancreas, starts breaking down. As a consequence, glucose accumulates in the bloodstream and can result in life-threatening complications, including stroke, coma, heart disease, kidney failure, blindness and erectile dysfunction. Persons can also experience difficulty healing wounds, particularly on their feet, and amputations are sometimes a consequence.
The personal toll in terms of individual health problems is one way to measure the impact of diabetes. Another measure is the cost of treatment and care. In 2007, the direct cost of treating diabetes was estimated at $174 billion, and the continuing increase in the incidence of the condition alarms public health officials. According to Dr. Catherine Cowie of the National Institute of Diabetes and Digestive and Kidney Diseases, "We're facing a diabetes epidemic that shows no signs of abating."
Yet with early detection and treatment, serious health consequences can be prevented or delayed.
Louis's diagnosis changed the couple's lives on a personal and professional level. Louis reduced his consumption of pasta and sugar, and the couple recommitted to a daily exercise routine. They also encouraged their children, friends and colleagues to get tested. But their efforts didn't stop there.
Olympia and Louis partnered with Novo Nordisk to launch a national educational program to increase awareness of diabetes, increase utilization of the Medicare diabetes screening benefit among adults 65 and over and encourage physicians to order diabetes testing for their at-risk patients.
Since 2005, Medicare has offered free diabetes screening to members who have any one of five factors:
•Family member with diabetes
•High blood pressure
•High cholesterol
•Surplus weight
•History of diabetes during pregnancy
Despite the free test, only 10 percent of the Medicare members who are eligible for the screening have taken advantage of the benefit. Given this startling underutilization and the rising incidence of diabetes, Olympia and Louis are trying to increase the number of people who get screened by providing information on the Ask.Screen.Know Web site.
Visitors to the site can learn about their risk for diabetes and prediabetes, see if they are eligible for the free Medicare benefit and access a health record to keep track of their blood sugar numbers. And visitors can send e-mails or voice mails to family members encouraging them to get screened.
Today Olympia and Louis realize more than ever that "our health is the greatest gift we have. Without it, we couldn't keep doing everything we love--acting, cooking, traveling and visiting our grandkids." Through example, Olympia and Louis convey their commitment to helping others manage their own health as well.
I have been a fan of Olympia's for years. But now I have another reason to admire her and Louis. When the couple alerted others about the need for diabetes screening, they also alerted me. After testing, I was surprised to learn that I am prediabetic. Thanks to the heads' up from Olympia and Louis, I learned about my condition before the disease progressed, and I can take steps to prevent complications. Their ongoing contribution to others through their public education program deserves a standing ovation.
Related