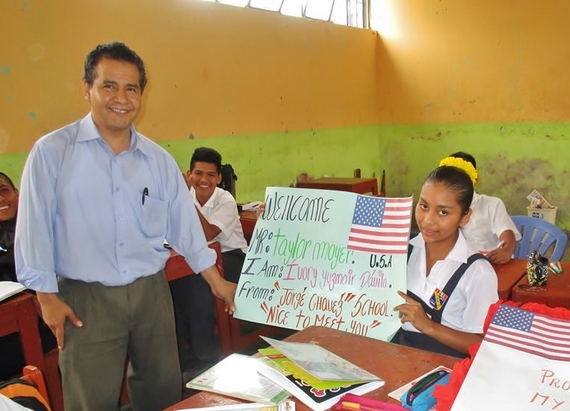 English teacher Bluidson Cardenas Ledesma is transforming education in Peru by building support for gender awareness throughout the country - and for good reason.
In Peru, women face a number of inequalities and barriers, including a large gender pay gap, early marriage and pregnancy, sexism in the media, and attitudes that they should only care for children and do housework. But chief among the challenges these women confront daily is domestic and gender-based violence.
"An average of three women are killed by their partner every day," Cardenas Ledesma says. "Thousands of women are raped, thousands are harassed. There is generally a large percentage of violence against women in many ways."
Growing up, Cardenas Ledesma saw the abuse his mother suffered at the hands of his father, and how she, a trained nurse, was not allowed to work outside the home - despite their desperate need for money. This deeply personal connection to issues confronting women motivated him to help change attitudes around gender in Peru.
During his time in the United States learning new teaching methodologies through the Teaching Excellence and Achievement (TEA) Program, Cardenas Ledesma developed ways to integrate gender equity concepts into his classroom.

"Before going to the US, I had some brief ideas about gender equity, but [they weren't] complete," he explains. "There, I learned how to [create] activities and to put in practice those concepts."
From showing women and men in diverse professions taking on non-traditional roles in the household, to teaching lessons on domestic violence prevention, Cardenas Ledesma is spreading gender equity concepts across his country. In addition to teaching, he is also a trainer in a nationwide Ministry of Education initiative being piloted at 2,000 public schools.
The new initiative not only helps educators improve students' personal and educational development, community engagement, and socio-emotional needs, but is also advancing gender equity and girls' education.
In a course called 'Cross-curricular Issues in Education,' Cardenas Ledesma "trains education professionals [in] various strategies such as 'Parent School,'" which helps parents and students examine their own assumptions about gender.
Cardenas Ledesma isn't alone in his vision. Aside from his work with the Ministry, he works with PROHUPE (Profesores Humanistas del Peru), a nonprofit that trains teachers on gender equity issues and provides scholarships to adolescent pregnant women, giving them the opportunity to complete their education.
Despite the challenges to gender equity in Peru, Cardenas Ledesma remains committed to his work on creating gender-aware classrooms. "It's like when someone opens your eyes and your mind," he says. "When I was [in the US], I finally understood clearly what I have to do, and that's why I have to continue my work to teach students and parents about gender."
Calling all HuffPost superfans!
Sign up for membership to become a founding member and help shape HuffPost's next chapter