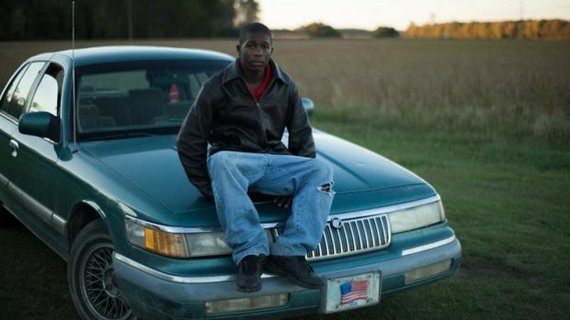 Media coverage, spanning decades, has helped create an almost archetypal depiction of poverty as it relates to black Americans: it's the housing projects of New York City; it is Chicago's South Side. There are the boarded row houses of West Baltimore. It is Los Angeles' Watts.
But as the plight of what is often referred to as "urban America" continues to be well documented, often ignored are the struggles of those living outside of the nation's leading cities. In communities built on the ruins of slavery, where the rate of poverty soars, America's forgotten victims quietly face issues centered around mass incarceration, institutional racism, and inequality in education, mirroring those of their urban peers. In her latest film, Raising Bertie, director Margaret Byrne explores the stories and the people of one such community, and offers a glimpse into the lives of African-American youth coming-of-age in the rural South.
Set in Lewiston Woodville, North Carolina, a small town located in the eastern part of the state with a population over 60% African-American, Raising Bertie takes viewers deep into the lives of three young boys - Reginald "Junior" Askew, David "Bud" Perry, and Davonte "Dada" Harrell - as they navigate young-adulthood, experiencing the frequently harsh realities of poverty, ranging from broken homes to gang violence, all while trying to define their own unique identities. The documentary brilliantly weaves the young men's stories together, as they transition from their teens into manhood, engaged in a shared struggle for social and economic survival.
The starkly poetic film, shot in intimate vérité style, premiered April 9th at the Full Frame Documentary Festival in North Carolina in front of a sold-out audience, and is co-produced by Kartemquin films, the award-winning, Chicago-based company best known for its 1994 documentary, Hoop Dreams. North Carolina native and Grammy-nominated hip-hop star, J. Cole, is also on the film's team, serving as one of the executive producers.
In the days following the documentary's premiere, Margaret Byrne took some time to answer questions about the project. This is what she had to say.
What inspired you to devote the past six years of your life to telling these stories?
Byrne: I believe to truly understand the complexities of living in Bertie and how rural communities can advance, it takes patience and time. One thing I realized was that it was very important in small, tight-knit communities that change come from within. During the time we spent in Bertie, we saw two non-profit organizations come and go. They were doing good work, but they were not from the community and ultimately not accepted or perhaps couldn't commit to the time it would take to gain acceptance. In Raising Bertie, Vivian Saunders, Executive Director of The Hive, an alternative school for at-risk boys, has been working in the community for over 20 years. She is from the community, raised her kids in Bertie, and is not leaving. Although The Hive closed, she was able to build a new center by utilizing relationships and obtaining unused assets from others in the community. Most of all though, I love these families, and once I started filming with them I didn't want to stop until I felt we had honored the truth of who they were. They represent this community and their stories matter.

Raising Bertie explores an often overlooked aspect and region of poverty - that is, black Americans living in the rural South. As a director, what about Bertie County, NC made it an attractive setting for this type of documentary?

Byrne: Bertie is a beautiful place with incredible people. As much as there are hardships, the community sticks together and families are very close. In 2009 when I first visited The Hive, I realized quickly that this was a story that wasn't being talked about in the national media. At the time, I was shooting American Promise, a thirteen-year film following the education of two middle class African-American boys attending an elite Manhattan school. When I met the young men at The Hive, I was struck by how different the issues were, but also how similar. Urban students, particularly those of color, face challenges around educational equity, discrimination, and the school to prison pipeline. But in rural areas those challenges are compounded by geographic isolation and a lack of economic opportunity. Not to mention, the rural South still bares the scars of ancestral trauma left by slavery. In the next county over, they built a private prison that sits directly on the ground of the largest plantation in the state. Vivian's father was a tenant farmer and he spoke to us in great detail about his experience and the racist agricultural and labor processes that were used by the government to take land from black farmers. The film doesn't talk about these issues head on, because we want to first connect viewers to the emotional reality of the present day, and then hopefully we can inspire a conversation about how we got to the situation, and what we are going to do about it as a society in the future.
The film focuses on the lives of three young men growing up in Bertie (Askew, Perry, and Harrell). What was it about these three that you felt helped tell the story of Bertie that you wanted to tell, and helped you create this project?
Byrne: We wanted to get at the deeper issues in the film through the lives of these three young men in hopes that audiences will see them as the complex, multi-dimensional people that they are, despite their challenges. I saw their value, and I recognized they were often overlooked and pushed to the side. People who are lacking in formal education have a different perspective and an abundance of intelligence. The three young men featured in the film each contribute to their community and have valuable skills, most of them unfortunately are underutilized. So many young men have come up to me and said, "This is my story too. I've never seen my story on film, but this is what it's really like." The stories of Bud, Junior, and Dada resonate with many of the young men in the community and I hope they will resonate for audiences across the country.

Unlike many films of this style, Raising Bertie doesn't attempt to soften the realities of poverty. Why do you feel it's important for viewers to see the film in this way?
Byrne: During the edit we talked a lot about how to tell this story truthfully, to confront reality while also not falling too far into stereotypes that both rural and people of color already face. We brought this up at rough cut screenings and pushed ourselves and others to really confront the issues. We also talked about it with the guys and showed them the film before we locked picture so they could talk about the film with us and raise any concerns. So, in some ways we did try to soften the realities or at least be sensitive to the subject's needs.
At the same time, these guys and their families deal with real challenges in their everyday lives. Intentionally softening them too much we felt would dismiss their struggles and diminish their achievements. When you call something a "stereotype" there is a danger in giving yourself permission to ignore it, or reject it as something that isn't real. But to this community and communities like it, these challenges are very real.
Part of the balance is also trying to show the good things happening in these homes. The families are all fed and cooked for and there is a great deal of love and faith in their lives. There are some very strong mothers and community leaders in this story who never give up. We think they are often the unsung heroes. Despite the challenges, these communities and families are working incredibly hard to overcome and hold together and they should be celebrated.
These issues are very complex, and audiences react differently depending on their own personal experiences. One scene that we think demonstrates this is a fight that Junior is involved in. The fight happens during a time in Junior's life when he is really feeling lost and struggling to find a job. It's his low point in the film. During feedback screenings this scene came up a lot, with some wanting it removed because it was hard to watch and felt it embodied a negative stereotype, and others feeling that it was an important part of Junior's story, to see his downward spiral. Then, at one screening in Chicago, someone made a point of saying, "You know, I've seen fights and I've been in fights, and this is barely a fight. No one gets hurt, no one is arrested and the families break it up in the end. Sadly that's not how most fights in Chicago end." Someone else pointed out how the guys who started the confrontation actually end up offering to pay for the window that was broken during the fight. So, part of dealing with the reality of poverty or violence or any issue is recognizing where you as a viewer are coming from, which takes some deeper digging.
Ultimately, with that scene we ended up moving it slightly to another part of the film, so that it maintained its role in Junior's story, but also didn't feel so hefty or huge. It shows how precarious the process of building a life can be for a struggling young black man facing a lack of opportunity; if that fight ends differently, multiple families are plunged into tragedy, which can take generations to recover from.
In the end, this was the product of conversation, listening and work, which is one of the reason we spent two years editing. There were a lot of scenes that were left on the cutting room floor in an effort to not over dramatize what was happening. Along the way it was suggested that if we used more sensational footage we might have more commercial success, but for us that was never really an option or a goal. We think the issues speak for themselves and the everyday human drama is plenty. We want viewers to think, experience, and ultimately understand these lives. That's actually more provocative in the long-term than offering up easy sensations and solutions.
Raising Bertie garnered the attention of platinum-selling artist, J. Cole, who is the film's executive producer. What was it about this documentary that led him to become involved with this project?
Byrne: J. Cole originally learned about the project about a year ago while he was on tour with his album Forest Hills Drive. After watching an early rough cut of the film, he was struck by how similar his own background was to the young men in the film, and he offered to come on as an Executive Producer. He related to the stories of the young men having come from a single mother home in Fayetteville, a community not far from Bertie. Cole hopes the film will raise awareness about the issues young black men face in this country around mass incarceration, institutional racism, and educational equity.
As you mentioned, the film addresses an array of issues, ranging from generational-poverty to education. How does this film serve to tell the broader story of many black Americans, not just those living in Bertie County?
Byrne: The film deals with a number of issues, but it's also not an advocacy, talking-head film that hits you over the head with explanations and data. At the core, this is a story about growing up, making the difficult transition from boyhood to adulthood, and creating an emotional connection to the subjects and their families. Young black men in America don't often have the opportunity to be complex young people. They are often criminalized by our media and justice system in ways that white people are not. So we wanted to show them as full people and humanize the issues so people would have the empathy needed to deal with the complex challenges.
Coming of age is already difficult enough, but for many young black men living in areas that struggle with a lack of opportunity, it's made exponentially more difficult by things like institutional racism, geographic isolation, the burden of historical injustice, and legacy of slavery.
In Bertie you don't have to go back in time to see the impact of Jim Crow, racist labor and agricultural policy, and a biased criminal justice system. These things are still playing out in people's lives today. Plantations were replaced by tenant farming, replaced by factory work, which is now being replaced by a growing prison industrial complex where young men are the new crops. Generation after generation, black men, fathers, brothers, and role-models have been removed from our society, often through laws that were created with that express purpose. When you consider history, it is no wonder that so many young black boys struggle to become successful men - the obstacles we've built over the years are enormous.
Often, in rough cut screenings or funding rejection letters, we were told that it was one issue over another "It's not race, it's poverty," or "It's really an education issue." What we realized early on is that this story is about all of these things and more. It's also just about adolescence. About proms and first loves; about making the football team and struggling to understand your parents. These are things that many young people can connect to.
These issues weave together, in both overt and subtle ways, for everyday people. They are complex to understand and uncomfortable to talk about. In the face of this discomfort we will often default to easy positions. Our biggest hope is that this film creates the space and empathy needed to have harder and more nuanced conversations.
We thank these young men and their families for opening up their lives and offering us the privilege of understanding them better and giving us an opportunity to dive into these tough conversations.
Popular in the Community