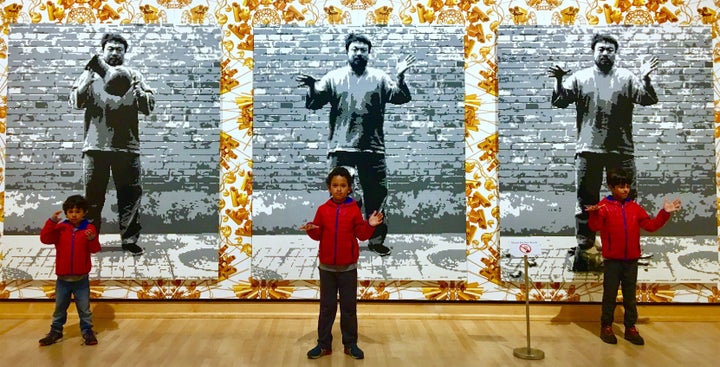 During 2015 we started our experiment of raising low tech kids in Silicon Valley. A year into this endeavor, I wrote an article about the four-step process we used to wean our three boys (ages 6, 9, and 9) from any technology involving screens (televisions, computers, tablets, and smartphones). Meanwhile, we've added a baby girl to our family and plan to raise her under similar conditions. We are happy to report that our experiment continues to surprise us in very positive ways. What follows is a summary of the outcomes we've observed, tips we can offer, and how we see the future playing out for us and our kids within the next decade.
Provide Unstructured Free Time And Room To Create and Explore
We try to respect, encourage, and guide our kids –– we try not to impose steadfast rules beyond the no-screen rubric. Basically, anything else is up for discussion and not every activity is approved. Citing the work of Harvard psychologist Teresa Amabile, Adam Grant, Wharton professor and author, provides an analysis on how to raise a creative child in a New York Times article. This passage particularly caught my attention:
Creativity may be hard to nurture, but it's easy to thwart. By limiting rules, parents encouraged their children to think for themselves. They tended to "place emphasis on moral values, rather than on specific rules."
During free time, the boys play and race their bikes on our two-story deck. They plan family road trips with paper maps, draw blueprints for rocket suits and practice piano. We print the articles that they need to read as research for their own work. On weekends we hike long distances or take short road trips to explore the Bay Area. A few weeks ago we picked 68 pounds of strawberries in Pescadero, CA and then spent the rest of the weekend baking strawberry rhubarb pie, crisp, and shortcake.
Since our kids took over the garage/lab at home, we needed to officially move Tangelo, our innovation lab's operations, to an office in Downtown Palo Alto where our team has been busy launching a 360-degree camera at Facebook's F8 for a startup, building innovative marketing programs for Intel's Silicon Photonics, building mobile apps for Democracy and more. The kids are very excited about the Freedom of Speech app and have been helping us define the concept and use cases but that is a topic for another article. Stay tuned.
When the kids are not busy in their home lab, we bike to Stanford campus and run races around the track. We make brief visits to art museums and then go home and create our own drawings and paintings inspired by the artwork that we've seen. When I was pregnant last year, I walked a minimum of 10,000 steps every single day to help keep my severe arthritis under control. My boys were a major source of support and on weekends they joined me for longer hikes. They knew I was tired and they inspired me to keep going when I flagged, especially on uphill trails. They rarely complained, even when wrong turns extended our planned 4-5 miles into 7-9 milers.
The Family Road Trip Challenge (Sans Devices)
Over winter break we decided to put our experiment through an elasticity test to see how the kids would survive the ten-hour ride with holiday traffic. What would they do for entertainment in a small hotel room hotel with limited books, games, and toys? A friend suggested that we listen to Harry Potter audiobooks. One of my kids had finished the whole series, but as he listened, he realized that he had been mispronouncing many of the words and names. Not only did he appreciate learning the correct pronunciation of "Quidditch" to give just one example, he also loved hearing the story in a different voice. Because the kids were so entranced, we only needed to stop twice each way. While I fed the baby, Antonio took the kids to a roadside store to have them choose a small reward--one sweet snack and one salty. They could hardly wait to get back into the car to resume their listening.
Our ten-day vacation passed uneventfully. We hiked around Joshua Tree National Park. We stayed in a comfortable hotel that had a small kitchen and laundry room. The boys were too exhausted from daily hikes and nature explorations to even notice the TV. Antonio and I had secretly packed three iPads just in case the trip turned sour, but we never had to use them. So much for the elasticity test. We had passed almost without effort.
Handling Air Travel
When it comes to air travel, we continue to allow our kids to have unlimited screen time. Many parents, us included, dread the experience, fearful that our children will annoy other passengers with crying, yelling or kicking someone's seat back. I'd be lying if I didn't acknowledge how comforting and convenient it is to rely on screens to keep the children calm and content. If my kids haven't used a screen in three or more months, you can bet that they will be quiet and engaged when they finally get their hands on one!
Purposeful Access To Technology Is Important (Robots, Motherboards, and StoryTelling)
While we've been generally strict about limiting the use of tech devices in our home, we nonetheless believe that our children will need to use technology to succeed academically. The twins' final project for second grade involved producing a video reflection on their year. We first had them draw a storyboard of what they wanted to discuss. Antonio asked them probing questions and he recorded their answers. Finally, they put the different clips together and edited the video for their classmates and teachers to enjoy. Yet another important tech-based experience lies ahead. As third graders, the twins will take computer-based state tests next spring. To prepare, this summer they will do a 20-minute typing tutorial three or four days each week. As another example, my entrepreneurial cousin in Israel is starting a business of DIY terrarium kits for kids called TerriandSol. The three brothers made an explanatory video for the fledgling company that they edited and narrated by themselves.
Limiting screen time has the added benefit of creating more opportunities for reading. In helping our kids choose books, we've emphasized biographies of famous artists and technologists and how they became who they are. Indeed, many of the books that they've read have sparked conversations about what they need to cultivate their creativity. Discussions are often focused on materials that they need to prototype their ideas. Even at this early age, the boys already recognize the work of Louise Nevelson, Jean-Michel Basquiat, Steve Jobs, Pablo Picasso, Keith Haring, and John Muir, among others. We feel this background is important, not because we want them to become famous artists but because we want to educate them on the level of grit that it takes to accomplish something you love. As Adam Grant mentions in his article:
When the psychologist Benjamin Bloom led a study of the early roots of world-class musicians, artists, athletes, and scientists, he learned that their parents didn't dream of raising superstar kids. They weren't drill sergeants or slave drivers. They responded to the intrinsic motivation of their children. When their children showed interest and enthusiasm in a skill, the parents supported them.
Robotics is a particular area of interest for our sons. As is the case with many other children, their dreams are larger than their current skill-set –– they want to build rocket boots or suits that make people fly. Thanks to a birthday gift from Grandpa Jeff, the boys are now able to construct mBOT robots by MakeBlock. The kids were also able to put together a Piper Bot and build their own little computer. This would not have been possible four years ago, but with the advent of Arduino and Raspberry Pi, such projects are much more accessible.
There are countless advantages to our limited-tech lifestyle, but one of the more notable gifts is a more peaceful home life. Simply put, we don't spend large amounts of time arguing and negotiating about electronics and screens. When I am out and about running errands, eating in restaurants, or attending school meetings and events, I hear countless discussions between parents and their children. "If you keep doing that, you are going to lose your screen time for today!" or "No iPad for a week!" The parents are frazzled and frustrated and the kids are often inconsolable over losing their precious screen time. Whenever I eavesdrop on one of these difficult discussions, I'm grateful this isn't even a topic of conversation in our family.
I don't want to give the impression that my children are perfect angels. We have our fair share of arguments and negotiations, but we are liberated from an ongoing conflict about screens and TV.
As an educator, I believe that wonderment is the foundation to creativity. We need to be fostering a generation of curious problem-solvers. It's difficult to do this in a world of immediate gratification. Though iPhones, iPads, and other technology-driven devices are still too new to have yielded solid long-term data on the effects on children's developing brains and behaviors, from my own small sample of three and now four, observed that when my kids had regular screen time, they acted like rude little maniacs when the devices were taken away.
The Future Is Experiences First, Screens Second
It may be hard to believe this now, but I predict that, within a decade, there will be fewer instances when we will need to use screens to access information. That's a compelling reason to help this generation leapfrog over mind-numbing screen gazing and be better prepared to solve problems and tap into their innate creativity. The future is likely to have ambient technology integrated with our daily routines and this will have an impact on multiple levels of society, from the family unit to business and finance. Just imagine Alexa's abilities ten years from now –– at a micro level, she already offers a simple way to streamline repetitive home chores through voice-powered services. At a macro level, Amazon continues to collect vast amounts of data that will serve to polish AI and aesthetic intelligence. Screens will evolve to become smart surfaces powered by Artificial Intelligence. Knowledge and financial networks will have a distributed, open and secure models through evolving platforms like Blockchain and Ethereum that are currently in their infancy.
With such a future, Antonio and I feel all the more dedicated to raising our kids in a low-tech home. It is also comforting to know that we aren't alone in this fairly contrarian view. Here's one compelling example: the late Steve Jobs, creator of the iPhone, limited his own children's access to screens.
Support HuffPost
The Stakes Have Never Been Higher
Related
Popular in the Community