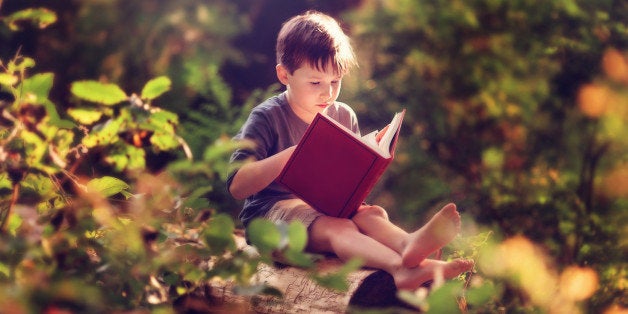 My preemie twin boys were born just a few weeks before the Apple App Store was first launched. As our children grew, the availability of mobile software for kids increased at lightening speed. When the twins were three years old, they were already testing apps for gaming and educational companies in Silicon Valley. Our children became early adopters of mobile technology. And that worked for a while. With our endless doctor's appointments, hospital visits and surgeries, mobile phones practically saved our lives. But after about five years of living in a preemie fog, we were relying on technology to distract and quiet our children out of habit instead of necessity. I realized that I didn't like the way they acted after using mobile devices or watching TV shows. They certainly weren't calmer after binging on Netflix; they were more rambunctious and oftentimes rude. We needed to make a change. But how does a family that lives in Silicon Valley and creates technology platforms for a living conclude that limiting access to technology for our children is one of the best decisions we've ever made? This is the story of how we redesigned our lifestyle to fit an all new, low-tech environment.
I live in the heart of Silicon Valley with my husband, Antonio, and three young boys ages 7, 7 and 4 years old. We are surrounded by land owned by Stanford University on all sides. Antonio and I run Tangelo, an innovation lab that creates digital products. Venture capitalists riding high-tech road bikes and cars that drive themselves are ubiquitous. When you go to the mall, a robocop greets you (yes, that's creepy) and we have two Apple stores five minutes from our home. You can order any kind of food by pressing a button to be delivered to you within the hour.
Before fully diving into the technology world, I was a founding teacher at a charter high school in East Palo Alto, one of the lowest income communities in California. I also co-authored a book about this experience which was published by Teacher's College Press in 2015. My experience during those seven years gave me a deep understanding of how important structure and consistency are for young people. With this as a foundation, we thoughtfully created and executed a four step process to wean our children from technology. We were out of the preemie fog and ready to take this on.
As a first step, we decided to take the plunge and just go cold turkey. Antonio was called away to go to Israel for two weeks as part of a delegation of leading Latino technology entrepreneurs from Silicon Valley. My kids had lost interest in my iPhone a few months prior when I changed my password and erased all gaming applications, and I had long before convinced them that I didn't know how to use our complicated television/audio system. So, while their Papo was away, they forgot about their TV shows and mobile screens. I needed to create an authentically low-tech environment that could not be hacked, hence the deletion of all games from iPads and iPhones as well as the truthful disappearance of all mobile devices from their reach. Antonio had all of the iPads with him on his trip, so they were out of sight, out of mind. There was no amount of complaining that could bring them back, so after a few attempts at calling my bluff, they stopped. I was not bluffing.
The second step was distracting the children with physical activity. We live near the back entrance of the popular hiking Stanford Dish and any time the kids were too wiggly or getting on each other's nerves, I would have them walk the mile uphill and then run down the hill. They loved it. And when we got home, they were refreshed and hungry for a healthy meal and slept soundly in the room they shared. When winter break arrived, eight months after we began this social experiment, I was concerned that too much unstructured time would make us fall back to our old ways of having the TV babysit the kids, so I decided that we would do a hiking staycation. We chose a different route every day and one week we actually clocked over 40 miles.

Exercise is only part of the solution. The third step was to give the kids some office space. In good startup fashion, a few years ago, Antonio turned our garage into an office. We work from home most of the time, but we do have offices in Palo Alto, Argentina and Chile. So we made space for three extra desks and file cabinets so that each child had his own work space along with access to the large white board and office supplies.

Even though the kids had stopped asking us for our phone to play games, they continued to frequently request to Facetime with family members. Instead of simply handing our phones over to them, we gave them an old school land line cordless telephone and a list of phone numbers of family members. We didn't anticipate the effect that this fourth step would have on the deep relationships our kids have with their grandparents, uncles and aunts. I must admit, the out-of-state phone calls were a bit incessant the first week, but the novelty soon wore off and they authentically gained a better understanding of boundaries and respecting other people's time and work obligations.
The effects of severely limiting technology surpassed our wildest expectations. Our children's creativity has exploded and our garage office is in a constant hum of excitement and innovation. They are constructing a humidity sensor for a plant out of "Little Bits" with their Great Uncle Dan who lives in New York. They are going through books and games created by Know YourSelf that teaches children about anatomy, history and science. They are forming a company called Three Brothers Capes. With the help of their Tia Carolina, an excellent seamstress, their products transform ordinary stuffed animals into superheros. They are also turning more and more to music during playtime. Just one example: When I ask my four-year-old to tidy up the family room, he responds, quoting Hamilton, the musical by Lin Manuel Miranda, "You want a revolution. I want a revelation."

It's actually quite ironic. Becoming a low-tech family resulted in cultivating the best aspects of Silicon Valley startups where high energy ingenuity, creativity, and passion thrive. The core of Silicon Valley is not just about technology, it's about the innovation process. Our newly adopted lifestyle has created both the physical and mental space for our children to deeply engage with the creative spirit that resides in all of us.
As a family we watch 1-2 movies a month and we let the kids watch TV when the president is giving a speech. They've even watched a few presidential debates. (Their analysis of the Republican contenders: "They're not acting very presidential. That's not how a leader is supposed to sound.") Air travel is a different story. There the kids are allowed unlimited tablet use and we've noticed that our kids often behave better than the adults on the plane.

Parenting is about surviving. Technology can be a vital part of the family structure to keep it flowing smoothly. I don't think that parents should feel guilty if they need to rely on technology to get through the day. What I am offering is a snapshot of our family and how the decision to severely limit the use of technology for our kids has changed us for the better. As our kids grow older and at each stage of life, my husband and I will continue to reevaluate technology use and ultimately make the decisions that we believe are best suited to the developing needs of our children and family.