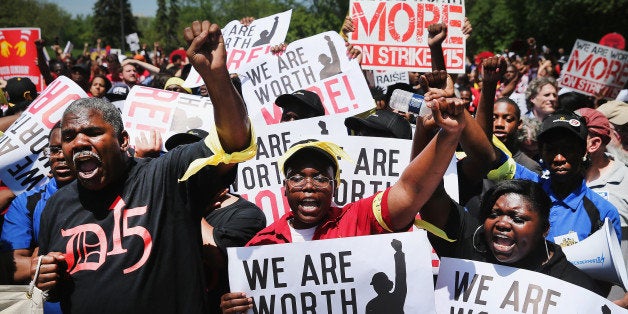 Among the many ways the Catholic Church strives to be vigilant for the common good is its call for a living wage.
Pope Francis recently noted, "it is therefore necessary to remove centrality from the law of profit and gain, and to put the person and the common good back at the centre. One very important factor for the dignity of the person is, precisely, work; work must be guaranteed if there is to be an authentic promotion of the person. This task is incumbent on the society as a whole." In other words, we must return the human person to the center of economic life; one way Congress can do that is by ensuring workers receive just wages.
Many people served by Catholic Charities agencies are poor despite full-time work at the bottom of the labor market: cleaning houses and office buildings, harvesting and preparing food, watching over the children of working parents. They contribute to our nation's economic prosperity, yet the current minimum wage leaves many living below the poverty line.
Still, poverty is too large of an issue for one church or community to fight because the reality is it is often institutionalized. Take for example the fact that more than 32 million low-wage in the U.S. obtain SNAP (Supplemental Nutrition Assistance Program, popularly known as food stamps) in order to make ends meet. This is according to a new report released by Oxfam America this week. These workers are relegated to poverty because they receive a poverty-wage rather than a living wage.
It's been seven years since Congress last raised the minimum wage, which currently sits at $7.25 and works out to around $15,000 annually - an income that is $4,000 below the poverty line for a family of three. In the past, minimum wage increases have passed with near unanimous support. While the politics of this issue appear to have changed, what hasn't is the fact that the United States has the highest proportion of low-wage workers of any developed nation in the world.
People who work full time should not live in poverty and they should not have to stand in line at Catholic Charities agencies because once they have paid their rent, they have almost nothing left to pay for the rest of their monthly expenses.
The good news is that we can begin to address this problem through a $10.10 minimum wage that would benefit 25 million low-wage workers and lift millions people out of poverty. Moreover, it would also provide 12 million low-income families with an extra $1,300 a year (enough to buy 10 weeks of groceries for a family of four!).
Catholic social teaching tells us that raising the hourly minimum wage is not just an economic issue - it's a moral issue. It's time that we create a more just and equitable society by lifting up those who are in need as we are called upon to do.
Snyder is the author of Think and Act Anew: How Poverty in America Affects Us All and What We Can Do About It. The book calls on our nation to commit to supporting innovative approaches to combating poverty and spotlights effective and efficient programs being run by Catholic Charities agencies across the country.
Calling all HuffPost superfans!
Sign up for membership to become a founding member and help shape HuffPost's next chapter