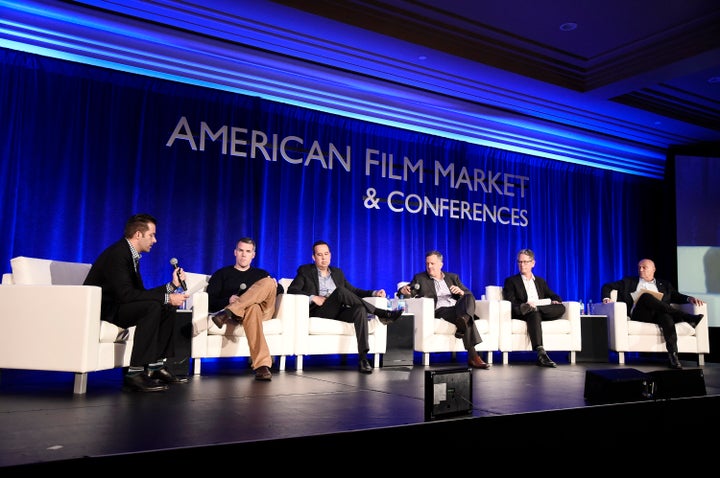 Round two of the finance conference at this year's American Film Market continued the exploration into the often murky and ever changing depths of getting a film financed.
Several years ago with the right actor you could presell foreign rights, "today it's not so easy," said Kevin Frakes, CEO of PalmStar Media, a film and television production and financing company based in Los Angeles. "You need the right script, actor, director and a campaign and a domestic distribution deal."
The bar is set higher and "the domestic distributors are more discerning," he said. This is causing people to wait for a "prestige" project.
One veteran producer, Richard Saperstein, a principal at the production company, Storyscape Entertainment, said he sees projects earlier now than before. His primary criteria is "quality" and what he looks for first is a great script with an "original voice, international appeal and great roles for actors."
Echoing the need to find quality, film financier, Mark Manuel, partner at Kilburn Media says he mostly relies on talent agents to bring him projects with "great filmmakers and an actor attached but he has to fall in love with the script."
Don Starr, financiers CEO of Grosvenor Park Media explained the need to find that great script. "Nobody pays $10 to see a great deal. You have to shoot something people want to see."
That said you still have to stitch together a deal with loads of moving parts that include tax credits, incentives from States in the US or from foreign countries where you might want to shoot. You add in equity capital from investors like Starr and loans from banks against presales to foreign territories to make your budget. But increasingly you'll need a domestic distribution deal before you can tap any of these other sources for funding.
This search for quality is driving producers like Frakes to look not only at scripts but also books that with "proper development" will become the right project to take out to the global market.
One of the problems confronting producers eyeing the theatrical market is the growth of television.
"They are tying up all the writers," said Starr. "It's now a career for actors and writers. It (television) used to be a dead end."
The competition for talent, "actors and writers from the platforms (Amazon and Netflix, etc.) is driving up prices and availability," said Manuel.
The robust market is forcing producers to find ways to generate projects from the ground up and not just rely on what comes over the transom. Frakes has provided overhead for filmmakers to allow them generate projects because he, "wants to be in earlier," he said.
Whatever the process the panel agreed the formula has remained the same. It starts with a script. Then a filmmaker and then actors follow the filmmaker. All of which attract financing.
At this point financing has to be as creative and nimble as the script and the director. The need to find foreign partners may mean you put international characters in your film or locations. Or you work with partner in territories where you want to make your film so you qualify for tax credits or other incentives.
"It has to be organic," said Saperstein. "You can't just stick an actor in the film," or shoot in a location because this will help you obtain a foreign tax credit, "without compromising the integrity of the film."
"It's a slippery slope," said Starr. "You have to be careful about catering to foreign demands and driving down box office. It's tough to get it right."
At the end of the day "you can mitigate risks but you can't guarantee return," said Manuel.
Related
Popular in the Community