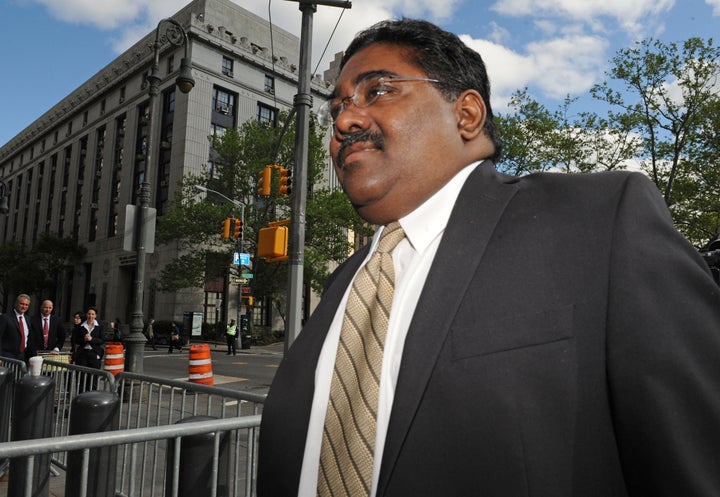 In what has been a heavily-watched insider trading case, Galleon Group hedge fund manager Raj Rajaratnam has been found guilty on all 14 counts of securities fraud and conspiracy, according to multiple reports. The announcement was made in a lower Manhattan federal court.
(Update: Analysts react to the Rajaratnam verdict below.)
For now, Rajaratnam, who ran one of the world's largest hedge funds, will be free on bail, but will be fitted with an electronic monitoring device. Reuters has more on the Rajaratnam verdict:
Rajaratnam, a one-time billionaire, will remain free on bail until sentencing on July 29, U.S. District Judge Richard Holwell ruled after the jury delivered its verdict.

Rajaratnam was expressionless during the verdict reading by a courtroom deputy.

He could face 15-1/2 to 19-1/2 years in a federal prison under sentencing guidelines, prosecutors said.

The Manhattan federal jury announced its unanimous verdict on the 12th day of deliberations in what many legal experts said was a strong prosecution case using FBI phone taps and testimony of three former friends and associates of Rajaratnam.

The jury convicted Rajaratnam of nine counts of securities fraud and five counts of conspiracy for what prosecutors describe as the money manager's central role in the most sweeping probe of insider trading at hedge funds on record.

During the two-month trial, prosecutors hammered at their argument that Rajaratnam cheated to gain an unfair advantage in the stock market from 2003 to March 2009, reaping an illicit $63.8 million.

Defense lawyers had stuck consistently to their main theme that Rajaratnam's trades were guided by a trove of research and public information, not secrets leaked by highly-placed corporate insiders.

Sri Lankan-born Rajaratnam, 53, was ordered to be fitted with an electronic monitoring device while out on bail.
Prosecutors had asked the judge to jail Rajaratnam pending sentencing, but the judge rejected that request.

The case is USA v Raj Rajaratnam et al, U.S. District Court for the Southern District of New York, No. 09-01184.

The Wall Street Jorunal has a nice round-up of some of the key moments that may have swayed the jury. For example, Rajaratnam apparently told a colleague: "I heard yesterday from somebody who's on the board of Goldman Sachs that they are going to lose $2 per share. The Street has them making $2.50." Because this information came from a key bank employee and was sufficiently outside of the consensus view, the WSJ reports, prosecutors deemed it "material" information.
In 2009, Forbes estimated Rajaratnam's net worth at $1.3 billion, ranking him 559 on the magazine's list of the world's richest people.
Update: Below are analyst reactions to the Rajaratnam verdict:
Yahoo! economics editor Daniel Gross dismisses somewhat the significance of the trial, calling it "a sideshow to the larger financial scandals" of recent years. "Its impact on the economy pales in comparison to the Lehman Brothers debacle," Gross writes. "The sums of money and institutional failures involved were much less dramatic than in the Bernard Madoff affair."
What makes Rajaratnam's case significant, he says, is that it signifies the increasing prominence of South Asians in U.S. pop culture.

Charles Ferguson, director of the Academy Award-winning Inside Job, agrees that the focus on Rajaratnam's trial is misguided. "The total amounts of money and the consequences in insider trading are trivial," says Ferguson, according to The New York Times, "compared to the damage caused by the behavior that caused the financial crisis[.]"

Not everyone agrees. Anthony Michael Sabino, a professor at St. John's University, said in a statement that this could be a turning point in the larger fight against white collar crime. "For more than 30 years, the government has had a spotty history in insider trading cases, reflecting the difficulty of gathering evidence, explaining the machinations of high finance to a jury, and reconciling sometimes conflicting legal theories," the statement reads, according to the Washington Post.

"It is a defining case," says Wayne State University law professor Peter Henning, who went on to say Rajaratnam "joins the pantheon of [convicted stock trader] Ivan Boesky and [fictional Wall Street character] Gordon Gekko," according to Bloomberg.
The trial could also be a boon for the well-meaning trader. "The honest hedge fund managers should breathe a sigh of relief," San Diego State professor of finance Dan Seiver says, according to Reuters. "This will make the competition fairer... That's why we need these laws and cases to level the playing field."

The conviction hasn't seemed to rattle Wall Street thus far. "There is no market reaction," says Joe Saluzzi, co-manager of trading at Themis Trading, according to Reuters. "(But) it's the talk of the Street, no doubt about it."
Below read the release from the United States Attorney's office (via Business Insider):
Popular in the Community