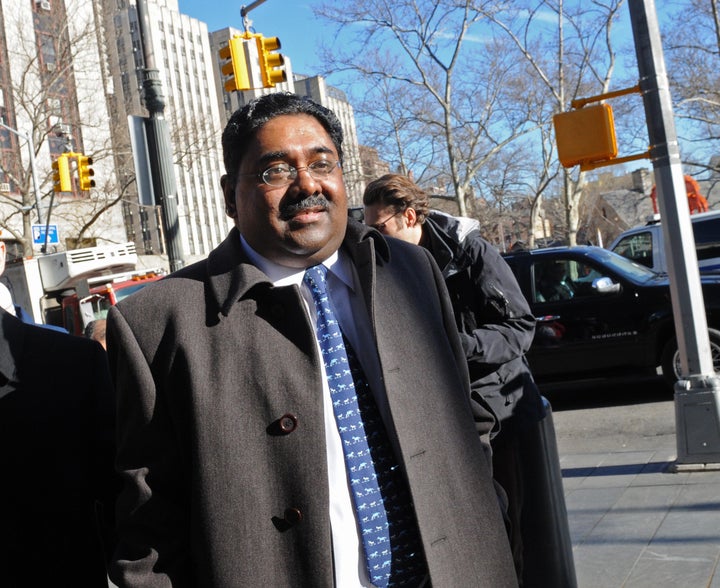 NEW YORK (By Jonathan Stempel and Grant McCool) - A former Intel Corp executive testified that he shared company secrets with his friend, hedge fund founder Raj Rajaratnam, the central figure in the biggest Wall Street insider trading trial in decades.
Rajiv Goel, the second friend-turned-government-witness to take the witness stand at trial in Manhattan federal court, told the jury on Tuesday that he tipped off the Galleon Group founder because they were close friends and "Mr Rajaratnam helped me financially a few times."
Sri Lankan-born Rajaratnam, 53, is the most prominent defendant in the largest U.S. hedge fund insider trading case in history. Prosecutors have accused him of illegally making $45 million based on tips from corporate insiders.
The one-time billionaire has denied wrongdoing, and said his trades were based on his own research and publicly available information. He faces up to 20 years in prison if convicted of securities fraud.
Twenty-six people have been charged in the probe, and 19, including Goel, have pleaded guilty. He has yet to be sentenced.
The trial began March 8 with testimony from an FBI agent who monitored phone taps and from star government witness Anil Kumar, a former McKinsey & Co executive who was another longtime friend of Rajaratnam and who said he had leaked client secrets.
Goel, who worked at Intel from 2000 until his arrest along with Rajaratnam and Kumar in October 2009, testified that he was obligated under company policy to keep information confidential.
"I violated my obligations," Goel said under questioning by federal prosecutor Reed Brodsky. He also said: "I shared it (company information) with Mr. Rajaratnam."
Indian-born Goel, 52, is expected to testify for two or three days and he will be cross-examined by one of Rajaratnam's defense lawyers. Goel admitted in his plea proceeding last year and at trial on Tuesday that he tipped Rajaratnam about a big wireless network transaction involving Clearwire Corp.
Also on Tuesday, a current Intel executive testified that confidential details about Clearwire were leaked before the announcement of the deal.
Prosecutors argued that Rajaratnam, who is on trial on charges of trading on illicit stock tips, bought 125,800 Clearwire shares based on inside information.
They contend that his March 24, 2008, purchase came two days before news reports of a possible 4G WiMax venture between Clearwire and Sprint Nextel Corp, involving $1 billion of capital from Intel. The venture was announced on May 7, 2008.
In his second day of testimony, Intel Vice President Sriram Viswanathan said Goel would have been dismissed immediately from his job for discussing details of a possible Sprint-Clearwire partnership, including capital commitments from Intel, Comcast Corp and Google Inc.
Viswanathan also said Goel also would not have been authorized to disclose that Intel had held a board meeting on the matter. Those details were disclosed to the jury through phone taps of conversations between Rajaratnam and Goel.
The case is U.S. v Rajaratnam et al, U.S. District Court, Southern District of New York, No. 09-01184.
(Reporting by Jonathan Stempel and Grant McCool, editing by Matthew Lewis and Gerald E. McCormick)
Calling all HuffPost superfans!
Sign up for membership to become a founding member and help shape HuffPost's next chapter