 WASHINGTON -- One day after the Supreme Court blocked a lawsuit against warrantless wiretapping, the National Security Agency's top lawyer offered a rare public defense of the U.S. government's secret spying program. General Counsel Rajesh De's speech at the Georgetown University Law Center on Wednesday was short on specifics, but long on claims that the agency is protecting Americans' privacy.
While conceding that he worked for "an agency whose philosophy is generally to stay mum whenever possible," De said pervasive falsehoods about the NSA are poisoning the public debate around the wiretapping program that the agency runs. Anyone who believes the NSA "operates in the shadows, free from external scrutiny or true accountability," he argued, is buying into a myth.
"In my ten months at the NSA, it's evident to me that I am the general counsel for one of the most highly regulated entities in the world," De said.
Public debate has centered around the agency's warrantless wiretapping program. The George W. Bush administration used the NSA as the home base for an unauthorized, wide-reaching wiretapping program, which cemented suspicions that the agency considered itself above the law. In 2008, Congress passed a law making the wiretapping program legal, but also implemented changes to ensure that it only targeted people abroad.
De has been on the job only since April 2012, after a stint as President Barack Obama's staff secretary. What he has learned in his short tenure as counsel for the agency, making sure it stays within legal and constitutional bounds, he said, belies impressions many have of the wiretapping program.
De said the idea that the NSA is "a vacuum that indiscriminately sweeps up and stores global communications" is false. That, he argued, would be "counterproductive" and "neither feasible nor desirable." Also false, he added: the notion that the "NSA is spying on Americans at home and abroad with questionable or no legal basis."
De did not detail what the NSA has done since the 2008 wiretapping law's passage to safeguard Americans' privacy rights. The NSA has long maintained that revealing its sources and methods might allow terrorists to evade detection. But, he said, the NSA is "subject to a spectrum of detailed scrutiny throughout all three branches of government."
De's argument will likely fail to convince those skeptical of the agency. The Supreme Court's decision to throw out a lawsuit against the warrantless wiretapping program on Tuesday has left civil liberties advocates with a sinking feeling that the judiciary has abandoned its role as a check on constitutional excesses. Efforts in Congress, led by Senators Jeff Merkley (D-Ore.) and Ron Wyden (D-Ore.), to force the intelligence community to reveal how many Americans it accidentally sweeps up with the wiretapping program have been unsuccessful.
"When you talk about oversight, and you can't even get a rough estimate of how many law-abiding Americans had their communications swept up by this law ... the idea of robust oversight really ought to be called toothless oversight if you don't have that kind of information," Wyden, a member of the Senate Intelligence Committee, said on the Senate floor in December.
De's faith in accountability emanating from the legislative branch was met with skepticism by at least one listener in his audience -- former Department of Homeland Security Chief Privacy Officer Mary Ellen Callahan. Before she left office last year, Callahan tussled with other agencies over how broadly they should share private information on Americans.
At a panel immediately after De's speech, Callahan said, "I do not believe Congress is functioning" as an oversight body for the intelligence community.
"I do not see that happening. And that's my concern because that's an important function, fundamentally involving the branches of government," she told HuffPost. "NSA actually has a lot of statutory infrastructure built into it. But I haven't seen the NSA go up on the hill, and I haven't seen any of the other [members of the] intelligence community go up on the hill and have a thoughtful discussion ... even my awareness of the classified ones."
Read De's full speech given at Georgetown University Law Center below:
Before You Go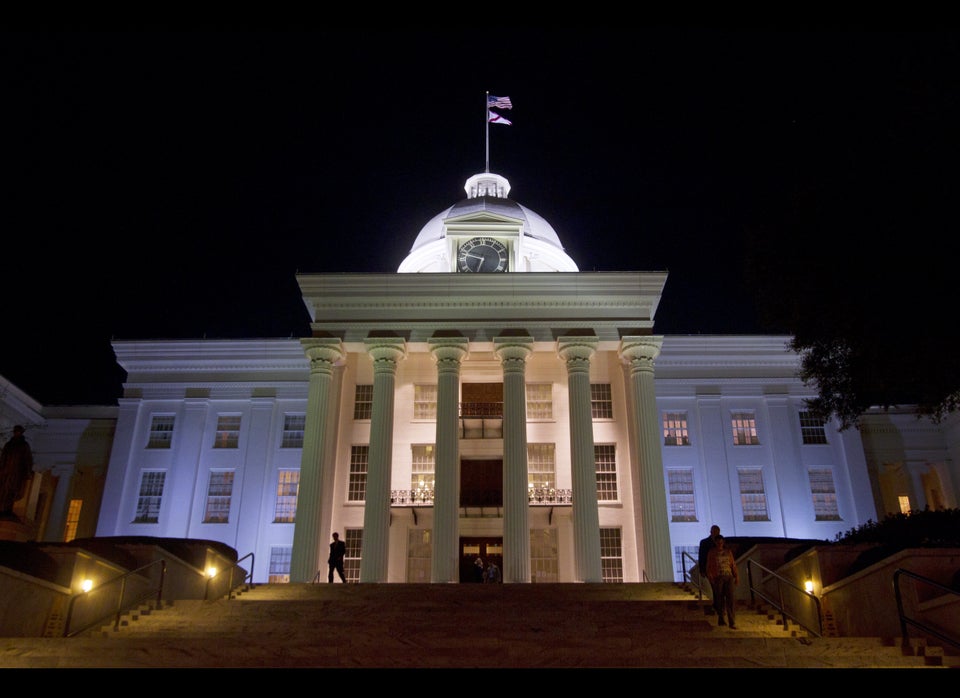 U.S. State Capitol Buildings
Popular in the Community