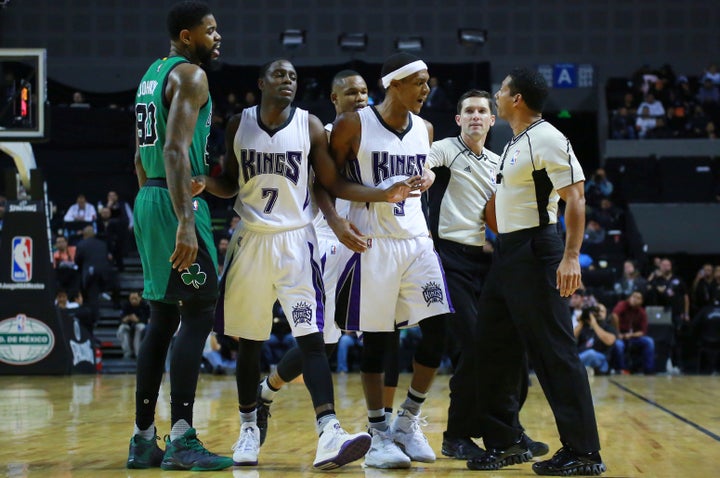 On Friday, the NBA suspended Sacramento Kings point guard Rajon Rondo for one game for derogatory comments directed at referee Bill Kennedy during a Dec. 3 game against the Celtics.
Kennedy has since come out as gay, and the nature of Rondo's derogatory remark has been revealed as unambiguously homophobic -- he reportedly called Kennedy "a motherf**king faggot" during the game. And there is a sense that Rondo was among those in the league that guessed or knew that Kennedy was gay, and that his remark was purposefully hateful. 
 Bill Kennedy's ejection of Rajon Rondo.
Rondo discussed his use of words over Twitter on Monday, but critics expressed frustration that the former All-Star did not offer a full-on apology for his actions.
People in and around the league have expressed unambiguous anger over Rondo's comments, but perhaps even more disturbing than his comments is this: Rondo is not alone. The NBA, which has a reputation as one of the most progressive sports leagues, especially when it comes to gay rights, is still filled with homophobic speech. San Antonio Spurs coach Gregg Popovich said as much to reporters on Monday night.
"Why would I be surprised? You see it all the time," Popovich said. 
Rondo isn't the first high-profile player to face scrutiny for employing anti-gay rhetoric either during games or at press conferences. In 2011, both the LA Lakers' Kobe Bryant (directed at a referee) and Chicago Bulls' Joakim Noah (directed at a fan) used homophobic slurs during games. Roy Hibbert, then Indiana Pacers center, used the term "no homo" in a postgame interview. All three were issued fines.
It has been all too easy for defenders of the league to say these incidents are isolated, that they do not reflect the overall feeling of a league that celebrated Jason Collins' decision to become the first openly gay athlete to compete in any of the four major North American sports. 
But Popovich's comments last night were revealing. They implied that there is still a larger issue in the league, a need for more education among players. Look at the larger sports environment, and it shouldn't come as a surprise: Amateur and professional sports leagues continue to be unwelcoming, whether inadvertently or not, to gay athletes and personnel. According to a May study titled "Out on the Fields," 83 percent of American gay youth and 63 percent of American lesbian youth surveyed were still "completely or partially" in the closet.
The study also found that "73 percent of all those surveyed said youth sports is not a safe or welcoming place for the LGB community." This type of rhetoric appears to present in levels of sports from high school on to the professionals.
But when it comes to whether someone is gay or not, coach Popovich said it best: "As far as anybody's sexual orientation, it's nobody's business." 
What should be everyone's business is how these anti-gay slurs are still openly being flung around in sports leagues everywhere. The problem isn't over, and the NBA and all other professional sports leagues need to do everything they can to remedy that. 
Rajon Rondo has issued a second apology on Tuesday afternoon.
REAL LIFE. REAL NEWS. REAL VOICES.
Help us tell more of the stories that matter from voices that too often remain unheard.