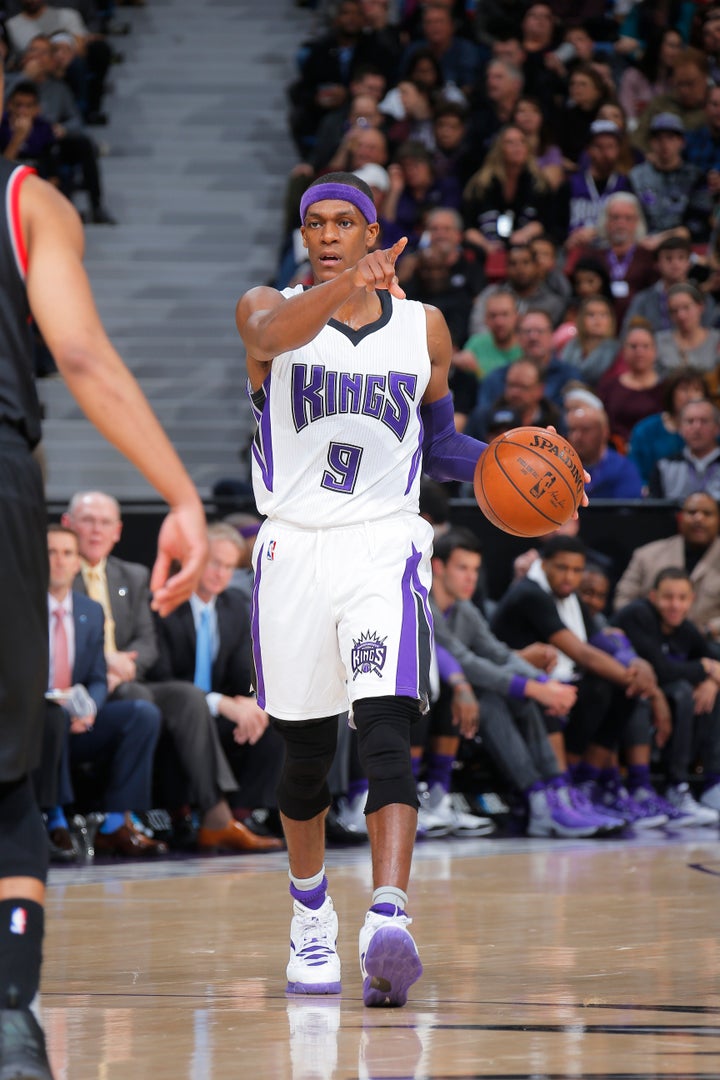 There was once a time, not so long ago, when Rajon Rondo was one of the best point guards in the NBA and a crucial component of a championship run with the Boston Celtics. Nobody in the league was better at controlling tempo, and nobody excelled more in the transition game. But somewhere along the way, Rondo lost his spark, becoming more well-known for his petulant behavior than basketball prowess.
At first, it seemed like an aberration, merely a trend. But it persisted. Boston eventually dealt him to Dallas, where he feuded with Head Coach Rick Carlisle and infamously tanked during last year's playoffs against Houston. As a free agent last summer, interest in a cancerous locker room lead guard without a jump shot was noticeably missing. But Sacramento needed a point to run pick-and-roll with its highly gifted power forward, DeMarcus Cousins. The acquisition, not surprisingly, was hardly celebrated -- Rondo seemed indifferent to winning basketball, and at 29 years old had perhaps lost a step as well.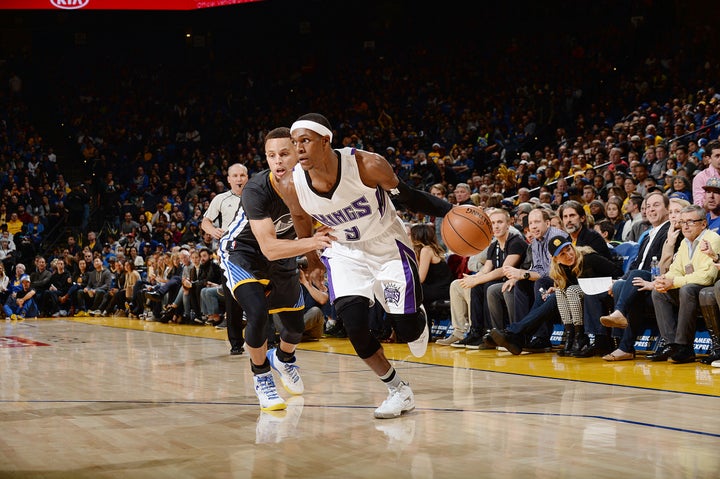 Motivated by his sinking reputation, Rondo entered camp in top shape, ready to reassume full distribution duties and his trademark bursts to the basket. The Kings' roster, while young, unproven and a tad bare, isn't exactly devoid of talent. Rondo, meanwhile, has seized his makeshift opportunity. 
"We knew he was a guy who could pass the ball so well and orchestrate an offense," Kings Associate Head Coach Chad Iske tells The Huffington Post. "The good thing is he's always in the gym for us. He comes back most nights to work on his shot, work on his game. Whenever there's been other players around, he tries to get them involved."
Rondo now leads the NBA in assists, with a sterling 11.6 average per game (two more than Russell Westbrook, who's next on the list). The former Kentucky standout is also enjoying the best shooting clip he's had in five years, which lets him keep defenses honest enough for his devastating driving ability to remain effective. And, always an elite guard rebounder who fuels his own fast break, Rondo's 6.4 boards per game slot him second among all point guards -- behind only Westbrook -- a glowing clip for a 6-foot-1 floor general.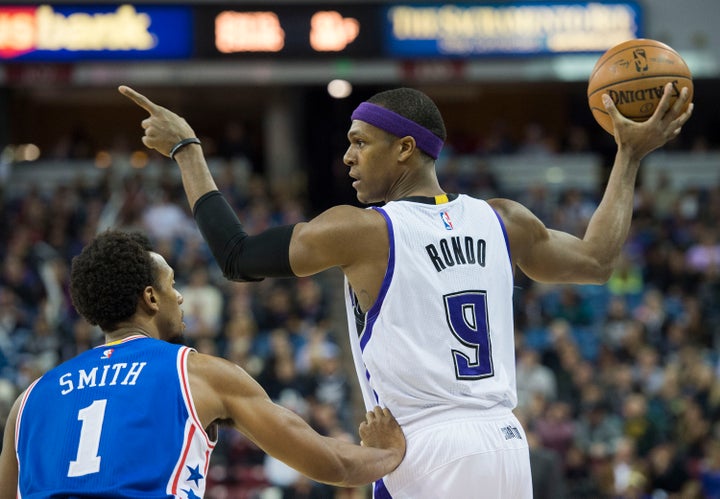 At his best and when he's really focused -- which he has been this year -- Rondo is a dynamic blend of quickness, speed and precise passing. He thrives in the open floor, employing court vision that doesn't seem fair, using his mammoth hands to toy with helpless defenders. More impressive with the Kings has been his eagerness to constantly attack and probe for everyone else on the floor -- and not merely Cousins.
"He's got such leadership qualities," Iske adds. "He sees the angles. He sees the shots that are going to open up ahead of time, because he knows whats going to open up."
The truth is that even during Rondo's finest days in Boston -- he was a four-time All-Star, one-time All-NBA selection and four-time All-Defensive team selection who also won a ring -- he remained an enigmatic personality. He publicly disrespected then-teammate Ray Allen, a future Hall of Famer, forcing his then-coach Doc Rivers -- who once called Rondo "the most intelligent player I've ever coached" -- to have to explain why his teammates couldn't stand his peculiar and petulant antics.
And of course, he was suspended this season for a game for derogatory language, after reportedly using a slur to verbally harass referee Bill Kennedy, who came out as gay just days later. So he clearly has some growing to do when it comes to emotional maturity.
In terms of physical play, however, Rondo has reassumed his role as one of the league's elite point guards -- or at least he's back in the conversation. Keep in mind that he's the only point guard in the league to be averaging a double-double. The 17-23 Kings, meanwhile, are a shocking playoff contender, having become respectable in the rugged Western Conference and boasting more far more efficient offensive play with Rondo at the helm. Recent wins over playoff-bound squads like the Thunder, Pacers and red hot Clippers validate the improvement, and the team is a sure bet to best last season's 29 wins.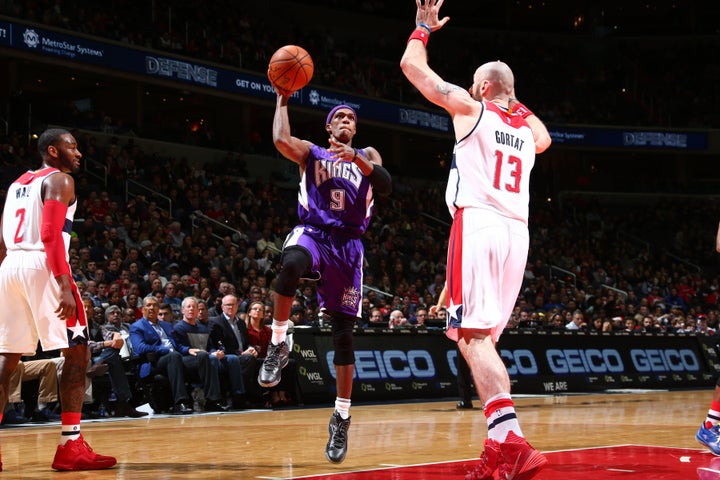 In fact, Sacramento ranks fourth in field goal percentage, up nine slots from last year. It's also jumped to third in points scored, up from 14th. Naturally, pace of play has increased because of Rondo's hounding two-way style, but these improvements validate his individual statistics as well.
Where Rondo goes from here is arguably just as intriguing as where he's been. A career 27 percent 3-point shooter and 60 percent free-throw shooter, he's not suddenly morphing into a knockdown guy, and that's OK. He makes up for it in other areas. Rondo's four triple-doubles this year trail only Westbrook and Golden State's Swiss army knife, Draymond Green. More importantly, he is a completely different player than during his final two seasons in Boston, along with his 46-game stretch spent wavering in Dallas. His trademark burst is back, and he's finally comfortable again on the floor.
Rondo's one-year, $9.5 million deal with the Kings has proven to be a bargain, and his relationship with veteran Head Coach George Karl is a vital reason as to why. Throughout a highly successful career, Karl has guided some of the game's premier players, including Hall of Fame point guard Gary Payton.
"He realized early on that coach Karl was going to give him a lot of freedom in the half-court and in the open court," Iske says. "George lets his point guard [have control]. He lets his point guard know what he's looking for out of the offense and lets their individuality [come through]. Rondo's liked that so far. He doesn't feel like he has to look over his shoulder."
As a result, the Louisville native will surely find a willing multi-year suitor next summer to ink one more long-term deal. It's a career arc we rarely see in the NBA: good to great, great to bad, bad to good. In other words, it hardly makes sense. But for a puzzling player and personality like Rajon Rondo, it somehow all fits.
REAL LIFE. REAL NEWS. REAL VOICES.
Help us tell more of the stories that matter from voices that too often remain unheard.