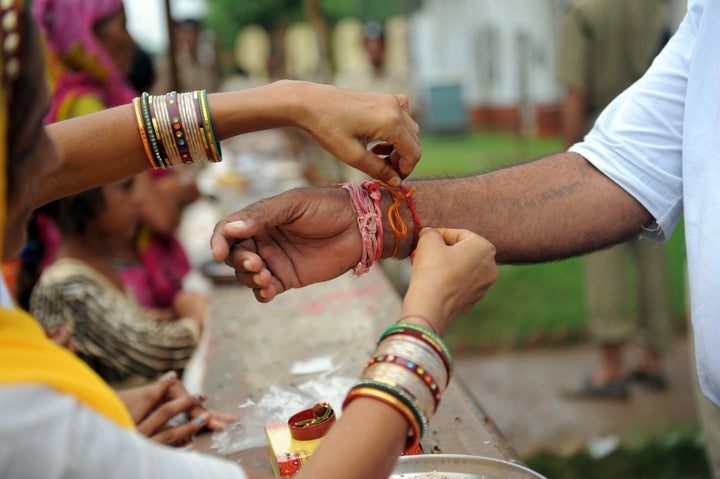 One of the deepest and noblest of human emotions is the bond of love between a brother and a sister. Hindus around the world celebrated the chaste relationship of protection and friendship between brothers and sisters recently. This emotional bonding is celebrated by tying a holy thread, Raksha Bandhan or Rakhi, around the wrist. This thread symbolizes "a bond of protection" and Raksha Bandhan signifies that the strong must protect and serve the weak and those in need.
Nobel laureate, Bengali poet Rabindranath Tagore popularized Rakhi Utsav (festival) by inviting all members of the community to commit to protect each other and the society. This festival then transcends the confines of the family even while strengthening the bond of love between brothers and sisters. Tying a Rakhi on the wrists of close friends and neighbors underscores the need for a harmonious social life, where every individual co-exists peacefully as brothers and sisters.
For Rakshabandhan, Hindu American Seva Charities (HASC) brought a group of Bhutanese students in Trenton to Newark to meets students at St. Benedict's Prep School (SBP) to strengthen bonds of friendship. Bhutanese refugees, as new immigrants learnt about the challenges of another minority group in America and SBP learnt about Bhutanese culture and history. HASC hopes this bond of friendship will help reduce cultural barriers between the two youth groups in America. They have a great opportunity to understand each others challenges and work together to to be global leaders of tomorrow.
In some ways, the fashionable friendship band popular in America, can be seen as an extension of the Rakhi custom. By bringing the strength of the commitment, to the bonds of protection, to bear on this relationship, the meaning behind the custom, our faith in action, will be brought to the forefront.
Historically, Indian history recounts the countless political ties that Rakhi has brought, even between Hindu Rajput and Maratha queens and the Muslim Mughal kings. They then have honored this bonds of protection at critical moments.
Today many of us are continuing this tradition of Rakshabandhan by our commitment of friendship through our time-honored traditions and culture. In the spirit of the festivities, honoring friendship and protection, many (like us at HASC) tie the Rakhi and participate in community service through UtsavSeva (Festivals of Seva). UtsavSeva augments the spirit of Hindu festivals through seva events organized during this time and connects them with Hindu cultural heritage.
Each season brings its own challenges for us to put into practice these acts of friendship. This season, Hurricane Irene's impact makes it even more imperative that we extend our hand of friendship and help our communities recover. HASC's seva theme MitraSeva is based on the Hindu festival of "Rakshabandhan". Invoking that spirit of friendship, an important value in our tradition and culture, we urge ALL to help communities in need, including those recovering from Irene. We pray that obstacles be removed and the hand of God goes before us to straighten out the path before us. (From a yoga perspective, Ganapati -- leader of senses -- is the deity of the first chakra, muladhara chakra. Obstacle removal starts with inner control.)
We are celebrating Ganesh Chathurthi. Hindu across the world observed the festival through prayers, as a day of the birth and renewed remembrance of Ganesh, the remover of obstacles. For Hindus, it is a day to take fresh spiritual resolve and pray for inner spiritual strength to attain success in all undertakings. This observance and prayer for the removal of obstacles is especially relevant now as the country faces difficult challenges ahead.
HASC believes, "America belongs to all of us and it is our duty and right to serve and strengthen this great country by offering the best of our traditions and wisdom to solve today's problems."
Hurricane Irene made its way up the east coast of the United States this past weekend. It left a wake of destruction in its path. Over 40 people were killed, thousands were displaced and many lost their homes. Hundreds of thousands are still without power.
"The size of the task still at hand is beginning to sink in as states in the Northeast struggled to rebuild roads and bridges, restore power and tame waterways still coursing with floodwaters brought by Hurricane Irene. Vermont, New Jersey and upstate New York endured some of the worst flooding."
Hindu American Seva Charities (HASC) is reaching out to communities along the east coast and is collaborating with its many partners such as Mata Amritanandamayi Center (M A Center -- Amma), Council of Hindu Temples of North America (CHTNA), Arsha Vidya Gurukulum, Chinmaya Mission, Sevathon, Arya Samaj, Hindu Students Council, Hindu Students Association, many other temples and college campuses, the military, Department of Homeland Security (DHS) and more than 100 organizations, which attended the recent historic White House Hindu American gathering.
Volunteers and contributions will be desperately needed as affected communities work to rebuild following the hurricane's wreckage. Many communities have been impacted. Closer to home, HASC's AmeriCorp's VISTA member, Niki Shah has been affected.
HASC hopes all will consider lending their support, time and resources. The hurricane requires us all to pitch in and help.
Following in the footsteps of luminaries like Nobel Laureate Rabindranath Tagore, as Hindu Americans celebrate festivals and bring their values to the forefront, they can bring social change and help their neighbors through bonds of friendship. The perennial message of Rakshbandhan can be lived and re-lived each day.
Calling all HuffPost superfans!
Sign up for membership to become a founding member and help shape HuffPost's next chapter