My Nepalese journalist friend Jitendra GC gave me early morning wake up call and suggested me to attend a program on the occasion of Labor's day. It was Sunday morning, a very drowsy morning for me. The only reason I couldn't refuse his suggestion because the program was organized by Raksha Nepal, a humanitarian organization, which has been working for the sexually exploited girls, women and their children since its establishment in 2004.
This year I didn't celebrate my birthday with alcohol or any kind of party. I had decided to donate my birthday money for charity. I had asked for a donation instead of birthday gifts. Yes, some of my friends got my point and they added donation instead of gifts. I donated some of the amounts to Help Nepal Network, a non-profit organization encouraging Nepalese living abroad to provide assistance in the fields of health and education in Nepal. I was planning to donate some of the amounts to Raksha Nepal and Shikshya Foundation Nepal too. Meanwhile, a friend in New York Arbin Poudel decided to add the amount on the occasion of his birthday, which inspired and encouraged me more. Because of this backstory, I attended the program of Raksha Nepal. It was a good opportunity to donate the birthday money among Raksha Nepal's well-wishers.
When I attended the program, the scene was beyond my imagination. Sexually exploited girls, women and their children welcomed us with the national anthem, welcome songs and dances. Raksha Nepal was home for them and they welcomed us into their home. Meanwhile, a girl named Pooja (given by Raksha Nepal, previously known as Pooja Karki) told her harrowing account of being raped by her father and grandfather. Nobody couldn't hold tears when she told a heartbreaking real story. (Read this news about her)
Her grandfather raped her. Her grandfather began raping her when she was merely ten years old. The girl's mother did not make the incident public because of the family reputation issues. Later, her father came home from abroad. She was expecting fatherly protection but he also raped her instead. The nightmare went on for 5 long years until she decided to take her own life by taking pesticide but was rescued by passers-by. A Nepalese judge recently sentenced his father to 18 years in prison. And the grandfather committed suicide. Pooja is now safe and under the protection of Raksha Nepal. She got a big round of applause when she told that she will fight for sexually exploited girls, women and their children and she wants to be a gynecologist.
Raksha Nepal is safe home not only for Pooja. There are so many victims who are safe and under the protection of Raksha Nepal. Personally, I met sexually exploited girls, women and their children in this program who are under the protection of this organization. The main target of this organization is to protect those women and young girls working in the so-called informal entertainment sectors (massage parlors, dance bars and cabin restaurants) from trafficking and sexual violence by enhancing their knowledge, awareness and socio-economic status. Similarly, in the mission of making girls and women free of sexual exploitation, Raksha Nepal is involved and advocates, "to make the society free of compulsive prostitution." Menuka Thapa is the president of Raksha Nepal.
Menuka : Mother of God's Children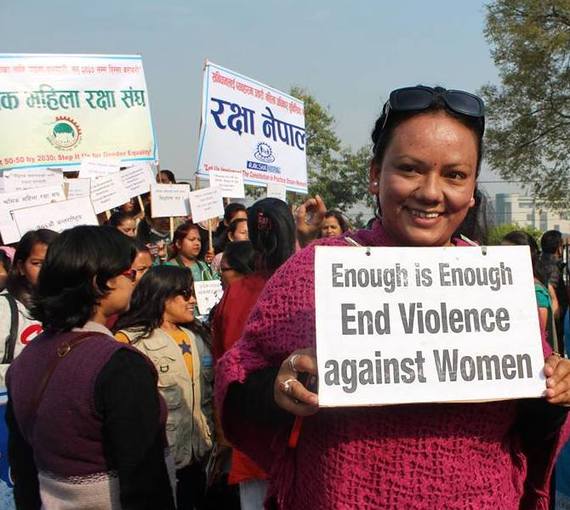 Photo : Menuka's Facebook.
According to Menuka Thapa, as a ninth child, She was born in Kavre, (40 Kilometer far from Kathmandu) in the hope of giving birth to a son, her mother used to get pregnant every year. Her father died in an accident when her mother was two months pregnant with her. After her birth, everyone in the house blamed her for his death. Her mother and her eight siblings were forced to leave the house when She was just a child. With great difficulty She was admitted into a local school; however, her mother had no money to pay for the uniform and stationery.
She often went to school hungry in order to save for the books. She borrowed books, stayed up late at night to complete lessons in advance. Although She was a brilliant student and equally good at co-curricular activities, She couldn't continue her studies after the 10th standard due to lack of resources and same time her mother died too. After lingering around for two years in the village, She decided to take financial help from her uncles in Capital city. Unfortunately, none of her relatives supported her. They blamed her for killing my father. They didn't even allow her to enter their house.
She knocked the doors of social organizations but to her dismay, none of them agreed to help her saying that her problems didn't fall under their organization's mandate--She was neither an orphan nor a victim of sexual abuse or trafficking.
Having no option left, She started living on the street. Same time She met one friend there and she helped her to search the job. As She has a good voice, She decided to work part time as a singer in a Dohori (folk song) restaurant, but her decision was not accepted well by the society. Her sisters were against it; her relatives spat at her when She walked past them, the people in the neighborhood looked at her with suspicious eyes. But now She is extremely happy that She went against everyone and took that decision because it was after working there that She understood the real situation of women working in such professions.
She saw the girls/women working at such places were mistreated, exploited badly. They were also forced to perform sexual activities with the customers and the owners of the restaurants. The workers went for days without getting paid but could not raise their voices against the restaurant owner for fear of losing their job. Personally witnessing the mistreatment and abuse they had to go through, She was motivated to fight against it.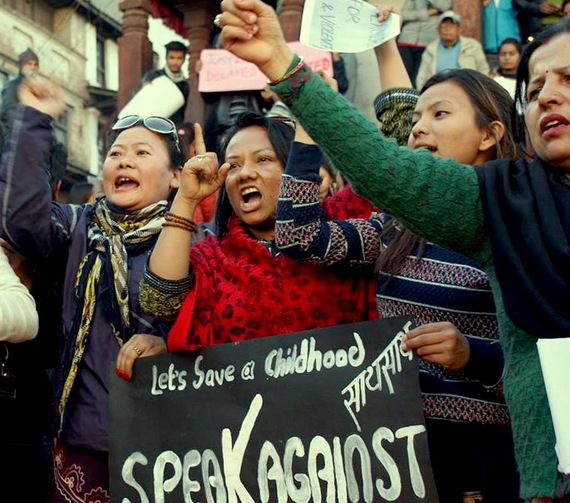 Photo : Menuka's Facebook.
She started off by winning the confidence of all female workers in the restaurant and the surrounding dance bars, got them together and motivated them to express solidarity in solving the issue. She invited them over to her house every Saturday and taught them how to read and write. With constant counseling and motivation, they became confident enough to object to negative advances from customers. They even got together and confronted the owner to pay them their dues. Slowly, all of them began getting their salaries on time.
Hearing about the initiative, women from different dance bars and cabin restaurants contacted her for assistance and offered their support for the cause. However, along with their support came threats from the bar owners. She started receiving threatening phone calls. They said She was too young to invite such trouble. They even threatened to rape her on the road if She didn't stop supporting these women. But She was not scared. She decided to never look back and keep fighting fearlessly.
She was inspired to tackle the problems of these girls/women in a combined effort as She witnessed the extreme forms of exploitation to them and also She found that the social organizations were overlooking on these issues. She then felt the need for an organization that could help such women come together and discuss their problems, and this gave birth to Raksha (Protection) Nepal in 2004. With the support of a few friends, She developed the organization's mission to empower the women working in dance bars, cabin restaurants and dohori restaurants. She imparted knowledge and skill resources so that they would earn a decent living in an environment where they had control over their lives; She strove to create an environment where no woman would be forced into prostitution. After various research campaigns, She realized that among the thousands of women in this profession, a large number were victims of abuse and wished to rehabilitate. She decided to start vocational training programs for these women.
Menuka says, 'I strongly believe that every woman has the right to choose her own profession and that no job is inferior. A writer sells his pen for money, an actor sells his acting skills and a doctor sells his knowledge. I sold my voice to make a living, so what's the harm if a woman sells her body in order to feed her children? But I feel it is my duty to help women who have been tricked or forced into such professions; I want to help women who were sexually abused. I am against those who have forcibly intoxicated her into performing such acts.'
Of late, Raksha Nepal has been concentrating its services on women working in cabin restaurant, dance bar and massage parlors. The situation there is even worse. They are unaware of the acts they need to perform beside the massage service when they enter the profession. Salaries are not fixed. They get their money (25 percent) on the basis of the number of clients they satisfy due to which they have no alternative than to obey the orders of the employer. Raksha Nepal is trying hard to develop measures to regulate such acts and create awareness among those involved in massage services. Raksha Nepal wants to stop forced sex work, which is happening in Nepal, because sex work is not legal in this country that is why so many women are at risk. Raksha Nepal believes, if a woman is capable, the whole family is capable. Therefore, the organization is determined and committed towards the overall welfare of the women involved in compulsive prostitution so that the daughters would not follow the path of their mothers.
Salute Menuka! Mother of God's children! Salute Raksha Nepal, a safe home for sexually exploited girls, women and their children.
Calling all HuffPost superfans!
Sign up for membership to become a founding member and help shape HuffPost's next chapter