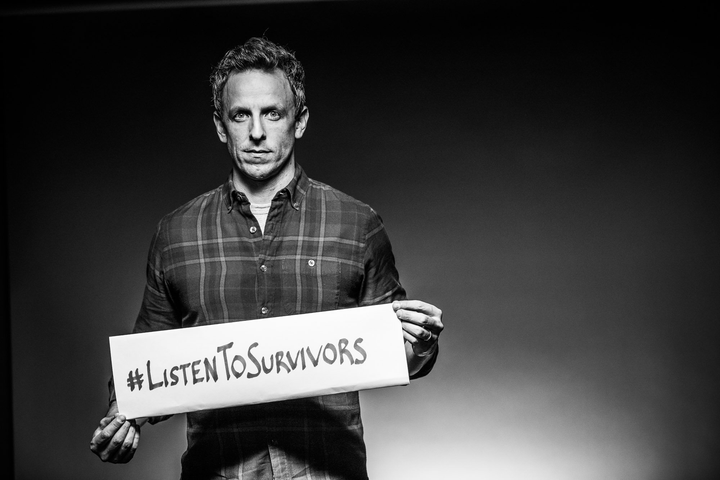 Today in Washington D.C. I am joining sex trafficking survivors and their champions, including Senators Rob Portman (R-OH) and Richard Blumenthal (D-CT), and Mary Mazzio, the acclaimed director of I Am Jane Doe, to mark National Human Trafficking Awareness Day and urge Congress to pass sensible legislation to help end this terrible crime.
Back in September we thought we could finally hold websites accountable for knowingly selling the bodies of children online. For years, Backpage.com and similar sites have been getting away with unthinkable acts of inhumanity, posting advertisements for young people to be bought for sex, including many youth we meet at Covenant House. We don't allow pimps and gangs to staple suggestive pictures on telephone poles around town, complete with phone numbers and tawdry come-ons, showing underage children for rent.
But Backpage has been able to do so online, and bring in $135 million in revenue, more than 80 percent of it from sex ads.
The federal Communications Decency Act (CDA) was passed in part to keep internet service providers from being held legally responsible for posts other people put on public forms. But the courts have interpreted the act to require a blanket protection for clearly illegal activities.
The First District Court even went so far as to advise trafficked children to ask Congress to pass a clearer law to protect them.
That's what we thought we had in SESTA, which amends the CDA modestly to allow bad-actor websites to be sued by victims, and permits state law enforcement officials to take legal action against online sellers of sex. The bipartisan bill, authored by Senators Portman and Blumenthal, has 60 cosponsors in the Senate. In the House, the Allow States and Victims to Fight Online Sex Trafficking Act ("FOSTA") was written by Rep. Ann Wagner (R-MO) and has 171 cosponsors.
But lobbyists for large internet players diluted the House bill with a gutted version that muddies the issue of CDA immunity, decreases options for trafficking survivors, and in some cases prevents them from seeking justice.
As Mazzio wrote in TheHill.com, "the strategy of powerful tech lobby forces to derail this legislation exposes these companies and organizations for exactly what they are. Complicit. Soulless. Exhibiting a stunning lack of integrity and a shocking lack of moral compass."
Our rally in the Capitol today urges Congress to pass SESTA. Mazzio will be introducing a public service video featuring comedians Seth Meyers and Amy Schumer, and other survivors and allies will be speaking in support of a truly protective law. I plan to present Senate Majority Leader Mitch McConnell with the names of thousands of Covenant House supporters across the country who submitted online postcards urging him to bring SESTA to the floor for a vote.
Meanwhile, the fight against the trafficking of young people continues on a variety of fronts. A $3.6 million wrongful death suit was filed last month by the relatives of a young Oregon mother killed after being advertised on Backpage.com. Ashley Benson, 25, was strangled in 2014 by a man who had bought her services through the website, and later admitted to killing her. He is in jail, and her survivors are now suing Backpage.com.
In a Senate investigation, Backpage was found to be editing out problematic words from ads that would indicate that sexual services, including those of minors, were being sold, an indication that the site had a hand in producing the content, not just posting what others submitted.
The lawsuit, filed in Portland, OR on December 22, noted that Backpage CEO Carl Ferrer personally helped a high-volume sex trafficker going by the username "Urban Pimp" to continue posting after his ads were blocked from 50 cities across the U.S. Far from banning "Urban Pimp" from Backpage or reporting his criminal activity to law enforcement, Mr. Ferrer allegedly unblocked the account and sent an email to "Urban Pimp" stating, "Try editing your ad now. It should work. If not, email me back direct."
That such behavior should be protected by federal law boggles the mind.
One way to fight sex trafficking and make it easier for victims to receive justice is to contact your Congressional representatives and urge them to pass SESTA.
Another is to join Covenant House in the fight against youth homelessness. As studies have shown, 1 in 5 young people facing homelessness report being commercially sexually exploited. When young people don't have a safe place to stay, they are much more likely to be approached by pimps or feel that they have no other option than to trade their bodies for a meal or a bed.
SESTA is long overdue. But I am hopeful this Congress will work together in a bipartisan fashion to hold traffickers responsible. In fact, here's to a new day in America: one in which young people are not desperate for shelter, and those who knowingly exploit them are held accountable.
Related
Popular in the Community