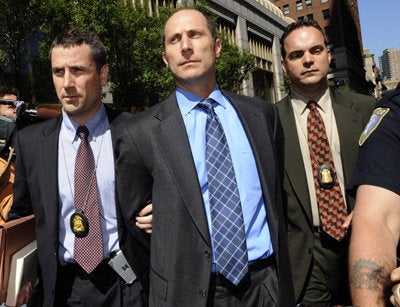 Below is information on Ralph Cioffi, the former Bear Stearns manager, who was arrested on Thursday and charged with securities fraud and various charges linked to the collapse of the subprime market.
Ralph R. Cioffi served as Co-Chief Executive Officer of Everquest Financial Ltd. Mr. Cioffi served as a Senior Managing Director of Bear Stearns Asset Management Inc.("BSAM"). He had been with BSAM since 1985. From 1985 to 1991, Mr. Cioffi worked in institutional fixed-income sales where he specialized in structured finance products. He served as the N.Y. head of fixed-income sales from 1989 to 1991. From 1991 to 1994, Mr. Cioffi served as Global Product and Sales Manager ... for high-grade credit products. He was involved in the creation of the structured credit effort at BSAM and was a principal force behind Bear Stearns' position as a leading underwriter and secondary trader of structured finance securities, specifically CDOs and esoteric ABS. Mr. Cioffi founded and has been managing the High Grade Structured Credit Strategies Fund since March 2003. He serves as Director of Everquest Financial Ltd and Bear Stearns & Co. Inc. Mr. Cioffi was a member of BSAM's board of directors. He is a member of the International Business Management and Administration Honor Society, Sigma Beta Delta. Mr. Cioffi holds a B.S. degree in Business Administration with distinction from Saint Michael's College, Vermont.
When the two hedge funds Ralph Cioffi managed collapsed, Cioffi told reporters, "We're looking at somewhat immature markets that are going through a growth phase. There is a catharsis and a cleaning-out process." But, federal prosecutors did not buy into Cioffi's explanation for the poorly performing funds and launched a year-long investigation resulting in Cioffi and Tannin's arrests.
In November, Ralph Cioffee left Bear Stearns under a "mutual agreement."
The AP notes that Ralph Cioffee was "already [named] in lawsuits brought last year by hedge fund investors, including Barclays Bank PLC, who allege they were purposely misled."
For more information on the other Bear and Stearns manager, Matthew Tannin click here
Calling all HuffPost superfans!
Sign up for membership to become a founding member and help shape HuffPost's next chapter