 NEW YORK -- Activists are rallying against the clothing company Ralph Lauren for its staunch refusal to sign an international agreement that seeks to improve conditions for factory workers in Bangladesh, one of the world's biggest clothing suppliers.
Nazma Akter, a 41-year-old union organizer from the Bangladesh capital of Dhaka, came to New York City to speak at Ralph Lauren's annual shareholder meeting on Thursday. She called for the company to join the Accord on Fire and Building Safety in Bangladesh, a worker safety pact that has gotten international attention since a factory complex collapsed in 2013, killing more than 1,100 people.
The tragedy helped focus global attention on the plight of the world's garment workers, who often face abuse and unsafe conditions while earning rock-bottom wages.
Akter has a personal interest in getting Ralph Lauren to change: She once worked as a child laborer in some of Bangladesh's forsaken textile factories. When she was just 11, Akter began working as a seamstress. By 15, she was trying to get workers to mobilize and form unions.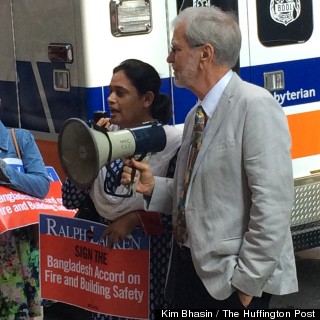 Nazma Akter speaks at a rally outside the Ralph Lauren shareholder meeting on Thursday in New York.
Akter's eyes widen when asked about the working conditions she experienced during her time in those factories.
"Oh my God, there were no holidays, no salary on time, maternity issues weren't addressed," Akter told The Huffington Post in an interview on Thursday. "There are still many problems, especially safety."
Ralph Lauren said in a statement to HuffPost that less than 3 percent of the company's clothes are made in Bangladesh, where it does business with 15 factories. Its internal auditing systems include fire and building safety and worker surveys, and it participates in the International Labor Organization's Better Work program, which provides additional "in-factory monitoring," the company said.
"We only work with factories that uphold our high standards of labor practices and work closely with all of our global partners to ensure they are provided extensive training and monitoring for all safety and worker protection efforts," the company said.
Workers rights activists said it's not enough.
The Rev. David Schilling, senior program director at the Interfaith Center on Corporate Responsibility, a religious investment group, called for Ralph Lauren to sign the accord at a rally outside the shareholder meeting.
"The Accord on Fire and Building Safety is the best solution to help prevent future workplace disasters in Bangladesh and to foster a culture of compliance and respect for international human rights norms," Schilling said.
More than 180 companies have signed the accord, including one of Ralph Lauren's chief rivals, PVH, which owns Calvin Klein and Tommy Hilfiger. The agreement is a binding contract that aims to improve governance and inspections at Bangladesh apparel factories.
The majority of the accord's signatories are European companies. Most North American companies have sided with the Alliance for Bangladesh Worker Safety, which has fewer details that are legally binding. Ralph Lauren has not signed either arrangement.
At the shareholder meeting, Akter presented a proposal backed by the AFL-CIO Reserve Fund, an investment fund for the national trade union center, that urged Ralph Lauren to assess human-rights risk throughout its supply chain. The company's board of directors told shareholders to vote the proposal down.
New York City Comptroller Scott Stringer, who spoke in support of the proposal at the shareholder meeting, told HuffPost on Thursday that he was bewildered by the company's lack of action. The city's pension funds hold around $23 million in Ralph Lauren stock. Stringer vowed to keep pressing Ralph Lauren on the issue.
"We're going to keep coming back to this," Stringer told HuffPost. "Their silence on worker safety and security is very troubling."
In its 2014 proxy statement, Ralph Lauren said the proposed human-rights risk report would have been an "unnecessary and a potential diversion of corporate resources with no corresponding significant benefit to stockholders."
Ralph Lauren does offer a Citizenship Report, first released in 2013, which includes codes of conduct and ethical guidelines for its suppliers. The report does not detail where the company buys its clothing by country.