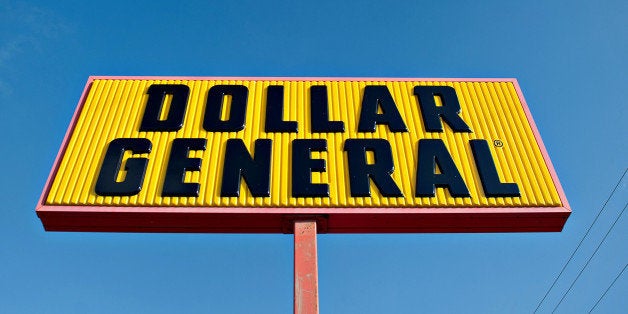 WASHINGTON -- Consumer advocate and former presidential candidate Ralph Nader sent a withering letter to the chief executive of Dollar General on Monday, calling the dollar store chain's treatment of employees "shameful" and urging a wage increase for store workers.
In the note to CEO Richard Dreiling, Nader said he calculated that Dreiling earns more in one day than many of his employees do over the course of an entire year, a bit of math that Nader found "shocking." According to a Wall Street Journal analysis, Dreiling's 2012 pay package was $22.5 million. Surveys on sites like GlassDoor.com show an average wage for Dollar General store associates and cashiers of less than $8 per hour.
"Dollar General's treatment of low­-wage workers is shameful," Nader wrote. "Low wages not only hurt workers: they hurt all taxpayers, too. When large, profitable corporations like Dollar General employ workers at shamefully low wages, employees are forced to resort to public assistance programs to provide their families with necessities. Thus taxpayers end up footing the bill for your company's poverty wages."
A spokesman for Dollar General didn't immediately respond to a request for comment on the letter, and it wasn't clear if the company had received it. A copy of the letter was provided to HuffPost by Nader's nonprofit organization, the Center for Study of Responsive Law.
Why is Nader, an outspoken booster of a higher minimum wage, specifically going after Dollar General and its competitors, Family Dollar and Dollar Tree, which were also sent similar dispatches?
Most of the growing discussion surrounding low-wage work has focused on Walmart and fast-food giants like McDonald's, in part because labor activists have targeted those companies with mass protests and organizing drives. But as a Nader aide noted in an email to HuffPost, dollar stores are a booming piece of the retail economy, rife with lawsuits from low-paid employees, and yet they're rarely discussed in the larger scheme of low-wage employment.
A Huffington Post feature story published in August detailed the labor practices at the three major dollar-store chains. Many salaried store managers told HuffPost that they worked up to 80 hours per week without overtime pay, earning close to the minimum wage when they broke down their salaries by hour. Several Dollar General workers also told HuffPost that the heavy workload ultimately led to injuries and long worker compensation battles with the company. "We're disposable," one former manager said.
The labor model has been a critical component in dollar stores' rapid expansion. At a time when Walmart is struggling to grow its footprint, one of the major dollar store chains is opening a new location roughly every six hours, according to one estimate.
Nader said Dollar General should be sharing more of its success with the workers who stock the shelves.
"I hope you can dedicate yourself to ensuring that workers are paid a living wage and taxpayers are not subsidizing your profits," Nader wrote. "One important first step is for you to support an increase in the federal minimum wage."
Read Nader's letter here.
Calling all HuffPost superfans!
Sign up for membership to become a founding member and help shape HuffPost's next chapter