Democrat Ralph Northam highlights his deep roots in Virginia and commitment to expanding access to affordable health care in the state in the first general election television advertisement for his gubernatorial campaign.
The 30-second spot, "My Life," features Virginians from different corners of the state mentioning some of Northam's most flattering biographical details, including his work as a pediatric neurologist, his upbringing on the rural Eastern Shore, his graduation from the Virginia Military Institute and service as an Army doctor during the first Gulf War.
But it is the final bit of information about Northam, the state's lieutenant governor, that spotlights a likely dominant theme in the November election: his support for expanding Medicaid in the state using funds from the Affordable Care Act.
"I'm Ralph Northam, and we need to provide access to health care for all Virginians, not take it away," he says at the end of the ad.
The line suggests that Democrats view protecting and expanding heath care access as a winning political issue following the defeat of the Republican efforts in Congress to repeal the ACA, commonly known as Obamacare. Uproar from voters and Republican governors helped persuade three GOP senators to vote against the final repeal bill: Susan Collins of Maine, Lisa Murkowski of Alaska and John McCain of Arizona.
The Northam campaign has bought $100,000 worth of time for the ad to air in the Norfolk, Charlottesville, Richmond and Roanoke markets, according to the campaign.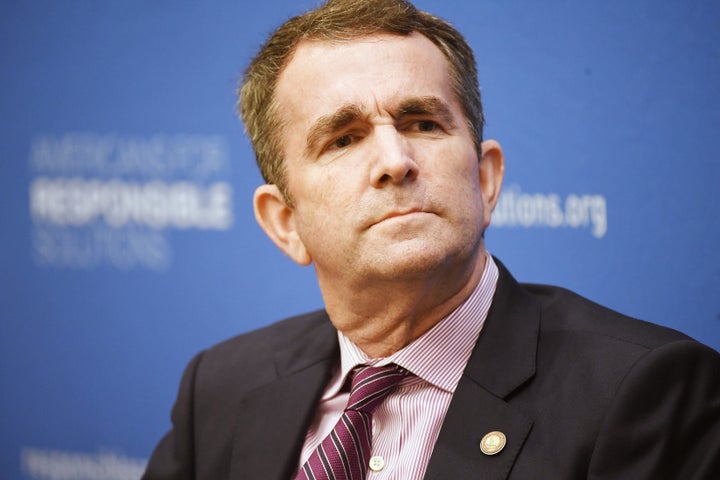 Democrats, who have failed to score a win in this year's special congressional elections, are hoping victories in November's two gubernatorial races ― the other is in New Jersey ― will break their dry spell.
In New Jersey, Democrat Phil Murphy has big lead in polling over Republican Kim Guadagno, the state's lieutenant governor. Murphy, a former U.S. ambassador, appears to be benefiting from the high disapproval ratings for New Jersey's outgoing GOP governor, Chris Christie.
Still, the Quinnipiac poll showed Northam, 57, with a narrower lead over Republican Ed Gillespie, 56, than some observers expected. Northam was backed by 44 percent of Virginia's registered voters, compared with 38 percent for Gillespie and 4 percent for Libertarian candidate Cliff Hyra. Northam held an an 8-percentage-point over Gillespie in a Quinnipiac survey released in late June.
The race "leans toward" Northam, "but not overly so," said Peter A. Brown, the poll's assistant director. The new survey has an error margin of plus-or-minus 3.8 percentage points.
Northam is apparently betting that his emphasis on expanding health care access will help his cause.
Virginia Gov. Terry McAuliffe, a Democrat prevented by term limits from seeking re-election, has pushed for Medicaid expansion in the state. But Republican control of the Virginia legislature has prevented him from tapping into federal funds available under Obamacare funds to do so.
Gillespie, a former Republican National Committee chairman, has said he opposes Medicaid expansion. But in Wednesday remarks to the ARC of Virginia, a disability rights organization, he described Medicaid as a "critically important program for protecting the most vulnerable."
The Gillespie campaign, asked Thursday whether he stands by his opposition to Medicaid expansion, did not immediately respond to HuffPost.
Notably, Northam's opening general election ad does not explicitly mention Trump, who he memorably dubbed a "narcissistic maniac" during the Democratic gubernatorial primary.
But Northam tied Gillespie to Trump in a fundraising e-mail sent out for him by the Democratic National Committee. In it, he termed Gillespie "Trump's ally in Virginia."
He also said Gillespie "is crisscrossing the Commonwealth promising to be Donald Trump's man in Richmond. And there's a real chance they could win." 
Northam can count on further help from his party. The Democratic National Committee announced in July that it would spend $1.7 million on his behalf. DNC chairman Tom Perez is going to Richmond on Thursday to speak to party organizers and kick off a phone bank operation to aid Northam and other Democrats on the November ballot in the state.
Gillespie, who in a 2014 Senate run came close to upsetting Democratic incumbent Mark Warner, began his general election ad campaign in July with three spots. They included a one-minute ad titled "The American Dream is About Opportunity" that focused on his upbringing as the son of an Irish immigrant who achieved success in Republican politics.
"Opposing Medicaid expansion does not mean opposing Medicaid, and as governor, Ed would make sure we maximize our Medicaid dollars in Virginia to help those most in need," Gillespie campaign spokesman David Abrams told HuffPost in a statement. "Ed is running for governor and is laser focused on making health care more affordable and more accessible for all Virginians."
This article has been updated with comment from David Abrams. 
Calling all HuffPost superfans!
Sign up for membership to become a founding member and help shape HuffPost's next chapter
BEFORE YOU GO
PHOTO GALLERY
U.S. State Capitol Buildings