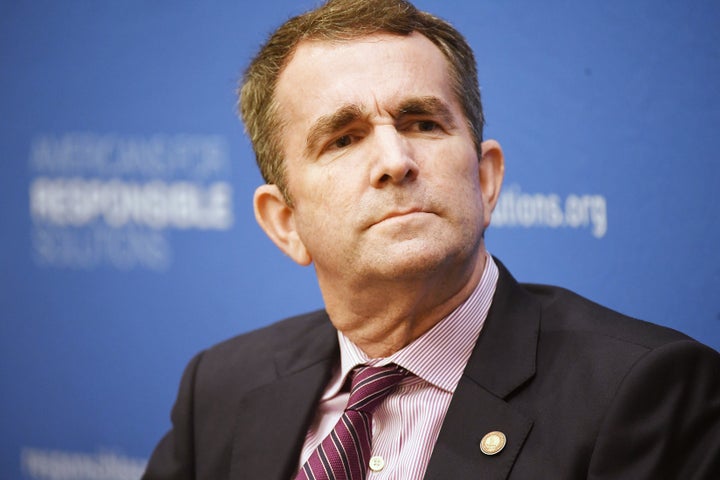 WASHINGTON ― The Virginia Republican Party on Wednesday accused Ralph Northam, the state's Democratic gubernatorial nominee, of walking away from his "own family's heritage" by calling for the removal of monuments to Confederate generals and soldiers.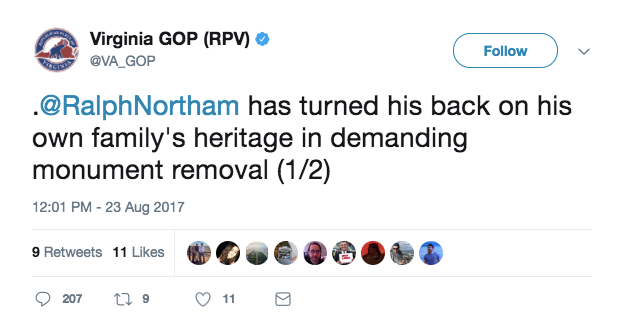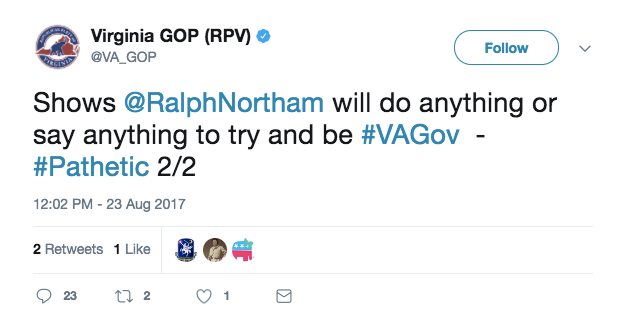 The tweets were later deleted and replaced with an apology.
"Our previous tweets were interpreted in a way we never intended. We apologize and reiterate our denunciation of racism in all forms," the Virginia GOP said.
Northam, the current lieutenant governor, only recently discovered that some of his ancestors owned slaves in Virginia, which was part of the Confederacy.
"The news that my ancestors owned slaves disturbs and saddens me, but the topic of slavery has always bothered me," Northam said in June. "My family's complicated story is similar to Virginia's complex history. We're a progressive state, but we once had the largest number of slaves in the Union."
Northam responded to the GOP's Wednesday attack with a Twitter post that said he felt fine about "turning my back on white supremacy." Ofirah Yheskel, his spokeswoman, added that it was a "true shame to see the party of Lincoln stoop so low."
A spokesman for Ed Gillespie, Northam's Republican foe in the Nov. 7 election, said the state GOP "was right to apologize for the tweet and to take it down."
"Though Ed disagrees with the lieutenant governor on the issue of statues, he knows we can disagree on issues like this without devolving into divisive rhetoric," said David Abrams, the spokesman.
Gillespie supports a different approach to the issue of Confederate monuments, such as leaving them standing but placing them in "proper historical context," he says on his campaign website.
"Rather than glorifying their objects, the statues should be instructional," Gillespie says on the website. "While ensuring that Confederate statues are not exalting them but educating about them, we should do more to elevate Virginia's history in expanding freedom and equality by extolling the many Virginians who played critical roles in this regard."
Gillespie came shockingly close to losing his party's primary in June to Corey Stewart, a staunch defender of Virginia's Confederate heritage with racially inflammatory views who held rallies to oppose the scheduled removal of a statue to Confederate Gen. Robert E. Lee in Charlottesville, Virginia. After conceding the race, Stewart warned Gillespie he would have to "fight" to win over his supporters in the general election.
Speaking in Phoenix on Tuesday, President Donald Trump blasted the media for "trying to take away our history and our heritage" and accused the press of misconstruing remarks in which he failed to unambiguously denounce the white nationalist groups who rallied in Charlottesville.
This article has been updated with a comment from a spokesman for Ed Gillespie, Virginia's Republican gubernatorial nominee.
Popular in the Community