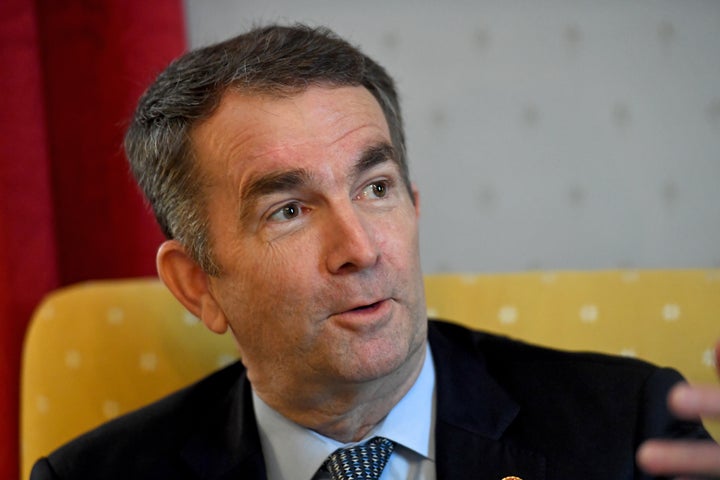 It's been over a month since Virginia Gov. Ralph Northam (D) apologized for a racist photo that ran on his 1984 medical school yearbook page. Despite a wave of calls for his resignation from both sides of the aisle, Northam is still in office and doesn't appeared to be going anywhere.
His attempt at a statewide apology tour got off to an awkward start when he was forced to withdraw from a Feb. 21 ceremony to honor the Richmond 34 civil rights activists at the historically black Virginia Union University. 
Northam instead invited several members of that group, who were arrested in 1960 over a lunch counter sit-in, to a breakfast event at the executive mansion the following day.
"This last few weeks have been difficult and hurtful for Virginia and for this country, and I regret that," Northam said, according to a video recording by an Associated Press photographer who was allowed in at the beginning of the event. "I will do everything that I can to bring good from what's happened."
Asked about Northam's refusal to resign, Sen. Tim Kaine (D-Va.) said last week, "We reached a conclusion, all of us, our legislative delegation. We communicated what we thought should happen. It's up to him. The same way with the lieutenant governor. We've got our day job. We reached our conclusion but they're going to make the decision they're going to make."
Virginia politics have been in a state of tumult since the racist image from Northam's Eastern Virginia Medical School yearbook page was resurfaced by Big League Politics on Feb. 1. The photo shows a person wearing blackface standing next to another person wearing the Ku Klux Klan's white hood and robe. 
Northam promptly issued an apology, saying he was "deeply sorry for the decision I made to appear as I did in this photo and for the hurt that decision caused then and now." 
But the governor changed his story the following day, suddenly claiming he was not in the photo. At a press conference that weekend, Northam said he would remember posing in blackface or a KKK robe because he did have a clear memory of a different time he wore blackface.
"That same year [as the yearbook's release] I did participate in a dance contest ... in which I darkened my face as part of a Michael Jackson costume," Northam told reporters.
The governor insisted then and has continued to say that he would not step down from office, despite numerous urgings to do so, including from the Democratic Party of Virginia.
In a statement on Feb. 2, Virginia Democrats said Lt. Gov Justin Fairfax (D) should take over for Northam to "heal Virginia's wounds and move us forward."
But then, with the new attention focused on Fairfax ― who is black and has been viewed as a rising political star ― two allegations of sexual assault against the lieutenant governor came out, adding more complexity to the situation.
Fairfax has denied the allegations and is also still in office.
Attorney General Mark Herring, the next in line after Fairfax, also admitted to wearing blackface in his youth after Northam's yearbook page came to light.
Virginia's first lady, Pam Northam, came under fire last month after she handed cotton to several black children who were part of a student group visiting the governor's mansion and asked them to think about what it was like to be enslaved.
Calling all HuffPost superfans!
Sign up for membership to become a founding member and help shape HuffPost's next chapter