FALLS CHURCH, Va. ― Lt. Gov. Ralph Northam defeated former congressman Tom Perriello in the Virginia Democratic gubernatorial primary on Tuesday, handing a humbling loss to progressive activists who had flocked to Perriello's candidacy.
Although Perriello enjoyed greater support among millennials, liberals and residents of Southside Virginia, his campaign hopes depended on getting many of them to turn out for the first time.
Ultimately the 42-year-old Charlottesville native and former diplomat was not able to expand the electorate enough to offset Northam's advantage with more consistent Democratic voters, including many black Virginians and seniors.
"It's still an uphill climb for groups that are farther to the left to succeed even in a Democratic Primary," said Geoffrey Skelly, an expert in state politics at the University of Virginia. "There's a lot of excitement. But at the end of the day, there are a lot of Democratic voters that are center-left and not left."
"We fell short tonight at the polls, but after being outspent by over $3 million dollars, we showed that a grassroots effort can bring hundreds of thousands of people to the polls," Perriello said in his concession speech at the State Theatre in Falls Church, Virginia. "We had an amazing conversation that hadn't been had enough in this Commonwealth about rising and radical inequality, and skyrocketing debt and consumer debt."
Northam, a 57-year-old pediatric neurologist from the Hampton Roads area, will now face off against Republican gubernatorial nominee Ed Gillespie. Gillespie, a Beltway power broker and former Republican National Committee chairman, consistently led in the polls against state Sen. Frank Wagner and Corey Stewart, at-large chairman of Prince William County. He beat Stewart by a narrow margin Tuesday night.
Northam held a double-digit lead over Gillespie in a hypothetical matchup in a Washington Post poll last month. 
Northam is highly favored to win both because of the relative popularity of incumbent Democratic Gov. Terry McAuliffe and disdain for President Donald Trump in the Old Dominion State. Former Secretary of State Hillary Clinton defeated Trump in Virginia by 5 percentage points, and as of May, just 36 percent of Virginians approved of Trump's performance. 
The Republican Governors Association immediately blasted Northam as a "far-left extremist."
"In choosing Ralph Northam, Virginia Democrats have anointed an extreme, far-left nominee that is hopelessly out-of-touch with Virginia voters," said RGA communications director Jon Thompson said in a statement Tuesday.
Prior to Trump's inauguration in January, the Democratic primary for governor of Virginia was not expected to be a contentious affair. As lieutenant governor since 2014, Northam secured support early on from nearly every major elected Democrat in the state, including McAuliffe and Sens. Mark Warner and Tim Kaine. 
Then Perriello jumped into the race in January, betting that Trump's election had made the state ripe for a campaign focused on defending Virginia from the president's policies. Fashioning himself a "pragmatic populist," Perriello rolled out ambitious economic policies, including raising Virginia's minimum wage to $15 an hour, providing universal preschool and tuition-free community college, and overturning the state's right-to-work law, which makes it harder for labor unions to thrive. He also stumped against two natural gas pipelines slated to traverse the state, and refused donations from utility monopoly Dominion Power, which is building one of the pipelines.
The firm stances earned him the endorsements of leading progressives Sens. Bernie Sanders (I-Vt.) and Elizabeth Warren (D-Mass.); the Sanders-backed political action committee Our Revolution; the state chapters of top labor unions like the International Brotherhood of Electrical Workers and the Communication Workers of America; and a host of environmental activism groups, including Climate Hawks Vote.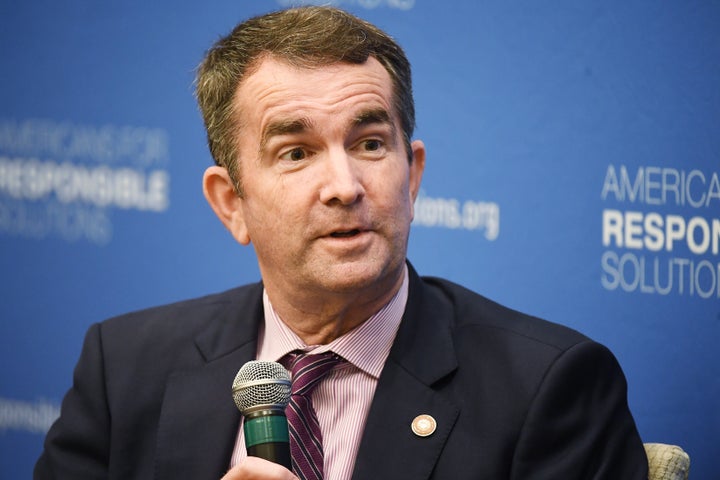 Perriello became a national Democratic darling during his only term in Congress in 2009-2010 after voting enthusiastically for the stimulus package and the Affordable Care Act, in spite of his conservative district, which included a large swath of rural Southside Virginia. Then-President Barack Obama campaigned for him in his 2010 re-election bid, which Perriello publicized in a campaign ad.
Seven years later, Perriello enjoys the backing of dozens of Obama administration alumni, including the former president's confidante Valerie Jarrett.
Thanks in part to the high-profile national support and accompanying influx of campaign contributions, the one-term congressman quickly came within striking distance of Northam. Northam trailed him by 2 percentage points in the most recent Washington Post poll in May. 
"It is a remarkable arc, especially when you consider Northam has effectively been running for governor for two years before Perriello announced," said Quentin Kidd, a Virginia politics expert at Christopher Newport University in Newport News, Virginia.
In the end, though, too few of the voters who said they would vote for Perriello turned out at the polls. 
Abortion rights was an important issue in this race. I'm glad to know Ralph's got our back.

Erin Matson
At the same time, blemishes on Perriello's record have fractured parts of the party's liberal base. A 2010 vote for the Stupak-Pitts Amendment to the ACA, which would have denied federal funding from the new law to any health insurance plans that cover abortions, proved especially alienating to reproductive rights advocates ― notwithstanding Perriello's expression of regret for the vote. By contrast, Northam has been a consistent supporter of abortion rights, helping lead the fight against a trans-vaginal ultrasound bill as a state senator in 2012.
"Ralph Northam is a progressive champion. I can't wait to work with him as governor," said Erin Matson, a Virginia-based reproductive rights activist who supported Northam. "Abortion rights was an important issue in this race. I'm glad to know Ralph's got our back."
Northam also likely benefitted from a leftward pivot that neutralized some of Perriello's progressive appeal. He embraced the $15 minimum wage and unveiled a community college plan of his own, albeit one that requires two years of community service.
In addition, the Washington Post editorial board endorsed Northam a week before the election, praising his "experience, temperament and ... chances of success in the face of likely Republican control of one or both houses of the state legislature for the foreseeable future."
"If any Democratic governor can nudge GOP majorities in his direction, it's Mr. Northam," the newspaper wrote.
Perriello's campaign told HuffPost their internal polling showed a drop of 12 percentage points after the Post endorsement, driven heavily by attrition in the Northern Virginia suburbs of Washington, D.C.
Yasmine Taeb, a Virginia Democratic National Committee member who backed Perriello, took some comfort in the fact that Perriello's competitive bid had pushed Northam to the left.
"The fact that he is able to run a campaign on such a progressive agenda, the fact that he was able to move his primary opponent to the left on various issues as a result, it means he was successful," Taeb said. "It was incredibly important to have a competitive primary for that reason." 
And Perriello's influence extends past the governor's race, Taeb noted. His stand against Dominion has provoked a debate about the influential state-regulated monopoly, with more than 60 Democratic candidates for House of Delegates following his example in rejecting contributions from the company.
The outcome is nonetheless a disappointment for national progressive activists in general, and Sanders in particular, who have struggled to put electoral wins on the board in national-level races since November. Sanders ally Rep. Keith Ellison (D-Minn.) lost his race to chair the Democratic National Committee in February, and both Sanders-backed candidates in special House elections in Kansas and Montana fell short as well. 
Kidd of Christopher Newport University nonetheless predicted that the disappointment of Perriello's loss for many progressives would not undermine Northam's general election bid.
"I don't think it is going to take any wind out from behind Northam because part of the reason they are so energized is because of the guy in the White House," he concluded. "You're gonna see the left get behind Northam."
Julia Galdo, a 70-year-old Falls Church resident on hand at Perriello's concession speech on Tuesday night, plans to vote for Northam, but she is not happy about it. She poked her head into the enclosed media area to express her anger at the "party machine" for blocking Perriello's path.
"I'm seriously tired of the Democratic Party. They don't understand vision when they see it," she said.
As for Dominion Energy, Galdo, who opposes fracking, ventured that they are "thrilled" with the outcome.
Calling all HuffPost superfans!
Sign up for membership to become a founding member and help shape HuffPost's next chapter
BEFORE YOU GO
PHOTO GALLERY
U.S. State Capitol Buildings