Having lost a series of tantalizingly close congressional elections, the Democratic Party has now placed the fate of its collective psyche in the hands of an unassuming, soft-spoken pediatric neurologist.
Virginia Lt. Gov. Ralph Northam says he feels no enhanced pressure to win his gubernatorial race this fall, even though his will be most high-profile contest since Democrats lost the much-watched special election in Georgia's 6th District.
"You always feel pressure," he told HuffPost in an interview. "If you're not feeling pressure then you're not out there to win. And we plan to win in November."
But while Northam may be playing it cool, he's not being complacent. His campaign has plans to canvass the state, from the wealthy northern suburbs to coal country in the southwest. And they're bringing along the big guns, too. Former President Barack Obama is expected to make his return to electoral politics this fall to join him on the trail, both Northam and Obama's office confirmed.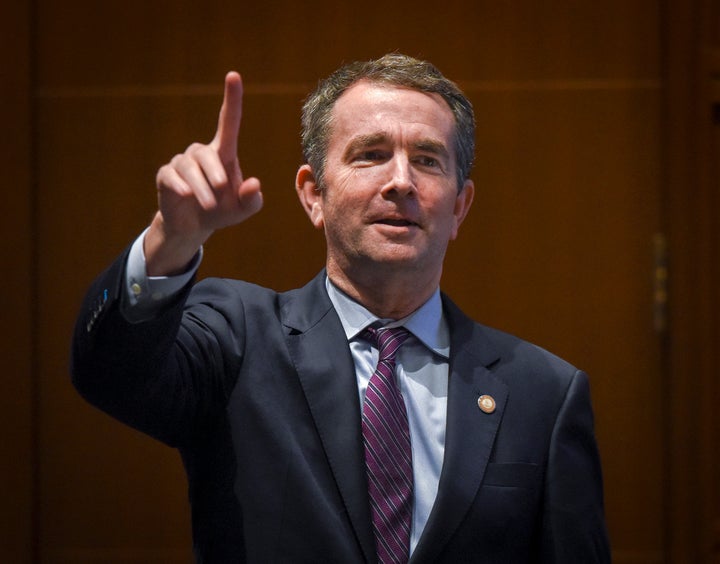 Northam, on the surface, is an odd type of candidate to be at the vanguard of Democratic resistance politics in the age of the great Donald Trump (New Jersey also holds a gubernatorial election this November, though its Democratic candidate faces a far easier path). He has an easygoing drawl and a seemingly preternaturally calm disposition. He is a doctor who served in the Ramstein Air Force Base as the head of neurology and neurosurgery during the first Gulf War and has a complicated political history. His campaign said he voted for Bill Clinton in 1992 and 1996 but he also cast ballots for George W. Bush in 2000 and 2004.
"I knew it was important to vote, which I did. But I was underinformed politically," he explained. "And, again, knowing what my principles and values are and knowing what Mr. Bush's were, it was the wrong vote. And I said that to many people."
Those Bush votes dogged him in the Democratic primary, where he went up against former Rep. Tom Perriello, the Obama alumnus backed by Sens. Bernie Sanders (I-Vt.) and Elizabeth Warren (D-Mass.). But Northam went on to win that contest comfortably.
It's easy to ascribe that victory to the support Northam enjoyed from virtually all of the Virginia Democratic establishment. But the insider-outsider framework is probably too simplistic to explain his triumph. Northam, after all, embraced or adopted much of the policy framework of the progressive community. Though he said he is "not there" on a Medicare-for-all approach as an alternative to Obamacare, he has called for a public option for insurance coverage, Medicaid expansion in his state, investments in preventive care and electronic medical records, and tougher approaches to pharmaceutical companies, including when addressing the opioid epidemic.
Occasionally his progressive streak was predetermined by Perriello's presence in the primary ― such as the decisions to endorse a $15 minimum wage and free community college. But not always. Northam, for example, publicly supports decriminalizing marijuana, both in Virginia and nationally.
"What would happen after that is marijuana would be reclassified and then we can look at medicinal uses," he explained. "And the point I like to make to people is there are probably around 100 or more medicines we use routinely that come from plants. And so there are many potential uses for marijuana."
But his most astute political calculation was recognizing the advantages of running aggressively ― even viciously ― against Trump. Northam was defined by a commercial of his in which he called the president a "narcissistic maniac," a description he began to repeat ad nauseam on the trail.
"I think President Trump is a very dangerous man," he said of the line. "If one were to look up the criteria for narcissism under the DSM 5 [Diagnostic and Statistic Manual of Mental Disorders] ... you will see that you can check every box. So I think it got people's attention but it is also accurate. So I stand by how I refer to him and I do think he is dangerous."
Though he's on to a general election contest with former Republican National Committee Chair Ed Gillespie, Northam says he plans to still campaign against the president. The election, he explains, is at least partially "about Mr. Trump" because of how his agenda would impact Virginia should a more favorably disposed governor be in charge. (Asked if it would be fair for Gillespie to do the inverse, and tie him to House Minority Leader Nancy Pelosi, Northam replied: "I would say she is not a narcissistic maniac.")
It's a strategy with some potential risk. Trump's unpopularity has certainly allowed Democrats to make major inroads in traditionally Republican enclaves. But the party has scored only moral victories so far, and strategists are increasingly worried they're burying a proactive agenda under layers of anti-Trump vitriol.
Northam doesn't see the Virginia gubernatorial race as an extension of those special elections.
"That's in Georgia. It is a red district they're running in," he said. "Virginia we know that statewide is blue and we want to make it bluer."
But he also recognizes that he, and by extension his party, has work to do in winning back the very voters that flocked to the man he now decries as a narcissist.
"There are folks out there in rural Virginia that we have been trying to help. We've been trying to help them with workforce development and jobs and access to health care, and I go out there and volunteer at these clinics and these people go out there and line up at midnight," he said. "It is their one day of the year where they can get access to a dentist and an eye doctor and a doctor. And they keep voting for the people that are doing absolutely nothing for them."
"So we have got to change that mindset and let them know that yes, the Democratic Party is an all-inclusive party and we are there to help you."
Popular in the Community