Ralph Peters, a retired lieutenant colonel in the U.S. Army and frequently angry and acerbic Fox guest, presented his usual demeanor again Monday during a live interview in which he called President Barack Obama a "total pussy."
"Well, first of all, he keeps speaking about 'we can't give into our fears.' You know, 'don't be afraid.' Look, Mr. President, we're not afraid. We're angry. We're pissed off. We're furious. We want to see you react. We want you to do something," Peters' tirade began.
"You're afraid. I mean, this guy is such a total pussy, it's stunning," Peters exploded.
"We the people, the American people, who he does not know in any intimate sort of manner. We want action. We want action against Islamic State and then when the president is telling us he is going to destroy ISIS," he continued. "This is a president who has done more harm to American police departments than he has done to Islamic State. This is a president who restrains our military. He uses it not to defeat ISIS, but for political purposes for political cover. This is a president who doesn't want to hurt our enemies, this is a president who cares more about thugs in Guantanamo or thugs in Ferguson, Missouri, than he does about law-abiding American citizens and their right to live in safety and peace."
As the smoke cleared, Varney, who could tell Peters was "super angry," scolded his guest for using such vulgar language.
Peters apologized and Varney tried to move on. He then asked Peters if there was "anything" in the president's speech that could contribute to defeating ISIS.
"No," Peters began, "with The New York Times, he's convinced the problem is gun control -- that's what we've got to fix. And the problem is Islamic terror. Now certainly, Stuart, we could use more intelligent approaches to keeping guns out of the hands of psychotics -- the Founding Fathers did not intend for every drunk psycho to have a machine gun collection. But law-abiding Americans owning guns is not the problem here. The problem is Islamist terrorism, and the president will not even say Islamist terrorism."
Varney stopped Peters' rant again. He said Peters had used "some very strong language" about the president of the United States and that he had to ask Peters to either apologize for what he said or retract his statement.
"I apologize. I apologize," Peters said.
Trying once again to get the interview back on track, Varney asked Peters what he would have liked Obama to say during his address.
"I'm not interested in what he says anymore," Peters said. "I want him to do. I want him to act. I want him to take on Islamic State. I want him to unleash our military. And yes, Stuart, I do apologize for giving in to my anger, but I feel like you know the American people understand where I'm coming from on this. My choice of words was incorrect, but my sentiment, I think, is shared by many."
Varney then concluded the interview with a gentle admonishing of Peters.
"Calm down, lad. Calm down," Varney said.
On Monday afternoon, Bill Shine, senior executive vice president of programming for Fox News and Fox Business, said in a statement obtained by HuffPost that Peters' comments were "completely unacceptable for our air." Shine said the cable network does not condone the use of such language and that it had suspended Peters for two weeks.
Shine said commentator Stacey Dash -- who said on Fox News earlier Monday that the president "could give a shit" about his Sunday address -- would also be suspended for two weeks.
Dash reacted to the news:
Peters has made abundantly clear his less-than-nuanced position on what U.S. policy toward ISIS should be on, you guessed it, a previously angry and acerbic Fox News interview: "The way you deal with Islamic State, these blood-thirsty, blood-drunken terrorists, is to kill them, keep on killing them, until you kill the last one and then you kill his pet goat."
This post has been updated to note that Peters and Dash have been suspended from the network for two weeks.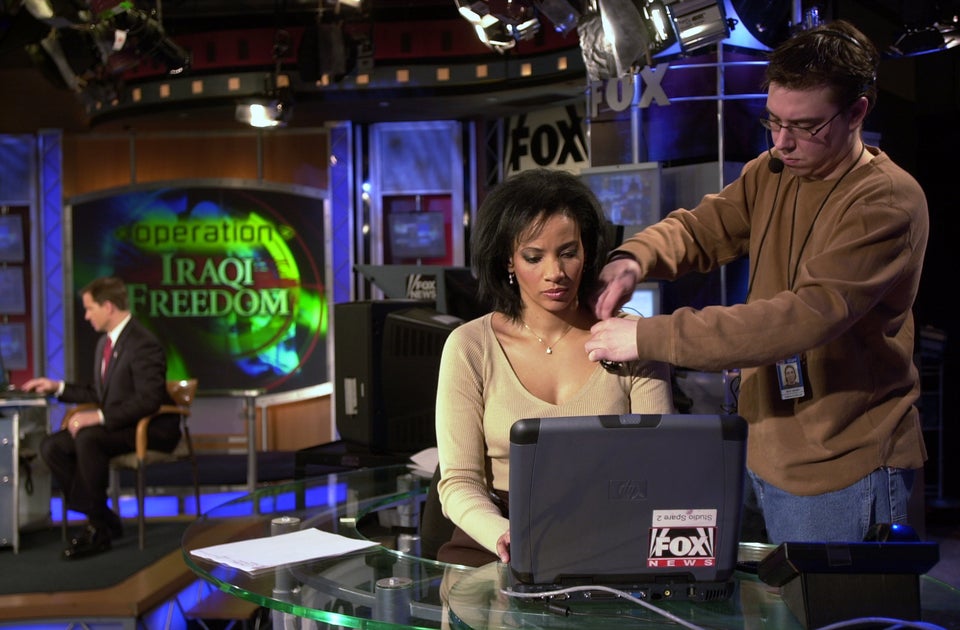 19 Of Fox News' Most Unforgettable Moments
Popular in the Community