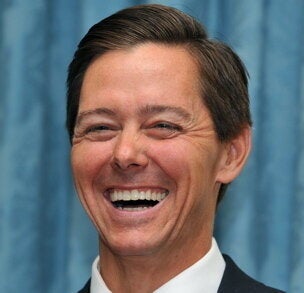 Boy, if anything is more in need of some good old-fashioned inspiration these days, it would be Republicans. As I was trained-up long ago in the ways of impartiality and journalistic neutrality, I went to hear Ralph Reed talk at the Atlanta Press Club (APC) about his new novel, Dark Horse, and all the "new politics" going on around us since Reed last held political court.
I thought it would be a hoot to have him sign my copy of the book. Which he did, although he wasn't terribly engaging, none of the breezy banter with the ladies that most socially inclined men would engage in at such a function. He was obviously looking beyond me for someone he recognized.
Reed is slight, small, well-tailored and smart looking. Attractive and telegenic. As someone once said, he looks doll-ish. Not a terribly big crowd came out to the Press Club for Reed. The ones who did were mostly, ummm, long in the tooth as they say. A handful of black folk and some Repug political hopefuls with obnoxiously loud mouths.
The APC couldn't get a sponsor for Reed's book-signing event. No one would touch him. No Atlanta media or business, which I thought was rather sad given that he is a prominent Georgia boy. A sign of the times, I suppose. As one person said, "He's toxic. And so is his party." In Georgia? Yes, even in Georgia.
The saddest part was watching Reed trying to be a good party cheerleader while still maintaining his religion. At one point he talked about how McCain was going to need every bit of the religious-conservative (evangelical and pro-life Catholic I assume) base of the party he could get to ever get elected, especially if Dems were going to register and turn out the anticipated large numbers of young, inspired, new voters.
At that point, I had to ask the question, "How can McCain, who's notoriously allergic to religion, possibly inspire and motivate religious conservatives then?" To which Reed answered by saying that McCain was really a religious person (oh sure), and that someone he knew, a name I didn't recognize so it was probably an evangelical preacher-type, had once "talked to McCain about his religion." Reed thought that McCain worshiped at some church in Arizona, but he didn't seem to know exactly what was the denomination.
When pressed for examples of how McCain has ever inspired the religious-conservative masses, Reed just said, "He's just going to have to be himself." Well, OK then. Fine by the secular humanist in me, but if that's supposed to satisfy, let alone "inspire and motivate," the evangelical masses to get to the polls, then I might as well be Pastor Rick Warren's next prom date.
Think I'll just go read the book now.
Related
Popular in the Community