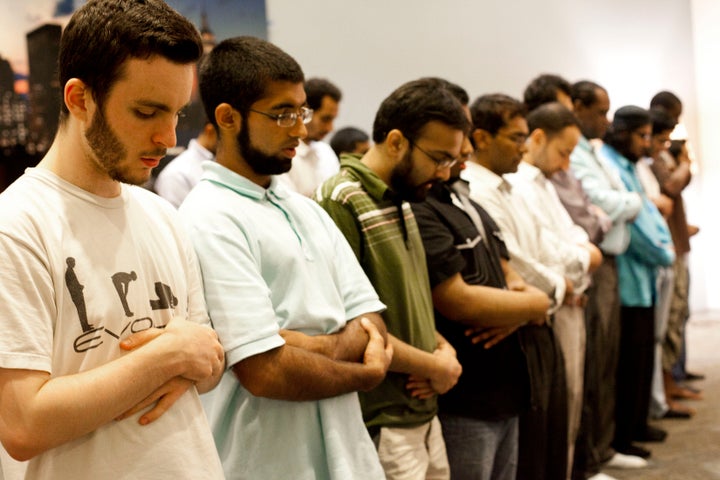 NEW YORK -- In a crowded dorm meeting room last week, Khalid Latif posed an unusual scenario to dozens of students and young professionals gathered for a weekly Islamic studies class.
"A girl walks into a (mosque) and she's wearing a miniskirt," the 28-year-old Muslim chaplain proposed to the group at New York University. "What do you think?"
Some participants giggled. Others looked perplexed. Traditionally, women and men are expected to wear conservative clothing in mosques. Most women who do not typically cover their heads will wear headscarves in a mosque. But the idea of a girl in a miniskirt entering an Islamic house of prayer? Absurd.
The answer, Latif suggested, was not to scold or ignore the woman, but to welcome her to pray.
"Your tongue has been given to you as a way of being closer to others and closer to the divine," he told the group. "Think of how you use your tongue."
Little changes each year about the fasting month except its dates, which are determined by the lunar calendar. Muslims awake before dawn for breakfast and abstain from food, water and sex during the day before breaking their fasts with group dinners at night. The days are punctuated by prayers, and Muslims try to read the Quran, their holy book, at least once in its entirety before the month's end. Mosques will also often organize community service activities.
But in his six years as the Muslim chaplain at New York University, Latif said he has noticed that Ramadan has become routine for many Muslims. As the director of the university's Islamic Center, he works with hundreds of students, among them American-born Muslims, converts and international students from Islamic countries. The diversity of the group, he said, means a lot of varying ideas and questions about Ramadan and Islam.
A few weeks ago, Latif proposed an idea to those Muslims, many who have observed Ramadan since puberty, the time of life at which Muslims are required to start the practice of fasting: How about a class about Ramadan? Despite it being summer, when the student population empties out of NYU, hundreds of people signed up via the organization's email list and website. The Islamic organization has hosted social events during Ramadan for years, but a class to teach Muslims about one of the most integral aspects of their religion was a new idea.
"We wanted to create an open space outside the mosque. A lot of Muslims get into a frame about religion where they feel unwelcome or judged or feel like religion is a set of rules," said Latif, whose group has been meeting for six weeks to prepare for Ramadan. Latif's students have kept daily journals of their spiritual progress, which they will consult during Ramadan as the group meets for dinners and more discussions to break the fast.
"Yet Islam is about reality. What fasting teaches you is the reality of your own situation and those around you. It allows you to think of what you can start changing about yourself," he added.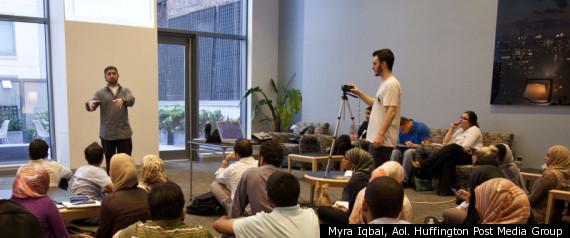 Maureen Ahmed, a 22-year-old recent graduate of Stony Brook University, started coming to Latif's classes after hearing about them from friends and watching online sermons about womens' rights posted by Latif, who is also an imam (prayer leader). Unlike at many mosques, the majority of the class's attendees have also been women.
"I don't know where I stand with Islam myself," said Ahmed, who is a research assistant at the Institute of International Education in Manhattan. Ahmed has fasted during Ramadan since she was young, but says she has only recently "come into my own terms about my religion."
"I don't have my parents telling me how to practice or what to do anymore. I have to figure it out on my own and what it means to me," said Ahmed. "It's good to come here and know if you don't wear an hijab (headcover) or have other questions, that it's OK."
Ahmed participated in the recent conversation about the woman in the miniskirt as part of a class on the subject of character. Other classes have focused on Muslims' intentions, habits, prayer and gratitude, as well as the legal aspects of fasting during Ramadan.
"Why you do what you do is really important, especially in regard to fasting. It's much more meaningful if you look at it as more than abstaining from food," said Latif, echoing one of the course's themes.
Sara Mahmoud, who is studying for a graduate degree in public health at Columbia University, also recently began attending the classes with her friends after hearing about them from other Muslims.
"They help us get pumped up -- as a group -- about Ramadan," she said. One of the simplest lessons from the discussions is about health and nutrition, she added. "A lot of people, when they break the fast, they'll just gorge on tons of greasy food. You're supposed to be taking care of yourself, not overeating."
Latif, who was raised in a Pakistani-American family in New Jersey before attending NYU and training in chaplaincy at Hartford Seminary, said he was motivated to teach about Ramadan by his experiences as a counselor. As a chaplain at both NYU and the New York Police Department, he gets many questions from Muslims and non-Muslims alike about Islam. Hosting his classes outside of a mosque -- the group also plans to meet in the basement of a Catholic church for breaking-the-fast dinners during Ramadan -- may open up the discussion, he said.
In addition to the debate about the miniskirt, Latif posed another challenging question at the meeting last week.
"What is a good Muslim?" he asked the crowd.
"A good Muslim is one who prays five times a day," a man offered in reply.
"Being a good Muslim is being kind to others," another man suggested.
A woman chimed in: "Who is to judge?"
Related
Popular in the Community