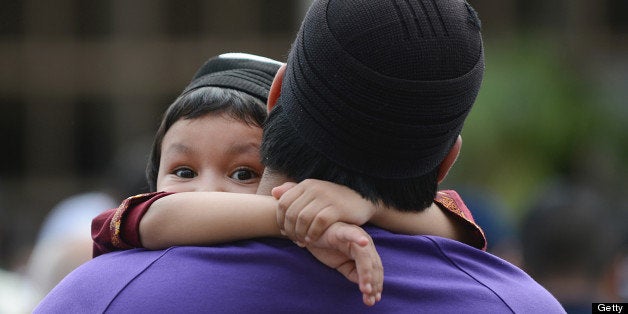 Ramadan always feels great. We fast. We pray. And, of course, we donate. In so many ways, we push ourselves to dig deeper and to be better for this month. And in doing so, we feel great about the changes we see in ourselves.
This feeling, a sort of Ramadan high, is a shared experience for over a billion men, women, and children all across the globe. For a period of 30 days, we find ourselves in not only an elevated state of spirituality but also at new levels of self-discipline and kindness. We give more. We complain less. We think twice before jaywalking and three times before cursing.
But as we enter the last week of Ramadan, the question still remains: Will this last? After we stop waking up at odd hours of the night to enjoy pre-sunrise meals, will we still feel that same level of spirituality? After we stop donating our Starbucks money to charities and local community projects, will we still feel that the same sense of warm fulfillment? After we stop feeling those pangs of hunger arrive throughout the later afternoon, will we still appreciate the everyday blessings we take for granted?
In the 7th century, Muhammad was posed with a similar question: How do we lead lives that have a lasting impact? How do we lead lives that better the world even after we're long gone?
"When a man dies, his deeds come to an end except for three things: Sadaqah Jariyah (continual charity), a knowledge which is beneficial, or a virtuous descendant who prays for him." [Muhammad ﷺ]
The message was simple -- lasting impact requires involving those around you. And as we enter this last week of Ramadan, this hadith provides a basis for three easy steps to not only maximize our Ramadan experience but to keep the positive impact of this month alive for months to come:
1. Do something for those around you.
Mahmood Ahmadi was a senior at the University of California when he visited Afghanistan and saw true poverty for the first time. As he was confronted with starving families, crumbling schools, and sick children, he felt the need to do something.
Turning to Facebook, he shared with his friends how overwhelmed he was by the hardship and suffering he was seeing around him. And he asked them if they could do something simple: Would they each donate a few bucks and help him raise $100 so that he could buy food and books for some local children?
That was 2011. Since then, Mahmood's Afghan Sponsorship Foundation has raised $48,000 and grown into a non-profit organization that provides food, school supplies, healthcare services, and other essentials to needy families across Afghanistan. Armed with nothing more than passion and an ability to believe in his friends' generosity, Mahmood has built a team spanning several college campuses and professional networks all over the globe.
For us, Mahmood provides an example. We all have issues we can address in even our local communities. This Ramadan, do something about it. If you see an issue affecting those around you, be someone who has the courage to take the first step. Be that person who dares enough to care; be that person who cares enough to try.
If you want to keep your Ramadan alive, plant the seeds for something that'll change the world around you.
2. Share your Ramadan experience with those around you.
In 2006, Salwa Datoo left a burgeoning Wall Street career to pursue a calling to give back. After spending seven years working in banking, she traveled to Africa where she volunteered her time with a non-profit organization. Looking back, she recounts: "When I was in Africa volunteering... I truly saw that every little bit can make a difference."
Seeking to bring that same level of social consciousness into her professional life, Salwa founded a small business by the name of Soulful Moon upon her return. Her business model was simple: People
often use cards to celebrate happy occasions. Why not integrate giving charity into those interactions so that happiness could be shared amongst an even larger group of people?
Over the last 7 years, Soulful Moon has grown into a highly successful stationary business that donates a portion of every sale to charity. From funding three Ethiopian women through an education program to reduce child marriage to supporting American children through the "Schools on Wheels" program, Salwa has created an avenue for consumers to integrate charity into our everyday interactions.
For this Ramadan, Salwa hopes we share our Ramadan with our friends, families, and coworkers with her beautiful Ramadan cards. She hopes we share our beautiful experiences with those who may never have fasted a day in their lives before. She hopes we provide insight and life lessons to those who'll benefit. And with every piece of Ramadan stationary and Eid cards sold, she hopes we'll support Soulful Moon as they donate a portion of each sale to help provide food and basic essentials for those in need of a meal.
If you want to keep your Ramadan alive, share the knowledge and the insights you gain during this months with those around you so they too can benefit. And if you're doing with Soulful Moon cards, you'll also be feeding hungry mouths in the process.
What is it that we want to get out of this month? After going day in and day out with our Ramadan activities, how many of us still remember what our goals were before this month began? How many of us still remember the list of things we promised ourselves we'd "fix" during Ramadan?
In the closing moments of each fast, it is tradition to spend a few minutes in prayer and reflection as we think about the day that has passed. And now as we look back at this month, it seems only appropriate to ask ourselves how far we've gotten during these last few weeks: Are we at where we wanted to be?
In the Islamic tradition, we are reminded that Ramadan is not a burden but a blessing that truly benefits us. However, it is up to us to find true benefit in this last week of Ramadan. It is up to us to seek out opportunities to not only grow but to bring lasting change into our lives. And most importantly, it is upon us to remember that our Ramadan begins to lose its meaning if it does nothing to better the lives of those around us.