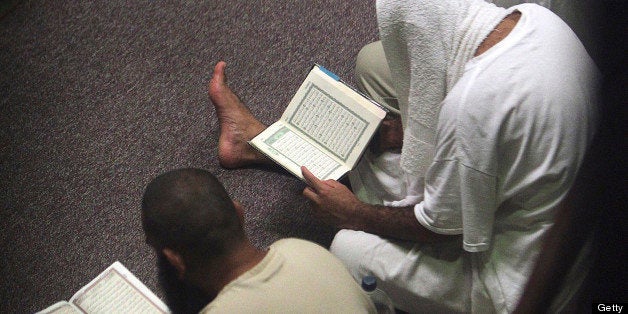 As the sun set last evening, millions of Muslims across the United States began to make preparations for the beginning of Ramadan. Ninety miles south of Florida, military physicians also prepared for Ramadan -- by shackling detainees into restraint chairs and administering force feedings to hunger-striking prisoners, feedings that have been moved into the night hours in an effort to respect the Islamic practice of fasting from food and water during the day.
Of the 166 detainees being held at the United States Guantanamo Bay Naval Base in Cuba, a reported 120 are currently engaged in a hunger strike protesting inhumane treatment and indefinite detention. Forty-four of these men are currently being subjected to government-sanctioned force feedings described by the government authorities in Guantanamo as "humane, high-quality medical care."
Practitioners of "high-quality medical care" -- American physicians, that is -- seem to disagree. A recent article in the New England Journal of Medicine, the oldest continuously published medical journal in the world, cited the World Medical Association's "Declaration of Malta on Hunger Strikes," a document created by representatives from over 100 countries to provide standards for medical ethics and human rights, as being in direct opposition to the current force feedings:
Forcible feeding [of mentally competent hunger strikers] is never ethically acceptable. Even if intended to benefit, feeding accompanied by threats, coercion, force or use of physical restraints is a form of inhuman and degrading treatment
The publication continues to argue that a clear distinction must be made between hunger strikes and suicide attempts:
Hunger strikers are not attempting to commit suicide. Rather, they are willing to risk death if their demands are not met. Their goal is not to die but to have perceived injustices addressed. The motivation resembles that of a person who finds kidney dialysis intolerable and discontinues it, knowing that he will die. Refusal of treatment with the awareness that death will soon follow is not suicide, according to both the U.S. Supreme Court and international medical ethics.
This distinction is critical because many seek to mislabel politically motivated hunger strikes as suicide attempts, a situation in which emergency care would be warranted and ethical. In reality, this hunger strike is an organized movement and dates back to 2005. At the time, Binyam Mohammed, an Ethiopian national, said, "I do not plan to stop until I die or we are respected."
Although Mohammed has been released and cleared, scores of detainees remain in Guantanamo. In the coming weeks, many of them will be subjected to force feedings that the World Medical Association has repeatedly criticized as "never ethically acceptable." Recently, American musician and poet Yasin Bey, formerly Mos Def, set out to experience what it was that these prisoners were being subjected to. The results, which are graphic and admittedly tough to stomach, can be watched via this video from the Guardian:


Based on current plans, each detainee will undergo two force feedings each night with each session taking up to 30 minutes and being coupled with a two-hour period in a "dry cell" without water, in an attempt to limit vomiting. This will all happen between 7:44 p.m. and 6:28 a.m. in an effort to respect the daytime fasts of the Islamic month of Ramadan.
In a month where over 1.5 billion men, women, and children will turn away from food and water in hopes of finding spiritual growth and personal fulfillment, it is worth reflecting on the words that our president recently asked, "Is this who we are?"
Just a few days after the Fourth of July, a day on which so many of us celebrated the rights to "Life, Liberty, and the Pursuit of Happiness," we must ask: Is this who we are? Is an America that force-feeds prisoners protesting inhumane treatment, indefinite detention, and repeated torture the same America our founders envisioned? Is this what we believe in?
Popular in the Community