 As Yemen is gripped by its worst-ever humanitarian crisis, with 10 million going hungry and more than five million in urgent need of assistance, this year's Ramadan is proving harder than ever.
In better years, Yemenis would traditionally stock up with food as the Muslim fasting month Ramadan approached. Special purchases of sweet items like dates and juice would be among the items. Breaking the fast with iftar dinners at night with family and friends would be a celebratory event.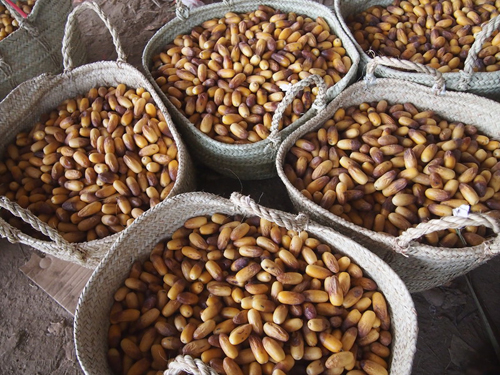 Copious amounts of food are still available in the markets: fresh fruit and vegetables, breads, all kinds of grains, sweets and dates. In small shops, the bright colours of boxes and tins red, gold and green are dazzling. The problem is that the cost of food items has rocketed and Yemen, which imports around 90% of its food needs, is particularly vulnerable to global food prices.
"How can someone with a big family and no work afford to buy anything with these high prices?" complained one woman I met in the city market of Al Hodeidah.
The high price of diesel -- which has doubled in Al Hodeidah in the past month -- has also had an impact.
A date farmer in the wholesale market told me he spent three times as much money on fuel to operate pumps to irrigate his palm trees; but his crop size was about 20% less than normal.
In the debilitating heat, which hits the high 40s centigrade, ice is in high demand. But according to one shopkeeper, the cost of powering generators to keep the ice cold in freezers has seen prices rise seven-fold.
This year, many families are struggling to pay for the most basic of items. Large numbers skip meals and survive on little more than bread and tea.
And that's why international aid agency Oxfam has provided a cash lifeline to more than 100,000 people in Al Hodeidah, giving them a cash lifeline so they can get through the next few months, and feed their families.
Widower, Zuhra Wans, in her 50s, who lives in Bayt al-Faqih district, in Al Hodeidah, can only dream of better years. "Things were good three years ago," she recalled dreamily. "Then, during Ramadan, everything was available." She reels off a list of what she used to buy -- items that are now far beyond their reach. Today, family meals mostly consist of bread.
In her small house, in Al Hawak village, Zuhra takes me into her kitchen. There's just one eight kilo sack of grain that the family will use to make bread. She tells me it used to cost 800 riyals (nearly $4 US dollars); today, its costs 1,400 riyals (about $6.5 US dollars). The sack will only last them for two weeks, and she's already worried by how much her next purchase will cost.
Zuhra shows me the only food they have in the kitchen
At least one-third of all households in Yemen are surviving by buying food on credit. Shopkeepers, in turn, buy their stock on credit. The local markets mostly operate on this precarious system.
So far, its worked. But shopkeepers like 25-year-old Ala'a Abdullah Farag Wans, who has a small store in Al Hawak, sleep poorly these days, worried that their customers won't be able to pay them back - and the defaults could prove devastating.
"The majority of my customers buy on credit" he said. "On average, my customers owe me about 30,000 riyals ($139 US dollars) each month.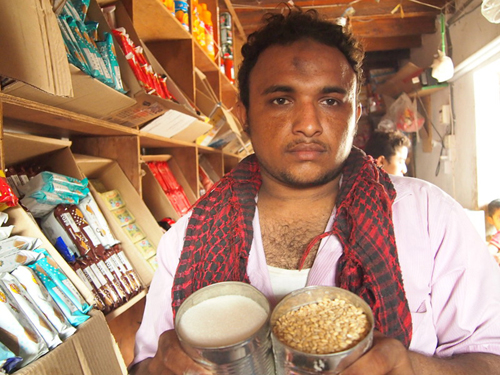 Ala'a worries he may be forced to go out of business because so many owe him money
I worry one day I'll go out of business because my customers can't pay me back. Sometimes, I get calls from traders asking me when I'm going to pay them their money. Others stop by the store to ask me the same question.
Another shopkeeper, 23-year-old Yunus Al-Hamadi, tells me a similar story. "We're owed about 4 million riyals in debts by our customers. We buy our food from wholesalers and owe them about nine million riyals."
But Yunus is philosophical about the future. We don't worry, he says, because we can't change anything. We just live day to day.
Related
Popular in the Community