Imam Khalid Latif is blogging his reflections during the month of Ramadan for the fourth year in a row, featured daily on HuffPost Religion. For a complete record of his previous posts, visit his author page, and to follow along with the rest of his reflections, sign up for an author email alert above, visit his Facebook page or follow him on Twitter.
I had one of the most surreal experiences of my life yesterday afternoon.
I was sitting in my office getting ready for a fundraising dinner we were hosting to raise money for women in need when one of my students named Muhammad ran in.
"Do you remember that boy Muhammed Abu Khdeir who was burned alive in Palestine?" asked Muhamad. Of course I did, but I simply nodded as he continued. "You know his cousin, Tariq, who was beaten and put into jail by the Israeli police after Muhammed was killed? He's here right now."
As I am sure was the case with most of you, the last couple of weeks for me have been a roller coaster of emotions. The social media waves bombarding their respective networks with tweets and statuses filled with the faces of young, innocent Palestinian babies killed for no justifiable reason and the annoyance of those seeking still for some reason to justify it nonetheless has been more than intense. Our eyes have seen homes blown apart, people's faces fall as their lives shatter in front of them, the dirty realities of politics and the superficiality of some relationships. These images have hit us all hard, even those who knew better from before hand. How could one not be disturbed at such utter disregard for life?
We've also seen heroes that our world is need of. Doctors and medics from around the world, relief agencies and their workers, and many others who know their life is at risk being on the ground in Gaza but they still do what they can to help. Their courage, their commitment, and their character is so remarkable, and seeing them do what they are doing carries a deep impact of a different kind. May God give them all strength and bless them for their efforts and examples that help us all to hold on to a hope in humanity. Ameen.
Where conventional media for the most part has failed, the people of the world have shared parts of the story that many of us would not ever see if not for social media. For some of us, it was the first time we ever saw something like this. The death, the destruction, the lack of humanity - the images all hit hard. If pictures alone could cause such reactions, I couldn't begin to imagine what life was like for any of the people actually living what was shown in those pictures, especially the children amongst them. And all of a sudden one of them was praying at our Islamic Center at NYU and I had the opportunity to find out.
I walked down the hall and spoke with some of the people who were with him. Tariq was washing up for prayer in one of our wudu (ablution) rooms. The minute he stepped out I had to breathe in to hold back tears. Here in front of me was one of the children of Gaza. Subhanallah, I have never felt such a feeling in my life. Anger, empathy, grief, confusion and much more all lumped themselves together inside of me. Looking at his face reminded me of every image that I saw of him, bruised and swollen from a beating he did not deserve. Images like this one: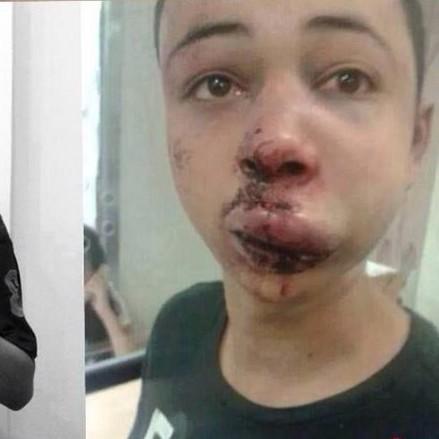 What kind of people are there in this world that would treat a child like this? And what kind of people are we that we sit back and watch it happen.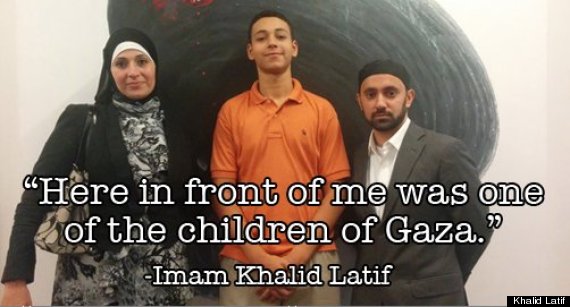 While Tariq was praying, I was blessed to meet his mother, Suha. After they had both finished their prayers, I spoke to them briefly. "I need to go back," he said. "I need to go back to help them. They killed my best friend Muhammed." As he spoke, I saw scars on his wrists from where he had been tied up. How deep and tight it must have been to have left such scars. He continued speaking, "They just kept beating me and beating me. I don't know why."
These last nights of Ramadan is when most mosques and Islamic Centers host fundraisers for their own projects. Knowing that the crowds will be large, that the last 10 nights are when most people are donation, the time makes sense to raise for your own center. I would say this year, with everything going on in the world, really embrace and trust the idea that giving charity will never diminish one's wealth and raise money for someone else if you can. If not Gaza, then Syria, or Burma, or Nigeria, or some place local. Just give to someone else who needs it.
I told Tariq that it was an honor to have him pray in our prayer room, and I meant it. The courage of this young man to share his story is beyond admirable and to have the likes of him pray in our space is so humbling. Please say a prayer for him and for all those whose lives have been impacted by conflict anywhere. May God make things easy for the people of Gaza and for all of us. Ameen.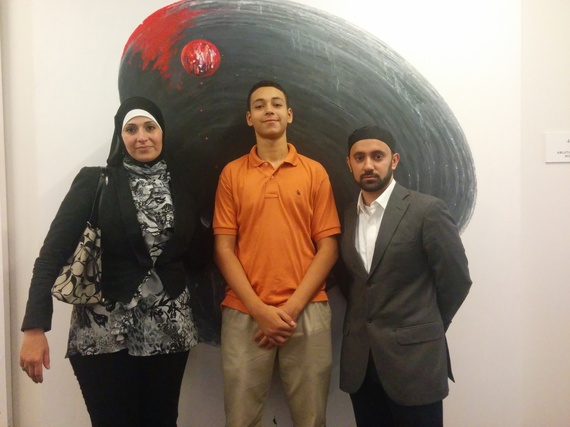 Calling all HuffPost superfans!
Sign up for membership to become a founding member and help shape HuffPost's next chapter