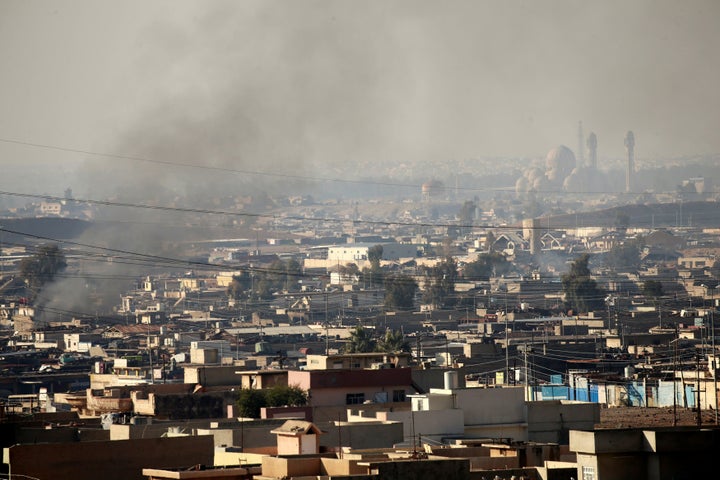 Iraqi forces raised their flag above Ramadi, Iraq, on Monday, after a long offensive to retake the provincial capital from the Islamic State militant group.
U.S.-led coalition and Iraqi officials have touted the victory as a major blow to ISIS, which seized the city in May amid the embarrassing collapse of Iraq's security forces.
But while troops celebrated in Ramadi, both U.S. and Iraqi officials say the biggest factor behind their success was the abundant coalition airstrikes that the Iraqi army has come to rely on in their campaign against ISIS militants.
Around 80 percent of the city's recapture was due to the airstrikes, said U.S. Col. Steve Warren, the spokesperson for the joint operation against the Islamic State group in Iraq and Syria, in a press conference on Tuesday. Weeks earlier, Iraqi Army Capt. Saad Asri told The Washington Post the same statistic in reference to the retaking of northern Ramadi.
In total, the U.S.-led coalition carried out over 600 airstrikes in and around Ramadi since July, according to a statement released by U.S. Central Command on Monday.
Coalition member Britain launched a total of 380 strikes during the entirety of its year-long bombing campaign in Iraq. As of November, fellow coalition member France had separately launched over 270 strikes over the course of its bombing campaign, which began in September 2014.
Although there is currently no specific breakdown available for which nations were responsible for the aerial missions over Ramadi, around 80 percent of coalition strikes as a whole are carried out by the U.S.
Coalition airstrikes have been similarly prominent in other battles against ISIS militants. Hundreds of airstrikes held off Islamic State advances in the northern Syrian town of Kobani for months. By the time the town was finally secured in January, nearly 70 percent of U.S. and coalition airstrikes in Syria since the campaign started in September 2014 had been focused on Kobani.
Last month, Kurdish forces in Iraq continued their push to take back territory around Mount Sinjar, where Islamic State militants had previously swept through, killing and enslaving Iraq's Yazidi minority. The offensive also relied heavily on U.S.-led airstrikes for its success.
Yet the reliance on U.S. airpower ― especially in the case of Ramadi, where 10,000 government troops faced between 600 and 1000 ISIS militants ― could pose a concern as Iraq and coalition forces plan to retake occupied Mosul, Iraq's second-largest city.
Recapturing Mosul, which had a population of around 2 million people before Islamic State militants took control of the city, will likely require twice the forces that were involved in retaking Ramadi. Because Mosul has a large number of civilians who could be killed in airstrikes, retaking the city will be a very difficult task.
While U.S. strikes killed hundreds of ISIS militants in Ramadi, according to Warren, ground troops still had to engage in fighting, and they are now clearing out potential booby traps and improvised explosive devices. In areas around Mosul, including the nation's largest dam, forces battling Islamic State militants have encountered a multitude of land mines and explosives.
Plans to drive ISIS from Mosul have been in the works since the militant group seized the city in a rapid advance last June, but the offensive has faced numerous delays for reasons that range from trouble coordinating the multiple forces fighting in Iraq to inadequate training of the Iraqi army.
Iraqi Prime Minister Haider al Abadi lauded the victory in Ramadi during a televised press conference on Tuesday, vowing that Mosul would be retaken in 2016 in a "final blow to IS."
However, Col. Warren was more cautious, saying that Ramadi and Mosul are very different and that retaking the latter would require resources, effort and patience.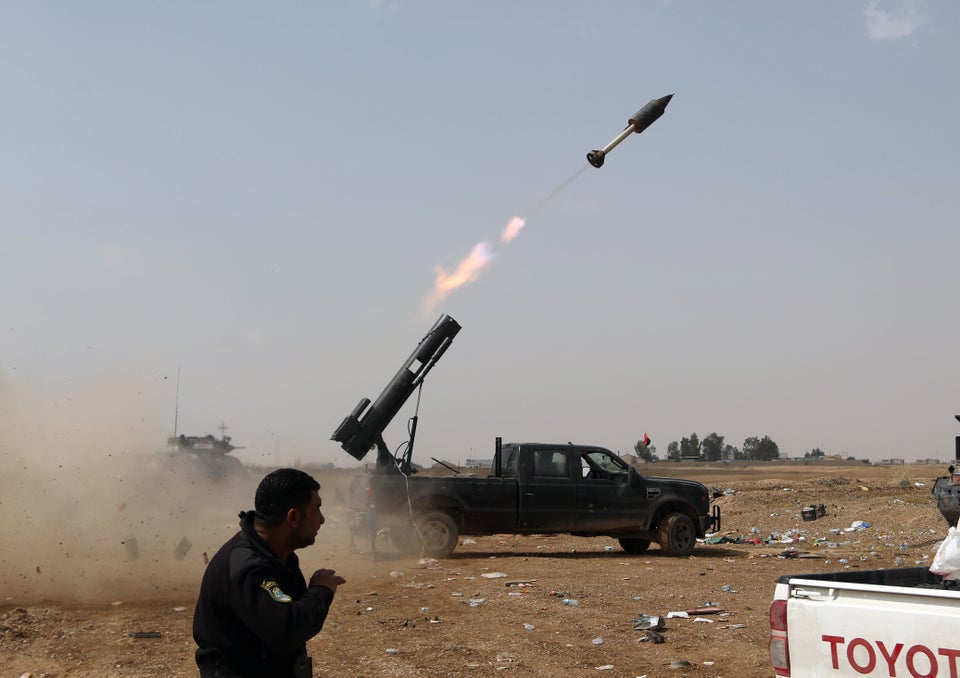 Fighting In Iraq
Popular in the Community