NEW YORK -- Ramarley Graham is a name the country should know, but doesn't. For New Yorkers, Graham's case is reminiscent of Michael Brown's in Ferguson, Missouri. Both were unarmed black men fatally shot by white police officers. As in Mike Brown's case, we are still waiting for a full police incident report and a thorough accounting of what happened. But while Brown was killed less than a month ago, Graham's family has been waiting over two and a half years for answers.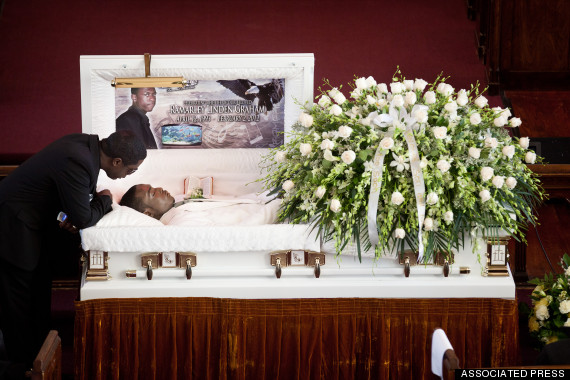 Franclot Graham speaks to his son, Ramarley Graham, in his casket before funeral services, Saturday, Feb. 18, 2012. (AP Photo/John Minchillo)
These are the facts as we know them.
On February 2, 2012, the NYPD says a narcotics unit in the Bronx spotted 18-year-old Graham adjusting his waistband outside a bodega -- a sign, according to the department, that Graham was carrying a gun. When officers approached him, the NYPD says, Graham took off running toward his house just a few blocks away.
Surveillance footage, however, shows Graham calmly walking up to his mother's home on East 229th Street, unlocking the door and walking inside. Seconds later, the surveillance footage shows two cops sprinting up to the house, guns drawn, and attempting to knock down the door.
For four to five minutes, the footage shows, the officers were unable to get inside. Meanwhile, in the back of the house, several officers were also trying to gain entry. When a young boy who lived in the first-floor apartment opened the back door, the officers, who also had their guns drawn, ran past the boy and his father to the front of the house, where they let their fellow officers inside.
One of the officers then proceeded to run upstairs and break down the door to Graham's apartment. When officer Richard Haste went inside, the NYPD says Haste confronted Graham inside the bathroom where the teen was allegedly trying to flush a bag of marijuana down the toilet. The NYPD says Graham reached for his waistband during the confrontation, prompting Haste to shoot him once in the chest.
No gun was found on Ramarley, in the bathroom, or anywhere else in the house. Graham's 6-year-old brother, Chinoor Campbell, and his grandmother, Patricia Hartley, witnessed the shooting. Graham was later pronounced dead at the hospital.
But there are so many things we still don't know.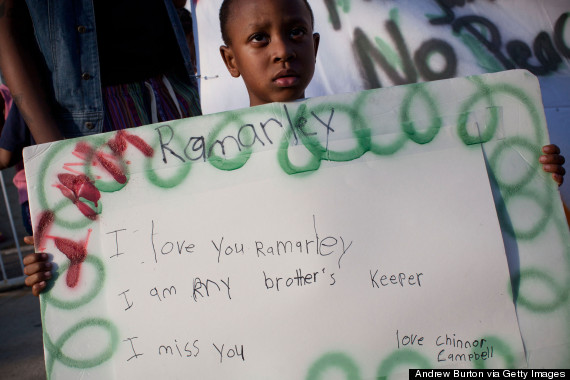 Chinoor Campbell holds a sign for his brother, Ramarley Graham, at a vigil on March 22, 2012. (Photo by Andrew Burton/Getty Images)
We still don't know which officer first claimed that Graham had a gun. We don't know if that officer actually saw a gun, or just saw Graham adjusting his waistband. We don't know why, in the bathroom, Graham would reach for a gun he didn't have. We don't know why officers didn't call for backup, as is protocol when chasing down an armed suspect.
We don't know why officers did not get a warrant before breaking into Graham's house, nor why the NYPD claimed that Ramarley ran when surveillance footage shows him walking.
We don't know why -- as detailed in a lawsuit filed earlier this year -- cops detained Graham's grandmother, Patricia Hartley, for seven hours at the local precinct, questioning her about what she saw, even though she wasn't facing any charges, and even though she'd just witnessed her grandson's violent death. And we don't know why officers wouldn't let Graham's family's lawyer, Jeffrey Emdin, inside to see Hartley for nearly two hours.
We don't know why Graham's body was misidentified after his death, making it impossible for his parents to see his body for four days.
"There are questions they have to answer," Graham's father, Franclot Graham, told HuffPost recently. "They have been able to hide so far, but the day's coming when they'll have to speak."
What is known about the events of that afternoon can only be gleaned piecemeal from past NYPD statements, lawsuits, media reports, interviews with the family and a private meeting Ramarley's parents had with then-Police Commissioner Ray Kelly.
Today, more than two and a half years after Graham was killed, neither his family nor the public has even seen an official police incident report, let alone heard the officers involved testify or be deposed.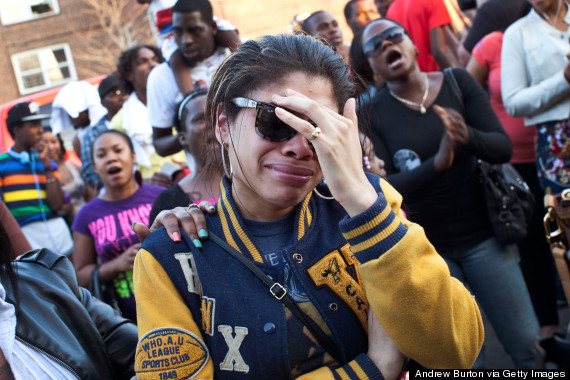 A woman cries during a vigil for Ramarley Graham on March 22, 2012. (Photo by Andrew Burton/Getty Images)
Franclot Graham and Ramarley's mother, Constance Malcolm, have only been able to speculate about what happened to their son.
"We haven't seen their report, we haven't even seen the medical examiner's report," Franclot said, "but if Ramarley was in the bathroom flushing weed like they say and he's bending over, how come Richard Haste shot him in the heart? Richard Haste would've had to have been in the bathtub to shoot him, because he's looking away from the door. [There are] a lot of inconsistencies in what the NYPD says. We need Haste on the stand."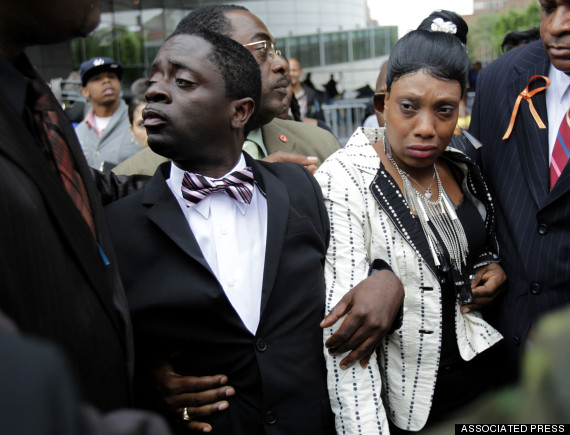 Franclot Graham and Constance Malcolm. (Photo by Seth Wenig/AP)
"Since circumstances of the death are murky, they can tell themselves that it didn't have to happen. They can say, 'If only...,'" Shear said. And under those circumstances, she added, it's "very likely that grief won't be processed," which can lead to what's called "complicated grief" -- an intense and prolonged period of suffering.
For Michael Brown's family in Ferguson, Ramarley's case could prove a discouraging precedent. It'll take an indictment from a grand jury in Ferguson for the official police report to be made public in court. If that fails, as in Ramarley's case, it could take years for the public to hear what really happened.
Since 2012, Ramarley's case has been mired in multiple investigations at both the state and federal levels, keeping the NYPD's version of events away from public scrutiny.
"There was a grand jury investigation in the Bronx, and because of that pending criminal case, we weren't able to get the [NYPD] documents," Emdin told HuffPost.
In 2012, a grand jury voted to indict Haste, but the indictment was tossed out because of a prosecutorial mistake. A second grand jury declined to indict Haste. Grand jury proceedings are sealed, and it's not known what evidence Bronx district attorney Robert Johnson presented to the jury.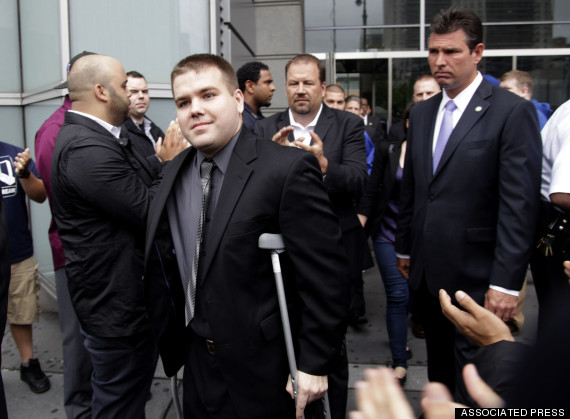 Fellow NYPD officers clap for Richard Haste after he pleaded not guilty to manslaughter charges in the death of Ramarley Graham. (AP Photo/Seth Wenig)
"After the grand jury did not indict on the second time, the Justice Department said that they were going to be looking into this matter," Emdin said. "There's an NYPD Internal Affairs investigation going on as well, and so those files haven't been released to us yet."
The NYPD did not respond to a Huffington Post request for comment on the status of its Internal Affairs investigation. The Justice Department declined to comment on the status of its own investigation.
If the Justice Department chooses to convene a grand jury, and that jury indicts Haste on civil rights charges, the case will go to trial. That would mean the NYPD's files on Graham's death would finally be made public, and his family might at last get some answers.
If the Justice Department doesn't pursue or win an indictment against Haste, however, Emdin says Graham's family will have to ask a judge to force the NYPD to turn over its files as part of a pending civil lawsuit they've brought against the department.
But for now, Emdin added, "it's in the DOJ's hands," and Graham's family is still waiting to hear why he was killed. Malcolm, Graham's mother, said she still has hope that there will be an accounting.
"There's a man that sits high and looks low, and we'll get justice one day," she said. "We believe in God. It might happen. It's gonna happen slow, but it's sure."
Correction: A previous version of this article misidentified Dr. Katherine Shear as Dr. Katherine Pearson. We regret the error.