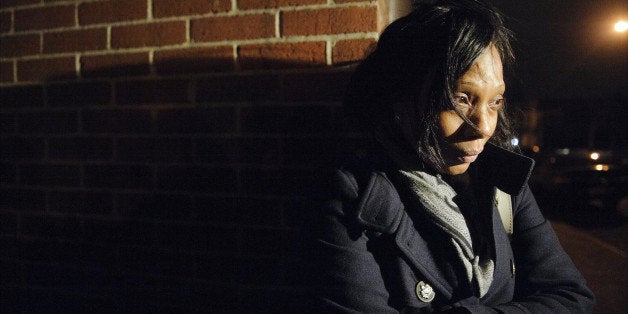 NEW YORK -- As a huge crowd of protesters gathered in Union Square Monday night to await the grand jury decision about the officer who shot and killed Michael Brown, Constance Malcolm held up a sign showing the faces of black men who have been killed by New York City police officers.
Eric Garner. Amadou Diallo. Sean Bell. Akai Gurley.
"Can I take a picture of that?" a protester asked her.
"Yes," she said. After the picture was taken, she pointed to one of the faces on the sign. "That one's my son," Malcolm said.
"I gotta be here," she told The Huffington Post. Over two and a half years ago, a Bronx grand jury voted to indict Officer Richard Haste for fatally shooting Malcolm's unarmed 18-year-old son, Ramarley Graham, after Haste broke into Malcolm's house in 2012 without a warrant.
That indictment, however, was thrown out because of a technicality. A second grand jury decided not to indict Haste, and ever since, Malcolm says she's been trying to get justice for her son. She didn't have high hopes for the grand jury's decision on whether to indict Ferguson Police Officer Darren Wilson for killing Brown. "It'll probably be some bullshit," she said.
And about 15 minutes before the decision was scheduled to be announced Monday night, Malcolm walked into the center of the raucous crowd in Union Square and grabbed the megaphone.
"If it was us, we'd get indicted right away -- before we even get to the precinct," she said. "If a cop can kick your door down and murder you, what kind of country are we living in? ... I got an indictment in Ramarley's case and I'm right back to square one."
"We can't keep burying our kids, it's just too much for a mother," she added.
Finally, about 10 minutes before the Ferguson grand jury decision was expected, Malcolm told the crowd, "We're going to make NYC look like Ferguson!"
Then the chanting began -- "No Justice! No Peace!" -- as the crowd of over 1,000 started to leave the confines of Union Square Park, knocking down a police fence as they went.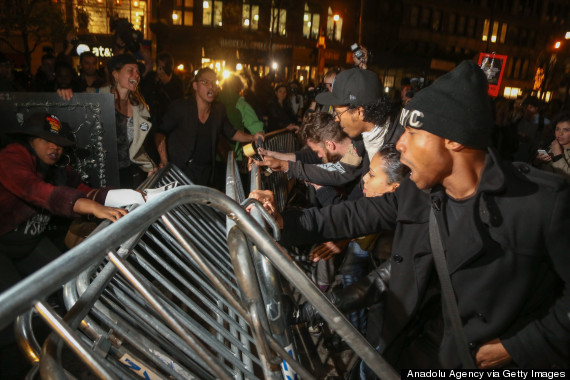 They marched down Fifth Avenue and across Eighth Street. Onlookers peered out of the windows from their brownstones, and the staffs of upscale restaurants poured out onto the sidewalk to watch.
There was a large police presence. When asked how far the police would let the protesters march, a high-ranking officer smiled and simply said, "As long as it's peaceful."
And for the most part, it was. There were some minor skirmishes. When a police officer on a motorbike nudged a demonstrator who wouldn't get out of his way, a mob of protesters descended on the officer, hitting him with signs. His fellow officers pushed the protesters away, and then everyone carried on.
Up 6th Avenue and across 23rd Street. "Black Lives Matter!" went one chant. "Indict. Convict. Send this guilty cop to jail! The whole system's guilty as hell!" went another.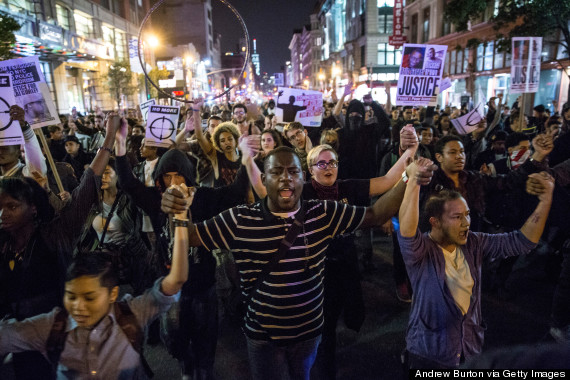 On Seventh Avenue, the protesters brought traffic to a standstill, weaving their way through cars, cabs and buses. When one taxi driver honked his horn in support, the crowd cheered.
"Turn up! Don't turn it down! We doin' this for Mike Brown!" they chanted. "We young! We strong! We're marching all night long." Past Port Authority and Madison Square Garden, perplexed tourists on the sidewalk took out their camera phones.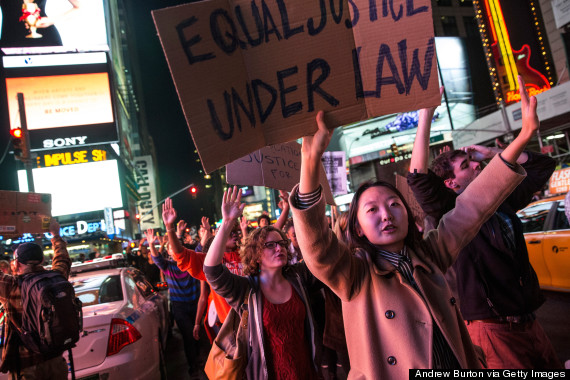 Malcolm was still marching. New York State Assemblyman-elect Charles Barron marched with her. On Saturday, Barron had led a protest in East New York, Brooklyn, where 28-year-old Akai Gurley -- another unarmed black man -- was shot and killed last week by a police officer inside a housing project. "It was a crime," Barron had said of Gurley's death. "He should be indicted and brought before a court and I believe convicted and thrown under the jail for taking the life of an innocent young man."
But for now, Barron marched quietly, his hand resting on Malcolm's shoulder the entire time. At times, Malcolm couldn't help but smile.
"We black, and they don't think our lives matter, but we're showing them that they do matter," she told HuffPost as the crowd entered the bright lights of Times Square. "It's a lot of black youth out here and it makes a big difference showing that we matters. We are somebody."
"It's a sad day because they didn't get the indictment," she continued. "But we showed that we'll stand strong, be united as one and never be defeated."
This February will mark three years since Ramarley Graham was shot and killed. Police officers had followed him home because they thought he had a gun. After Graham went into his apartment, it took 4 to 5 minutes for the officers to gain entry through a back door -- without a warrant -- climb the stairs, and break down the front door.
Once inside, Haste went into the bathroom and shot Graham once in the chest, in front of Graham's grandmother and six-year-old brother.
No gun was found on Graham, or anywhere in the apartment. He was unarmed. Authorities said he'd been flushing a bag of marijuana down the toilet just before he was killed.
Although a grand jury voted to indict Haste in June 2012, a judge tossed out the indictment a year later, and a second grand jury later dismissed the case. In September of this year, U.S. Attorney Preet Bharara met with Malcolm and Ramarley's father, Frank Graham. He told them the Justice Department had launched a formal investigation into Ramarley's death to determine whether to press civil rights charges against Haste.
"That's what I'm waiting for," Malcolm said. "If the [Brown family] go that route, hopefully they'll get a conviction in their case," Malcolm said.
"It's gonna be hard," Malcolm said, when asked what she would tell the Brown family Monday night. "It's gonna be hard."

Popular in the Community