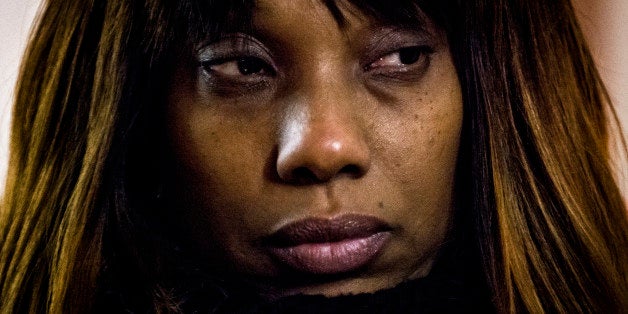 NEW YORK -- Constance Malcolm still lives in the Bronx apartment where her 18-year-old son, Ramarley Graham, was shot and killed by a New York City Police Department officer three years ago on Monday.
Tucked away in a corner of one room, there's a pile of Ramarley's clothes, just as he left them, with T-shirts folded neatly. A stack of his picture frames shows the family in happier times, when Ramarley was alive.
"Everything is still the same way, three years later," Constance said. "I get the question all the time: 'What are you going to do with it?' And I don't know, because Ramarley was very funny with his stuff, so I have to be very careful about who I give it away to, if I'm giving it away."
"Maybe his brother will take it," she added, referring to 9-year-old Chinoor Campbell, who was only 6 when he witnessed an NYPD officer shooting his big brother.
In the living room, there's the same TV on which Ramarley and Chinoor played video games, and the same couch where Ramarley slept when he wasn't staying at his dad's place down in Harlem.
Ramarley Graham. (Photo: Twitter/Ramarley's Call)
And in the bathroom, on the lowest rung of a metal shelf, Constance still keeps a macabre memento of that winter afternoon three years ago: a white bath mat, splotched with stains of her son's blood, from when a single bullet fired by NYPD Officer Richard Haste pierced Ramarley's chest.
"I don't know why I kept it," Constance said of the mat, "but I did."
Constance has considered moving out of the apartment -- which is in the Williamsbridge neighborhood of the Bronx -- but she likes her landlord and gets along with her neighbors. Plus, living there serves as a reminder that there's simply so much she and her family don't know about why Ramarley was killed.
A vigil is held outside Constance's apartment building on March 22, 2012.
Ramarley's little brother, Chinoor Campbell, at the vigil on March 22, 2012.
"This was a tragic case," New York City Law Department spokesman Nicholas Paolucci said in a statement. "After evaluating all the facts, and consulting with key stakeholders such as the NYPD, it was determined that settling the matter was in the best interest of the city."
Nearly $3 million will go to Ramarley's estate, the New York Daily News reported. Chinoor will receive $500,000, while their grandmother, Patricia Hartley, will receive $450,000 -- since both she and Chinoor witnessed the shooting.
Constance, who will receive $40,000, said she wouldn't comment on the settlement until a press conference scheduled for Monday afternoon. Just before that conference, she, along with family and friends, will hold a memorial for Ramarley at Crawford Memorial United Methodist Church on White Plains Road in the Bronx.
"There's no amount of money that could bring my child back," Constance said over the summer when asked about the lawsuit.
"Give me my son back," she said at the time. "That'd be good. That'd be good."
On February 2, 2012, the NYPD says a narcotics unit saw Ramarley "adjust his waistband" outside a Bronx bodega -- which indicated to the officers that he might have a gun. They also suspected that Ramarley had participated in a drug deal.
According to the NYPD's account, when the officers approached Ramarley, he ran. But surveillance footage shows him calmly walking up to his mother's East 229th Street apartment building, opening the door and walking inside. Moments later, two officers ran up to the building, guns drawn, and attempted to kick down the door.
About five minutes elapsed before they managed to get inside the building, go up the stairs, and knock in the door to Constance's apartment -- despite not having a warrant.
Haste then confronted Ramarley in the bathroom, where the teen was allegedly trying to flush a bag of marijuana down the toilet. The NYPD says Ramarley reached for his waistband during the confrontation, which prompted Haste to pull the trigger.
No gun was found on Ramarley, nor anywhere in the apartment. The shy, funny 18-year-old -- whom friends and family affectionately called "Marley" and "Elmo" -- was unarmed.
"Why did you shoot him? Why you killed him?" Hartley, Ramarley's grandmother, asked Haste after the shot was fired, according to the account of events provided in the family's lawsuit.
"Get the f**k away before I have to shoot you, too," Haste allegedly responded, before pushing the tiny 58-year-old into a nearby vase.
A Bronx grand jury voted to indict Haste in June 2012, but a judge tossed out the indictment a year later on a technicality. A second grand jury later dismissed the case.
Constance, and Ramarley's father, Frank Graham, weep as Richard Haste is arraigned on June 13, 2012. (AP Photo/Richard Drew, Pool)
Grand jury records are sealed, so Ramarley's family hasn't seen what evidence the office of Bronx District Attorney Robert Johnson presented in either set of proceedings. Constance said she still doesn't understand how a police officer can break into a home without a warrant, shoot and kill an unarmed man, but then not be indicted.
"Three years later and we still don't have any answers," she said. "And we might not ever have any answers, the way this system is working against us."
On February 1, 2013, a day before the one-year anniversary of Ramarley's death, the family filed its lawsuit against the NYPD.
Over the last two months, Constance has been a prominent figure at protests over the deaths of Michael Brown and Eric Garner, two black men who were both killed by police officers in the summer of 2014. Brown was shot and killed by Officer Darren Wilson in Ferguson, Missouri, and Garner died after being placed in a chokehold by NYPD Officer Daniel Pantaleo in Staten Island.
Constance marched with protesters to Times Square after a grand jury voted not to indict Wilson for Brown's death, and she took Chinoor on a march over the Brooklyn Bridge the night after a separate grand jury declined to indict Pantaleo for killing Garner.
"[Chinoor] really needed to be there," Constance said. "It was like a moment that's going to be talked about for a long time, and he could at least say 'I was a part of that. I was on the bridge that night when they shut that bridge down.'"
When asked why she thought Ramarley's death didn't grab the nation's attention the way Brown's and Garner's did -- with massive protests and marches on Washington -- Constance said she simply doesn't know.
"I get that question so much, but I don't know, and then to be fair too, a lot of things happened right around his death." She pointed to the death of singer Whitney Houston, days after Ramarley's death, and the killing of black teenager Trayvon Martin a week later, as events that could have distracted attention from her son's story.
"All these high-profile cases happened right after around the same time, not that Ramarley's isn't a high-profile case -- it is a high-profile case -- but it never got the exposure the other cases got," Ramarley's mother said. "I don't know why."
Constance said that in light of the non-indictment in Ramarley's case, as well as Brown's and Garner's, she believes that grand jury proceedings involving police brutality should be made available to the public.
Keeping the proceedings secret provides a "gateway" for officers "to lie" in their testimony, she said. Garner's family has filed an amicus brief in support of a petition to release the grand jury records in that case, and New York Gov. Andrew Cuomo (D) recently said he'd support more transparency when it comes to grand jury cases involving the police.
Constance also argued that there's an inherent conflict of interest when district attorneys prosecute police, since the two work together so closely on other cases.
Though Constance and her family have settled their suit with the NYPD, they are still waiting to hear from the U.S. Department of Justice. This past September, U.S. Attorney Preet Bharara met with Constance and Frank Graham, Ramarley's father. Bharara told them DOJ had launched a formal investigation into Ramarley's death to determine whether to press civil rights charges against Haste.
Constance said DOJ hasn't provided them any real updates since, other than to say the investigation is ongoing.
"I don't know how much they are investigating, because, remember, my mom was one of the witnesses and she still hasn't been called yet," she said. "I don't know how much investigation is going on."
Last month, she staged a die-in outside the DOJ office in lower Manhattan, urging the department to prosecute Haste.
DOJ declined to comment on the investigation to The Huffington Post, pointing only to its most recent statement about the case, which was made in August.
Constance has to go to work on Monday, the third anniversary of Ramarley's death. She's a nurse's assistant at an assisted living home -- and when she gets off, she'll head to the church for Ramarley's memorial.
She said she hopes to make this year's memorial a happier one than those of previous years.
"We want to make it more happier than we were doing before," she said. "You know, we don't want to be sad all the time."
"I don't think he'd want me getting up every day crying and you know, worrying a lot," she continued. "We want to try to make it a little happier, and let people know we're still fighting, we're still here, we're not gonna lay down and wallow in our tears and just be sad all the time. He wasn't that type of person. He was a happy kid."

Popular in the Community