Rami Shamir is the author of Train to Pokipse, the novel that famed American publisher Barney Rosset has called "a Catcher in the Rye for the new century." A former Zuccotti Park Occupier with Occupy Wall Street, he strives to set an example for a new type of author -- one who is socially responsible, politically invested, and staunchly anti-Corporate. In a continued show of solidarity with independent booksellers, who Shamir considers to be "the new arsenals of democracy," Train to Pokipse remains unavailable at Barnes and Noble and Amazon a year and a half after its publication. His work has appeared in Adbusters, Evergreen Review, and The Brooklyn Rail, and is forthcoming in the Norwegian Feminist Magazine FeTT. He is a recipient of the 2013 Acker Award for fiction.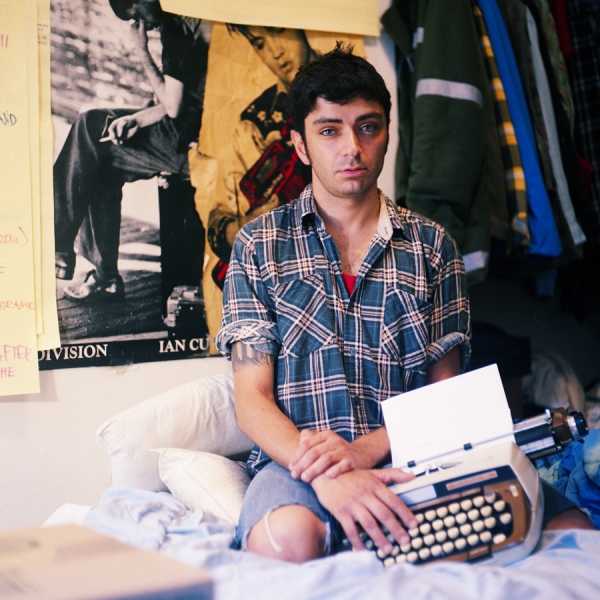 Photograph by Lydia White
Lisa Chau: What are your thoughts on independent publishing?
Rami Shamir: Well, the term independent publishing covers a broad range. It refers to any publisher who's operating from a philosophy that's fundamentally independent of the Corporate status quo. At one end are presses that most closely resemble what traditional houses were like before they got gobbled up by a handful of multinationals; at the other end are collectives that either print and distribute material free of charge or who have drastically redefined the structural basis of publishing (which is traditionally hierarchical); and in between stretches the endless combination of the two, as beautiful and varied as a field of wildflowers lying between two mountains.
Examples of excellent publishers can be seen all along the spectrum of independent publishing: Melville House and the Feminist Press; In Our Hearts and Crimethinc.; Microcosm, Swill Children, and the PM Press. Conversely, there isn't one example from the "Big Five" of Corporate publishing that inspires even a modicum of respect. Recently, the term "independent publishing" has been hijacked by multinationals such as Amazon to make their self-publishing divisions (now called "independent publishing services," in the case of Amazon) more attractive for authors.
Holding true to the irony that manifests with such Corporate doublespeak, self-publishing actually has very little to do with independent publishing. When you read interviews with the "successful" elites of self-publishing, you encounter a lot of monetary figures. It almost feels like you're reading a financial report from some Corporate marketing representative: 'this is successful because in such and such a period such and such a monetary profit was gained.' Well, that might be how you determine the success of toilet paper, but it's definitely not how you determine the value of literature. Otherwise, Waiting for Godot -- which sold under 600 copies in its first year of publication -- would have faded into the trash bin of history.
Something new is developing with authors like myself, m. craig, Karen Lillis, Jason Napoli Brooks, and Aaron Cometbus, who are publishing with a real independence from the Corporate status quo. Such independently published authors have a very strong network of support, starting-up and throughout. In my case, Train to Pokipse would never have been published had it not been for Adam Void (who co-founded Underground Editions with me), Barney Rosset, and my mom, Mira Shamir, to name just three people who are part of a very large group. Unlike self-published authors -- who hand over the responsibility of publishing their work to Corporate interests -- independently published authors are accountable for all the aspects involved in the publishing of our work, including editing, layout, design, distribution, promotion, and finance. Self-published authors remain wards of the Corporate status quo; independently published authors become independent of it.
LC: How much does boycotting Barnes and Noble and Amazon affect your book sales?
RS: Since three of the greatest mentors in my life were publishers, the facets of the business of publishing have been ensconced into my mind. Yet, nothing that went into publishing Train to Pokipse can be said to have come from what today passes for business. Every decision that I've made concerning the book has come from long deliberation on what was best for Pokipse. I'm unconcerned with the quarterly myopia of Corporate psychopathy. Instead, I base my decisions on the type of world that I want to live in. Having been taught by the best, though, I already understood that a common collaterality of genuine integrity is good business.
On February 16, 2012, the date ofTrain to Pokipse's publication, I began a boycott of Barnes and Noble and Amazon. I consider independent booksellers to be the new arsenals of American democracy -- I know a lot of them by now and they command my genuine respect -- and I will not allow Corporations like Barnes and Noble and Amazon, both of which have declared war on independent booksellers, to profit by a single penny from the sale of Train to Pokipse. As I'm preparing for a second printing of the book, I'm happy to report that my boycott has done only good for my work. Pokipse boasts the best readers and maintains prominent placement in many bookstores, a year and a half after its publication.
LC: Please tell me about the tour that m. craig and you recently undertook. What does it show about the publishing landscape in America today?
RS: Well, m. craig is one of the most impressive writers that I've met in life. At a super young age, she was intelligent enough to realize that the Corporate publishing industry was bullshit. She went on to start her publishing company, Papercut Press, pretty much on her own and published a beautiful book called The Narrows. It's usually looked at as a queer coming-of-age story, but it's also a political allegory on Corporate takeover. Her importance as writer, though, doesn't rely on that; she's done something that exceeds text: by her autonomous and instinctive actions, m. craig has become part of a first and very small wave of clearly defined authors who are genuinely publishing outside of the Corporate status quo. Along with me, she's one of very few contemporary author-publishers who are publishing without concern and in opposition to the status quo. That's pretty groundbreaking, especially for someone so young.
We met in Brooklyn earlier this year, immediately hit it off, and set out on an indie books tour together to solve one of the big problems in contemporary publishing: the problem of distribution. The tour had three major goals: make a first attempt reconnaissance of independent publishing in the U.S. from ground experience; expand the distribution networks for Train to Pokipse and The Narrows using that network to create the start of a distro resource for independently published authors; and show by example how much can be accomplished when you get together with like-minded people and abandon the old and tired ways of the Corporate status quo.
I could never have imagined that the tour would have been such a success: after two months and 12,000 miles, we brought 31 new bookstores into our distribution network. Independent booksellers nationwide were so amazing and supportive: from Jonas Kyle and Miles Bellamy -- the owners of Spoonbill and Sugartown Booksellers in Brooklyn -- who made one of the highest contributions to our Indiegogo campaign, to Will Leathem -- founder and co-owner of Prospero's Books in Kansas City -- who sent us to get some free food at his new uptown location after paying us upfront and in cash for copies of our books, the reaction and support was just beautiful.
We came home to a very packed reading at St. Marks Bookshop that the poet Margarita Shalina (a longtime supporter of Train to Pokipse) had set up. You know, I saw such a vitality with so many of these independent booksellers, and I was so inspired by their determination to fight back against the Corporate takeover of our communities. (I point you to Fountain Books in Richmond and Flyleaf Books in Chapel Hill, both of which are part of a united front among some Southern booksellers that's boycotting Amazon.) Also, I'm really happy to report that the distro map which resulted from the tour to serve as a public resource for independently published authors has already been viewed over 1,300 times.
LC: What do you consider the social and political responsibilities of a writer to be in today's world and why?
RS: In the nineteenth century, Percy Bysshe Shelley made a very important observation of what it means to be a writer when he wrote that "Poets are the unacknowledged legislators of the world." All human beings have ethical responsibilities, but this is especially true of writers. So it's very telling when you have a seeming disappearance of the author as we've had in the United States, especially at a time when writers are most needed to take hard ethical stands; to fight for what's right; to write about that which is uncomfortable to read but necessary to know. Bradley Manning and Ed Snowden have been two great examples for me and for a lot of people from my generation. Writers need to look at the actions of these genuine heroes, the actions of Wikileaks, the actions of independent journalists like Alexa D. O' Brien and Glenn Greenwald and use them as the standards.
Writers must resist temptations from their egos: we're merely stewards of our work. We must refuse advances from Corporate publishers like Harper Collins and Grove Atlantic: these are the Foxes and CNNs of publishing, and all authors who are on their roster can't escape the fact that they're subsidized by some of the worst Corporate offenders. (Harper Collins is owned by Rupert Murdoch and Grove Atlantic was molded into existence by oil heiress Anne Getty after the brutal takedown of Grove's leftist founder, Barney Rosset.) Most importantly, writers must reoccupy the good example: remember, while book awards are nice, effecting real global change is the ultimate goal.
LC: What is the new type of author developing?
RS: I think that a new type of author is developing who's not only political but who also understands that the great contemporary writers of our times surpass the confinement propaganda of Corporate feudalism. So you have someone like John Reed, who's made tremendous advancements in literature while also being a catalyst for a discussion on the institution of private property. John's sequel to Animal Farm and his composition of a new Shakespeare play have brought serious challenges to traditional notions of authorship and cultural inheritance. John's probably a true genius, and he's functioning from within very established circles of independent publishing.
Or you can take someone like Adam Void.... I'm going to have to shift my language here for a bit, because as Ed Snowden recently reminded us, William S. Burroughs's statement holds very true 50 years after it was made, and you never know who's listening in. That said, it's been alleged that the artist Adam Void has been challenging notions of public speech that are permitted (like paid billboard advertisements) by using text via those notions of public speech that aren't (graffiti). Allegedly, one of Adam's greatest feats was witnessed by a handful of spectators on Houston Street in 2010, when he allegedly used a fire extinguisher to paint the words OIL SPILL underneath the Hollister sign on Broadway and Houston, which is right next to the BP gas station.
British Petroleum had just caused the greatest oil spill in history, and Adam was supposedly reacting to what was no less than another genocide brought to us by another oil company. Rumor has it that the text was covered over within hours not to offend (or incite) the morning rush hour of downtown Manhattan; but supposedly to this day, if you look closely at the advertisement on the corner of Houston and Broadway, you can see the inconsistent brown splotches of the cover-up underneath the words HOLLISTER. So you see, there is a new type of author that's developing very real challenges to the criminal cartels that have stolen the world from the majority of life on Earth, and this new type of author can be found anywhere; and I want every young writer out there to understand that, that we're everywhere and that it's very possible for you to be everywhere with us. All you have to do is write dangerously and embrace the danger.
LC: How has new media affected publishing?
RS: New media has made independent publishing possible by providing tools which were missing. Layout software (Microsoft Word works just fine for this with text); cover and book design; and access to the practical knowledge are all blessings of new media. As for social media, it's definitely helpful, but I find that authors can rely too heavily on that. Social media is most effective when it's buttressing hard but really exciting work that's being made on the ground.
LC: Your novel, Train to Pokipse was the last book Barney Rosset worked on extensively, excepting his autobiography. What was it like to work with such a legend?
RS: Well, Barney Rosset is a very important figure in American history. Barney's financing of court cases to overturn the government's censorship power with material that it deemed pornographic is pretty well known, but people rarely discuss Barney's later years at Grove. I mean, right before his company was brutally taken from him by the oil heiress Anne Getty, Barney published The Freedom Fighter's Manual, the instructions put together by the Central Intelligence Agency for the rebels in Nicaragua; predating the courageous acts of Ed Snowden by about 30 years.
As for me, I've been granted a very privileged position by this great man who was also my beloved close friend. Besides being one of the last books that Barney worked on extensively, Train to Pokipse was one of only three novels that moved Barney to start publishing companies: the first was Tropic of Cancer, for which Barney purchased the then almost non-existent Grove Press; the second was Samuel Beckett's first play Eleutheria, for which Barney started Fox Rock Books; and the third was Train to Pokipse, for which Barney attempted to start a publishing company as well. He didn't succeed, but he continued to try to get others to publish the book. Pokipse holds a strange place in Barney's history; it might have been the book that finally made him realize that he was an old man and that the time for all that had passed. A week before he died, I got to give him his copy of Train to Pokipse. He was very proud; he knew that so much of this was one of his major final successes, an underdog victory once more. My last image of him covering his copy, which he called "very handsome," in a protective plastic will remain with me, as much of Barney will, throughout my life.
When Barney died, people started calling me his last author. My mom was in the hospital at the time so I was already very weakened emotionally. I was so heartbroken by his death that I ended a spell of sobriety and went on a week-long coke binge, at the end of which I had a mild heart attack. It felt like losing a father, while simultaneously knowing what a great loss I had just endured as an American. My friends and family were really supportive and helped me to eventually realize that Barney isn't dead; that he will never die. He's with me and scores of other people, young and old. Barney Rosset will live as long as Odysseus.
LC: Please tell me about your three very varied perspectives on publishing, and how they shaped your current stance on independent publishing.
RS: As I mentioned earlier, three of my greatest mentors in life were publishers. Between the three of them, I probably got one of the rarest and most well-rounded educations in publishing. Barney Rosset is the most famous of them as he's one of the greatest publishers in history. Barney's really the father of American publishing, but it was up to David Nudo and Adam Void to provide me with educations on aspects of publishing which Barney just didn't have access to (he was human after all and had his own natural limitations.)
David Nudo, who's currently the Book Sales Manager at the New York Times, is one of the few true geniuses working within the environs of Corporate publishing. I'm so grateful for his continued support, and for the countless hours we've spent together discussing problems facing contemporary publishing. Among many other lessons, David's the person who taught me about how important placement is in bookstores.
Adam Void has been my closest artistic collaborator for almost a decade. About three years ago, he fell in love with the artist Chelsea Ragan, inadvertently bringing another great friend and supporter into my life as well. Adam is one of the greatest artists of this generation; a true polymath. He's always had his pulse on underground culture; underground music and publishing in particular. He's the one who introduced me to Showpaper and the Silent Barn and the person who first called me to meet up at a place called Zuccotti Park. Adam designed POKIPSE's cover and was allegedly the driving force behind POKIPSE's now legendary poster and sticker street campaign in New York.
I've had many mentors in my life -- Jack Doroshow, who's been a sort of Socrates for me, comes to mind -- but it's through these three forces that traditional, Corporate, and DIY publishing melded together to form my theories and practices of publishing which were essential to my developing into a new type of author.
LC: Describe your year-long involvement as an Occupier with Occupy Wall Street. How involved were you with the library on premise?
RS: Well, I was among the group of Occupiers who physically occupied space throughout the full year of Occupy's existence. I was part of the society of Occupiers that formed in Zuccotti Park, and then endured an almost biblical-like ten months of exile, which were marked by an obsession to recapture -- or reoccupy -- the lost Jerusalem of Zuccotti. There's a whole untold Occupier's history of Occupy Wall Street -- a history involving squats in East New York, sleepless nights trying to maintain an early Spring encampment in Union Square, two weeks of physical Occupation across from the New York Stock Exchange right on Wall Street; there's whole legal history of how through our actions we fortified a judicial ruling known as Metropolitan Council Vs. Safir; an emotional history of bonds made and broken; a genuinely generational history of the new starving hysterical naked, born too late into the overcast of American Empire to know of any inheritance but the 30-year shadow preceding generations left for us to figure out our way in. Well, as soon as we came of age en masse, we did manage to figure something out, and that something of course was Occupy.
The society which was Zuccotti Park was the most interesting and revolutionary act of the whole Occupy movement. While its social components varied in age, class, and interest -- mostly because the General Assembly varied in age, class, and interest -- the person that was actually occupying Zuccotti -- the Zuccotti Occupier -- was pretty much from one age group. Occupy was a generational struggle -- we struggled to make our own America because we were left nothing but the realities of an America that was in the midst of falling down, over a cliff, head-first into nothingness. We struggled to make a better America for future generations as well, because we understand what it's like to get a truly rotten inheritance.
And as soon as the force of the ground Occupation -- which was the generational driving force of the whole movement -- began to disappear, other interests -- most of them falling under the umbrella that makes up the squeaky-clean nightmare of retirees, yuppies, and old liberals commonly known as the Democratic Party -- started their hijacking. With Occupy, my generation finally found a home, and even that's been taken from us by the senior citizens of the world. The spirit of Occupy scattered with its children across the globe, leaving traces of a ghost-dust over everything. We made something happen, and we opened each other's eyes: but Occupy is only the first chapter of a very powerful full-on generational revolt in which the chickens have yet to come home to roost.
As far as the library goes, I did some advising on the OWS poetry anthology, but otherwise I wasn't very involved -- except, of course, early in the morning when I browsed the great trove of underground literature and zines before embarking on my long day of work as a citizen of the Park. I'd direct anyone who's interested in the history of the Occupy Wall Street library to OWS librarians Stephen Boyer (the library's leading steward during Zuccotti's Occupation) and Darah McJimsey, who kept the library alive, sometimes singlehandedly, in the 10 months of exile that followed the Raid.
LC: Tell me about the important role that independent bookstores and readers of Pokipse continue to play in the book's proliferation into the world.
RS: From the very beginning, readers and independent booksellers played a vital role in TRAIN TO POKIPSE's proliferation into the world. By the time POKIPSE was published, it had achieved much of the necessary and well-deserved validation that it needed to reach its readers as the literature that it ultimately is; one key component was still missing, though, and that was the validation it required from booksellers.
A book can be great, but it's up to booksellers to anoint a book with authority by it providing prominent placement in bookstores so that it can best reach its readers, who ultimately invest any book with its cultural force. Margarita Shalina provided Pokipse with this last piece of required authority when she placed it in the window of St. Mark's Bookshop and gave it prominent shelf space, right in front of the store -- where Pokipse remains a year and a half after its publication. Margarita's been one of New York's most important literary cultivators for over a decade now -- a sort of People's Sylvia Beech -- and I consider it one of the blessings of my life to have a part in the history of her cultivation. This branding of authority was immediately followed up on by Jonas Kyle of Spoonbill and Sugartown Booksellers, where Train to Pokipse continues to enjoy the support of prominent placement. While I'm very grateful to the many independent booksellers who have followed the example that Margarita and Jonas have set, I know that without Margarita and Jonas's initial actions, I wouldn't exist as an author today, and for that they'll remain forever in my heart.
Similarly, Pokipse's readers have shown how much power readers can hold in the history of a book: whether it's someone like Karen Lillis introducing Pokipse to Pittsburgh or Dylan Thadani introducing the book to Baltimore; whether it's Anjelica Young, Steve Dalachinsky, and Jim Feast (all Pokipse readers who autonomously wrote the main reviews for the book) or Angela Shatashwili-Calderon who designed and maintains Pokipse's website to this day, every one of Train to Pokipse's readers that I've encountered has been so exemplary as to allow me bragging rights for having the best readers in the world.
LC: What are your current projects?
RS: I'm currently working out my second novel, which is heavily influenced by my experience as an Occupier, and by which I hope to provide my generation and my fellow Occupiers with further voice. I'm already deep into the preparatory work for the book with my "Occupy Wall Street Triptych." Adbuster's Magazine published the first installment of the Triptych last year; and I recently read the second installment at BGSQD -- an excellent independent bookstore in downtown Manhattan.
I'd like to stress that by no means am I the only Occupier adding to the untold Occupier's history of OWS. For anyone interested in really understanding Occupy Wall Street -- by which I mean understanding it as a participant from the ground not as a visitor from the office -- I'd recommend At the Heart of an Occupation -- Stacy Lanyon's ongoing compendium of firsthand experience from the Occupy Movement (and the various movements to which Occupy's given birth). While other noteworthy works might be harder to locate (Sean Mullin's excellent piece "Return to Domestication: The Limbo Between the Old World and the New" immediately comes to mind), these pieces do exist, and within them readers can most genuinely discover what it meant to Occupy.
Lisa Chau has been published in US News and Forbes on the topics of professional development, social media and leadership. She has taught at MIT, and guest lectured MBA and undergraduate courses in e-business Strategy at Baruch College and NYU's New School. She currently lives in Manhattan and works as a private consultant focused on social media and cross-platform marketing.
Lisa has been involved with Web 2.0 since graduate school at Dartmouth College, where she completed an independent study on blogging. She was subsequently highlighted as a woman blogger in Wellesley Magazine, published by her undergraduate alma mater.

Popular in the Community