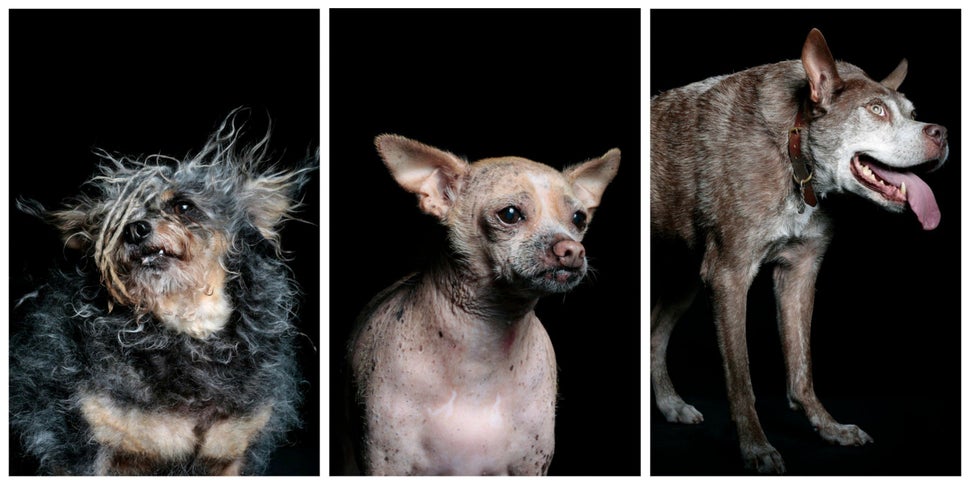 What's not to love about puppies? They're cuddly, they're loyal, and, according to The Wall Street Journal, our "aww" response to adorable animals is actually a biological impulse similar to what we feel when we look at cute babies.
"Mammalian babies all look the same: short snouts, high foreheads, round faces, big eyes," the author writes. "And we love it." So that video of a French Bulldog puppy rolling on the ground, flailing his paws while trying to stand up -- you know, the one you watched fifteen times before you could bring yourself to close the browser? Yeah, that's triggering your caregiving instincts.
But not all puppies have irresistible, newborn-like features. And not all dogs have the ideal proportions of a show winner. That's why photographer Ramin Rahimian set out to take portraits of the most unconventionally adorable pups -- to highlight that our canine counterparts are lovely in unexpected ways.
In one of his photos, a nearly bald Chinese Crested peers at the camera from behind a tufted mohawk. In another, a dog with mismatched, vibrant eyes gazes at the viewer through his cataracts. Unlike the viral puppy vids shared endlessly on YouTube, these animals have unique, expressive, and even human-like features. A terrier with whiskers strains his neck and sticks out his tongue, making him a doppelgänger for a good-humored old man. A frizzy-headed mutt closes his eyes tight and smirks wryly -- he looks just like a snarky teen going through puberty.
The photos were taken at a fair in California meant to celebrate the strange beauty of the world's ugliest dogs. Appropriately, the winner is deemed "World's Ugliest Dog," and, according to Rahimian, is "treated like royalty, and the admiration of all the ugly creates a new standard of beauty -- for a few hours."
To see more ugly-yet-precious dogs, check out Rahimian's website.
PHOTO GALLERY
2015 Sony World Photography Awards Competition
REAL LIFE. REAL NEWS. REAL VOICES.
Help us tell more of the stories that matter from voices that too often remain unheard.